India Farm Laws: Has these laws proved as Treacherous, brimful, & clandestine Curve for Modi Government?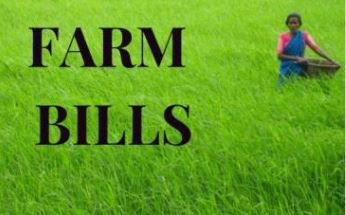 In my article, The Real Reason of Suicide of Indian True Farmer: Apathy, Agony, And Indebtedness? I mentioned how the economic reforms implemented in the mid-1990s engulfed a great many unsuspecting farmers in problems that were beyond their comprehension. India's vast sections of the peasantry and rural populations have been under a tumultuous and deathly period, like a never-ending recession after the reform. It is very sad to mention that these reforms triggered the suicide cases that have only surged in the early 2000s.
There were many factors that are responsible for agrarian distress. Some of the factors if we like to mention are: –
A giant interlinked global economy;
Commercialization of farming and life itself;
A rural population who is unable to withstand the new economic order in the absence of safety nets;
An upwardly mobile and new affluent India disconnected from its villages, and the struggling poor even in the urban spaces.
In addition, Local farmer's markets had already been invaded by global markets, for example, cotton or food.
Rapid upward economic mobility of sections of the population was creating newer inequalities, leading to a perception among the peasantry that they were losing out.
The fast-changing economic conditions were also altering long-held social equations.
Due to this vicious cycle, Indian True farmers fell into an unending loop of Apathy, Agony, And Indebtedness.
Middleman: the Real Villain?
Although there are a number of things that farming needs to improve, the crux of the matter is the "MIDDLEMAN" who is the real Scorpio who is biting our Farmer's growth and prosperity.
It is well-known fact that the growth of the Indian Agricultural industry has always been eclipsed by middlemen. These profiteering middlemen are the biggest obstacle to farmers' income.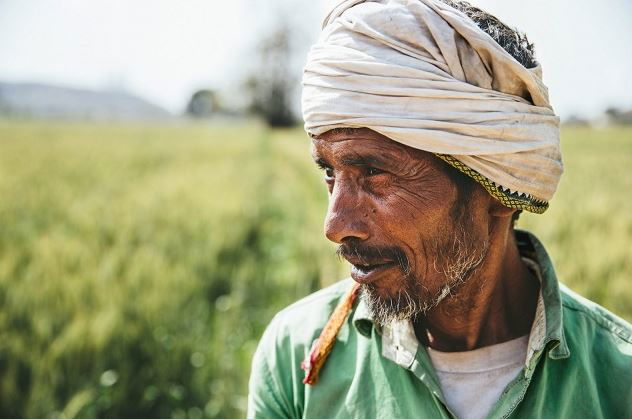 Commission Agents, Traders, and Wholesalers are everywhere in India's Agricultural market and these people are often referred to as Middleman. This Middleman takes a major chunk of profit from farmers' produce. After all, the commission is given by the farmer, who is the real Producer is left with peanuts.
Let's understand this with an example. In Chandigarh, a vegetable (cauliflower / Eggplant) farmer sold vegetables at Rs 25 per kg to Wholesaler. In order to sell to wholesalers, he has to go through various channels like Commission Agents and Traders. Although the farmer sold his produce at Rs 25 per Kg after giving commission (let's assume 20% commission) to the middle man, the farmer is left with Rs 20. Now, if the farmer also pays back 25% of his Produce money as the Bank Loan (which has a whopping 15% or higher interest rate) which he had taken for seeds, manure, etc., he is left with Rs 14.00 only. If by any chance he has taken a loan for his equipment like tractor or Water Generator and pays another 25% he is just left with Rs 9.00.
With just left with Rs 9.00, he has to take care of his poultry, family, and everything else. And on other hand, the Wholesaler who purchases the Produce at Rs 25.00 sells the Produce at a high price of Rs 75 or more.
The above example clearly shows that how India's farmers are on the losing side.
Several efforts have been taken by the government and one among them is "APNI MANDI". A lot of Apni Mandis has come up in Chandigarh and the twin city of Panchkula and Mohali where farmers sell their produce directly to the consumers.
Despite implementing plans for increasing farmers' income, the government is unable to provide the benefits to farmers as middlemen take away a major chunk of profits. Here are some heart-rendering examples:
Punjab farmers complain that their income has declined due to shifting from paddy to other crops. In Punjab, there is no provision for the sale of crops other than paddy and wheat. As a result, farmers are forced to sell the produce to middlemen at low prices[1].
In Andhra Pradesh, the farmers of the Kakinada district alleged that traders are exploiting them by denying Minimum Support Price (MSP) for pulses. The middlemen pay less for the crop value on the pretext of quality factors. Due to low government procurement centers, farmers sell the crops at a fearing deterioration of crops.
In another southern state of Telangana, Cotton farmers accused the middlemen of using traditional weights and measurements instead of electronic ones. This resulted in farmers getting cheated for their cotton produce.
In the Eastern state of Odisha Officials of the Jeypore district claim that even after the opening of a proper marketplace for farmers, they could only procure 384 quintals of paddy in 13 days. Rumors spread by middlemen mislead farmers about a delay in crop selling.
Middlemen make an astonishing 100%-200% margins on farmer's produce.
Sreejith Balasubramanian, an economist at IDFC AMC said that the lack of a proper supply chain lets the middlemen make the most gain[1].
Nearly 4,00,000 farmers committed suicide in India between 1995 and 2018.
Recent figures of farmer suicide are very astounding, depressing, and dubious. The number of suicides done by the farm laborers which is 4,324 in 2019, and 4,586 a year before[2].
The numbers highlight another worrying trend. In 17 states, more farm laborer has committed suicides than farmers, while the reverse is true for seven states. Yet, only 58 percent of the total suicides committed by people employed in the sector are farmers.
Agriculture Reforms: BJP Manifesto During 2019 elections
BJP Party led by Prime Minister Narendra Modi had launched "Sankalp Patra", BJP's manifesto for the 2019 Lok Sabha elections, and had put great focus on Agriculture and Farmers.
Achieve the target of doubling farmers' income by 2022.
Enable the creation of 10,000 new Farmer Producer Organizations.
Ensure adequate market avenues for the realization of MSP through e-NAM, GrAMs, and Pradhan Mantri AASHA Yojana.
Work towards ensuring that maximum farmers get income support under the Pradhan Mantri Kisan Samman Nidhi Yojana.
Launch a pension scheme for small and marginal farmers to ensure social security after 60 years of age.
Work towards completing all irrigation projects under the Pradhan Mantri Krishi Sinchayi Yojana.
Provide short-term new agriculture loans up to Rs 1 lakh at a 0% interest rate for 1-5 years on the condition of prompt repayment of the principal amount.
Increase the cropped area under irrigation.
Strive to ensure all-weather connectivity for every village.
Work towards assisting the maximum number of fishermen by ensuring the availability of storage and other infrastructure under a new "

Matsya Sampada Yojana

".
Ensure 100% disposal of liquid waste and reuse of wastewater. Work towards digitizing land records[3].
Farm Laws: Agricultural Reforms Of Narendra Modi Government
In mid of 2020 a year after becoming Prime Minister of India for the second time, Narender Modi tried to keep his promise of Agricultural reforms which were mentioned in his Party manifesto during the 2019 elections.

The Union Cabinet chaired by Prime Minister Narendra Modi took "Historic Decisions" and approved three ordinances­ 
Essential Commodities (Amendment) Ordinance, 2020;
The Farming Produce Trade and Commerce (Promotion and Facilitation) Ordinance, 2020; and
The Farmers (Empowerment and Protection) Agreement on Price Assurance and Farm Services Ordinance, 2020.
Afterward, all these ordinances were known as three farm laws.
1. The Essential Commodities (Amendment) Act, 2020 
In this law, a provision was made to remove cereals, pulses, oilseeds, edible oil, onion, and potato from the list of essential commodities. It was believed that due to the provisions of this law, farmers would get the right price, as there would be competition in the market. Let us inform you that this law of the year 1955 was amended. The main purpose of this law was to control the production, supply, and prices of essential commodities to prevent hoarding. The important thing is that from time to time many essential things have been added to the list of essential commodities. For example, during the Corona period, masks and sanitizers were kept as essential commodities. 
2. Agricultural Produce Trade and Commerce (Promotion and Facilitation) Act, 2020
Under this law, farmers could sell their produce outside the APMC i.e. Agricultural Produce Marketing Committee. Under this law, it was told that such an ecosystem would be created in the country, where farmers and traders would have the freedom to sell crops outside the market. Under the provision, it was said to promote trade within the state and between two states. Also, there was a mention of reducing the expenditure on marketing and transportation. According to the new law, farmers or their buyers do not even have to pay any fees to the mandis. 
3. The Farmers (Empowerment and Protection) Agreement on Price Assurance and Agricultural Services Act, 2020
The main purpose of this law was to get the farmers a fixed price for their crops. Under this, a farmer could make an agreement with a trader even before growing the crop. In this agreement, the price of the crop, the quality of the crop, the quantity and the use of fertilizer, etc. were to be included. According to the law, the farmer would have to pay two-thirds of the amount at the time of delivery of the crop and the rest in 30 days. In this provision was also made that it would be the responsibility of the trader to lift the crop from the field. If one party broke the agreement, it would be fined. The law was believed to empower farmers to engage with the sale of agricultural products, farm services, agribusiness firms, processors, wholesalers, large retailers, and exporters[4].
IMF's Chief Economist: Farm Laws have great potential to increase Farmer's income
India's recently-enacted Agri laws have the potential to increase farmers' income, but there is a need to provide a social safety net to the vulnerable cultivators, IMF's Chief Economist Gita Gopinath has said.
Indian agriculture is in need of reforms, she said.
There are multiple areas where the reforms are needed, including infrastructure, the Chief Economist of the Washington-based global financial institution said on Tuesday.
The three Agri laws, enacted in September last year, have been projected by the Indian government as major reforms in the agriculture sector that will remove middlemen and allow farmers to sell their products anywhere in the country.
Gopinath, in response to a question on the new farm laws, said: "These particular farm laws were in the area of marketing. It was widening the market for farmers. Being able to sell to multiple outlets besides the Mandis without having to pay a tax. And this had the potential to raise, in our view, farmers' incomes".
"That said, every time reform is put in place, there are transition costs. One has to make sure and pay close attention that it's not harming vulnerable farmers, to make sure that the social safety net is provided. Clearly, there is a discussion right now and we'll see what comes out if it

[5]," she said.
Disagreement By A Handful of Farmers
As per one estimate, India's official farmer population is anywhere between 100 million and 150 million. However, the total number of farmers of both the states of Punjab and Haryana is around 2 million which is around 2% of the total farmers of India.
As soon as the farm laws are declared by the government, a bunch of farmers sponsored by western Anti-India elements staged protests on the outskirts of the capital city New Delhi.
Let's go through the timeline of the farmers' protest since the new laws were introduced:
The protests began on November 25th, 2020, when a couple of farmers marched towards the national capital demanding a complete repeal of the legislation, as part of a "Dilli Chalo" campaign.

May 15, 2020: As part of the 3rd Tranche under Aatmanirbhar Bharat Abhiyaan to support the Indian economy in the fight against COVID-19, Union Finance Minister Nirmala Sitharaman announces the government's intention to enact three farm laws.
June 3, 2020: The Union Cabinet chaired by Prime Minister Narendra Modi took "historic decisions" and approved three ordinances­– Essential Commodities (Amendment) Ordinance, 2020; The Farming Produce Trade and Commerce (Promotion and Facilitation) Ordinance, 2020; and The Farmers (Empowerment and Protection) Agreement on Price Assurance and Farm Services Ordinance, 2020. All these laws were later known as three farm laws.
June 5, 2020: The President of India promulgates three ordinances. The new farm laws came into effect immediately.
June 5, 2020: The Centre promulgates three Farm Bills. These three Bills push the agricultural sector in India from a Government-run to a private-run sector.
September 14, 2020: The government introduces three bills in Lok Sabha– Farmers Produce Trade and Commerce (Promotion and Facilitation) Bill, 2020; Farmers (Empowerment and Protection) Agreement on Price Assurance and Farm Services Bill, 2020; and Essential Commodities (Amendment) Bill, 2020– to replace the three ordinances, promulgated on 5th June 2020, with proper legislation.
September 15, 2020: Lok Sabha passes one of the three farm bills– Essential Commodities (Amendment) Bill, 2020.
September 17, 2020: Two other farm bills– Farmers Produce Trade and Commerce (Promotion and Facilitation) Bill, 2020; and Farmers (Empowerment and Protection) Agreement on Price Assurance and Farm Services Bill, 2020– passed by Lok Sabha.
September 20, 2020: Rajya Sabha passes two farm bills–Farmers Produce Trade and Commerce (Promotion and Facilitation) Bill, 2020; and Farmers (Empowerment and Protection) Agreement on Price Assurance and Farm Services Bill, 2020.
September 22, 2020: The Essential Commodities (Amendment) Bill, 2020 passed by Rajya Sabha.
September 24, 2020: The President of India, Ram Nath Kovind gave his assent to two farm bills– Farmers Produce Trade and Commerce (Promotion and Facilitation) Bill, 2020; and Farmers (Empowerment and Protection) Agreement on Price Assurance and Farm Services Bill, 2020–and the two bills becomes laws.
September 26, 2020: The Essential Commodities (Amendment) Bill, 2020 assented by the President of India.
September 27, 2020: All three farm laws were published in the official gazette and came into effect.  November 25, 2020: After sporadic protests against the new farm laws, including a nationwide road blockade on November 3, farmers' unions in Punjab and Haryana gave the call for a '

Delhi Chalo

' movement. The Delhi Police, however, rejected their request to march to the capital city citing Covid-19 protocols.
November 26, 2020: Farmers marching towards Delhi faced water cannons, tear gas as the police tried to disperse them at Haryana's Ambala district. Later, police allowed them to enter Delhi for their peaceful protest at Nirankari ground in North-West Delhi.
November 28, 2020: Home Minister Amit Shah offered to hold talks with farmers as soon as they vacate Delhi borders and move to the designated protest site in Burari. However, farmers rejected his offer, demanding to hold the protest at Jantar Mantar.
December 3, 2020: The government held the first round of talks with representatives of farmers but the meeting remained inconclusive.
December 5, 2020: The second round of talks between farmers and the Centre also remained inconclusive.
December 8, 2020: Farmers gave a call for Bharat Bandh. Farmers from other states also gave their support to the call.
December 9, 2020: Farmer leaders rejected the Union government's proposal to amend the three contentious laws and vowed to further intensify their agitation until the laws are repealed.
December 11, 2020: Bharatiya Kisan Union moved the Supreme Court against the three farm laws.
December 13, 2020: Union Minister Ravi Shankar Prasad alleged the hand of the 'Tukde Tukde' gang in farmer protests and said the government was open to talks with farmers.
December 21, 2020: Farmers held a one-day hunger strike at all protest sites.
December 30, 2020: Sixth round of talks between government and farmer leaders saw some headway as the Centre agreed to exempt farmers from stubble burning penalty and drop changes in Electricity Amendment Bill, 2020.
January 4, 2021: Seventh round of talks between government and farmer leaders also remained inconclusive with the Centre not agreeing to repeal the farm laws.
January 7, 2021: The Supreme Court agreed to hear petitions challenging the new laws and those against the protests on January 11. This comes even as Attorney General K K Venugopal told the court that talks between farmers and the Centre "may just work".
January 11, 2021: The Supreme Court rapped the Centre for its handling of the farmers' protest. The top court said it would constitute a committee headed by a former Chief Justice of India to resolve the deadlock.
January 12, 2021: The Supreme Court stayed the implementation of the three contentious farm laws and set up a four-member committee to make recommendations on the legislation after listening to all stakeholders.
January 26, 2021: On Republic Day, thousands of protestors clashed with the police during the tractor parade called by farmer unions on January 26, demanding a repeal of the laws. After several protestors from Singhu and Ghazipur changed their route, they marched towards Central Delhi's ITO and Red Fort, where police resorted to teargas shelling and lathi charge while some farmers vandalized public property and attacked police personnel. At Red Fort, a section of protesters climbed poles and walls and hoisted the Nishan Sahib flag. One protester died in the chaos.
January 28, 2021: Tensions rose at Delhi's Ghazipur border after the administration in neighboring UP's Ghaziabad district-issued orders for protesting farmers to vacate the site by night. By evening, as police in anti-riot gear started spreading out at the site, the protesters camped there and their leaders, including BKU's Rakesh Tikait, said they would not leave.
February 5, 2021: The cyber-crime cell of the Delhi Police has registered an FIR on charges of "

sedition

", "

criminal conspiracy

" and "

promoting hatred

" against the creators of a 'toolkit' on farmer protests, which was shared by Thunberg. The 18-year-old deleted the original tweet on Wednesday but tweeted a revised toolkit on Wednesday night.
February 6, 2021: Protesting farmers held a nationwide '

Chakka Jam

', or road blockade, for three hours from 12 noon to 3 pm. While several roads across Punjab and Haryana were blocked during that time, elsewhere the 'Chakka jam' protest evoked a scattered response.
February 9, 2021: Punjabi actor-turned-activist Deep Sindhu, named an accused in the Republic Day violence case, was arrested by Delhi Police Special Cell on Tuesday morning. He was sent to 7-day police custody later in the evening.
February 18, 2021: Samyukta Kisan Morcha (SKM), the umbrella body of farmer unions spearheading the agitations last week, called for a nationwide 'Rail Roko' protest. Trains were stopped, canceled, and rerouted in places around the country.
March 02, 2021: Shiromani Akali Dal chief Sukhbir Singh Badal and other party leaders were detained by the Chandigarh Police from Sector 25 as they tried to march towards the Punjab Vidhan Sabha to gherao on Monday afternoon.
March 05, 2021: The Punjab Vidhan Sabha passed a resolution asking for the unconditional withdrawal of the farm laws in the interest of the farmers and Punjab, and to continue with the existing system of MSP-based government procurement of food grains.
March 06, 2021: Farmers complete 100 days at Delhi's borders. April 15, 2021: Haryana Deputy Chief Minister Dushyant Chautala writes to Prime Minister Narendra Modi urging him to resume talks with farmers who are protesting at Delhi's borders, and reach an "amicable conclusion" to the impasse over the farm laws.
April 26, 2021: Deep Sidhu gets the second bail.
May 27, 2021: Farmers observed a "Black Day" to mark six months of the agitation, and burned effigies of the government. Though the crowds at the three borders thinned, farm leaders had said that agitation will continue till 2024 if their demands were not met. Rakesh Tikait so-called Bhartiya Kisan Union leader, during a press conference, also reiterated that farmers will call off the protest only once the three farm laws were repealed.
June 5, 2021: Protesting farmers observe Sampoorn Krantikari Diwas (total revolution day) mark the first year of the promulgation of the Farm Laws.
June 26, 2021: Farmers march to Delhi to mark 7 months of protest against the farm laws. Samyukta Kisan Morcha (SKM) claimed that farmers were detained in states like Haryana, Punjab, Karnataka, Uttarakhand, Madhya Pradesh, and Telangana during the protests.

July 5, 2021:  About 200 protesting farmers started a parallel "

Monsoon Session"

, Kisan Sansad, near the Parliament House here on Thursday, condemning the three farm laws. Members of Opposition parties staged protests in front of the Mahatma Gandhi statue inside the House complex.
August 7, 2021: Leaders of 14 opposition parties met at Parliament House and decided to visit Kisan Sansad at Delhi's Jantar Mantar, where a select group of farmer leaders has been holding a Kisan Sansad (farmers' parliament) since July 22 to mark seven months of the protests at Delhi's border points against the laws. Gandhi and the other leaders reiterated that the three controversial laws should be withdrawn.
August 28, 2021: The agitation against farm laws enacted last year returned to the spotlight when Haryana Police cracked down on farmers in Karnal.
September 7 – 9, 2021: Farmers reach Karnal in large numbers and land siege to the mini secretariat. The farmers put forth three primary illegal demands including Rs 25 lakh compensation to the family of Kajal and a government job for his relative, compensation of Rs 2 lakh each for those injured in the lathi charge and registration of a criminal case, and stern action against Karnal SDM Ayush Sinha and police personnel responsible for the lathi charge.
September 11, 2021: Bringing to an end the five-day standoff between farmers and the Karnal district administration, the Haryana government agreed to conduct a probe by a retired judge of the Punjab and Haryana High Court into the August 28 police lathi charge on farmers at the Bastara toll plaza, and send former Karnal SDM Ayush Sinha on leave till completion of the inquiry. 
October 3, 2021: A convoy of three vehicles, including one owned by Ajay Mishra, plowed into a group of protesting farmers, killing four of them. In the violence that followed, two BJP workers and the driver of one of the vehicles were killed. A journalist was also among those killed. UP Police have so far arrested 10 persons, including the minister's son Ashish Mishra.
October 9, 2021: Facing murder charges over the Lakhimpur incident, Ashish Mishra, the son of Union Minister of State for Home Ajay Mishra, was arrested late at night, after questioning that lasted the entire day. 18 October 2021: Farmers call the 'Rail Roko' protest against the Lakhimpur killings and question the probe conducted by the UP government. Four trains including the Chandigarh-New Delhi Shatabdi Express (12046), were canceled, and 12 others were diverted or delayed due to the protest.
October 22, 2021: The Supreme Court observed that it was not against people's right to protest even on matters that are sub judice, but made it clear that such protesters cannot block public roads indefinitely. The bench was hearing a plea by Noida resident Monica Agarwal who highlighted problems faced by commuters on account of the ongoing protests against the farm laws and sought the protesters' removal from the Delhi border.
October 29, 2021: The Delhi Police started removing barricades from the Ghazipur border where farmers have been protesting against the Centre's three new agriculture laws. Similar scenes were also seen at the Tikri border. Police officials and laborers were also seen removing iron nails that were studded on the NH9 at Ghazipur.
The Samyukta Kisan Morcha has called for 500 farmers to will participate in a peaceful tractor march to Parliament every day during Winter Session starting November 29. This will be done to mark one year of the agitation against the Centre's three agriculture laws.
The Samyukta Kisan Morcha (SKM) had also called for massive Maha-panchayats in all state capitals on November 26 as part of the first anniversary of the agitation at Delhi borders. That day, the farmers from Punjab, Haryana, Uttar Pradesh, Uttarakhand, and Rajasthan will gather at the borders of Delhi to participate in the Maha panchayats[6].
Infiltration of Anti-India Forces in Farmer Protest

Zee News has reported early in the protest that the protests are not by the Indian farmers but by a well-planned agenda against the Indian Government by the external Anti-India forces like Khalistan which is sponsored by terror country Pakistan and its Intelligence Agency ISI.
The reports talked about the Khalistanis who have to misuse the movement and serve the interests of Pakistan by sitting in countries like Britain, America, and Canada. The genuine farmers of the country, however, have not been angry with Zee News as the truth came forward[7]. 
Zee News Editor-in-Chief Sudhir Chaudhary also tweeted Pro-Khalistan rallying a long line of cars which can be seen waving yellow-colored flags as they move towards New York on the Republic Day of India.
On further revelation, it was evidenced that farmer protests had been infiltrated by Khalistanis and Anti-India elements located in the west, when the "Toolkit" document was shared by Greta Thunberg, the Swedish climate activist, and Nobel Peace Prize nominee, on her tweeter account who extended her support to the farmers.
In the "toolkit" document, Thunberg called RSS-BJP a "Fascistic Ruling Party". The document is titled – "#AS KINDIAWHY Global Farmers Strike First Wave Will you be part of the largest protest in Human History?" The five main points that the document mentioned were:
Participate in (or organize an) on-ground protest: Share solidarity Photo/Video Message by email preferably by January 25 (solidarity messages for farmers at Delhi's border).
Digital Strike: #AskIndiaWhy Video/Photo Message – On or Before 26th January.
Twitter Storm on February 4,5 2021: Share solidarity Photo/Video Message by preferably by February 5, latest by February 6.
Contact a local Representative: It is paramount to put international pressure on India's Government.
Divest from Ambani and Adani: Billionaires Mukesh Ambani and Gautam Adani manufacture wealth by working hand-in-hand with the Modi Regime to exploit the world's people, lands, and culture. 
However, soon after an uproar on social media, the Swedish activist deleted the document from her Twitter account

[8].
The "Update Toolkit" suggested seven ways to back the agitation:
Share solidarity Photo/Video Messages on social media with hashtags (#FarmersProtest #StandWithFarmers).
Digital Strike: #AskIndiaWhy Video/Photo Message.
Keep tweeting – Feel free to tag @PMOIndia, @nstomar (Minister of Agriculture & Farmer Welfare), your own heads of state & others who ought to take note, like the IMF, WTO, FAO, World Bank.
Read more about the issue https://ruralindiaonline.org/en/stories/categories/farming-and-its-crisis/
Physical Actions – Near Indian Embassies, Govt. offices, Media house.
Watch out for (or join) the Farmers' March / Parade (a first of its kind) into Delhi and back to the borders.
Call/Email any of your govt representatives and ask them to take action, Sign online Petitions and take action to Divest from fossil fuels. 
Greta Thunberg, also suggested organizing protests near the closest Indian embassy on February 13 and February 14 to express support towards the farmers' agitation. 
Thunberg posted the updated toolkit even as the center on February 4 said: "Before rushing to comment on such matters, we would urge that the facts be ascertained, and a proper understanding of the issues at hand be undertaken. The temptation of sensationalist social media hashtags and comments, especially when resorted to by celebrities and others, is neither accurate nor responsible".
On November 19th, 2021, Prime Minister Modi repealed the laws after almost 1 year of protest by just 2% of Indian farmers.
As it is evident that Anti-India elements like Communists and Khalistanis are very much involved in Farmer's protests And their sole purpose was to weaken the Democratic values of India. And on the same time Farmers are still tilling their fields. So, it is beyond all and without question that who actually are the protestors? If they are Indian Patriots then how they can let the growth of the country go down by blocking main highways for months which are the lifeline of the country? How can they Rampage National monuments like Red Fort without any remorse? How can they bring International Shame to Mother India? I am sure that no Patriot can ever do this to his motherland and is positive that most of you will agree with me !!!
---
[1] Middlemen Biggest Obstacle in Increasing Farmers Income – Grainmart News
[2] The Real Reason of True Indian Farmer Suicide: Apathy, Agony, and Indebtedness? – Kreately
[3] BJP manifesto highlights: The 75 promises for India, (indiatimes.com)
[4] Farm Laws: What were the three agricultural laws and why there was controversy over them (newsstore24.com)
[5] India's new agri laws have potential to raise farm income: IMF's Gita Gopinath – Hindustan Times
[6] PM Modi repeals farm bills: A timeline of events that followed since their enactment | India News,The Indian Express
[7] Exposed: Zee News first to unmask connection between Khalistanis, farmers' stir and protest hijacking | India News | Zee News
[8] DNA Special: How Greta Thunberg's mistake exposed 'Toolkit Gang', led to Disha Ravi's arrest (dnaindia.com)
DISCLAIMER: The author is solely responsible for the views expressed in this article. The author carries the responsibility for citing and/or licensing of images utilized within the text.