India's Congress party and its Clandestine Relationship with Chinese Communist party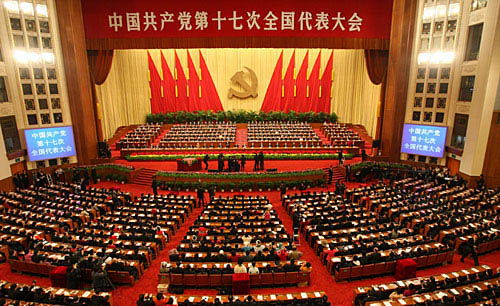 India after almost 45 years later lost twenty brave soldiers due to a direct conflict with Chinese army at Ladakh border. This was unprecedented as India and China have reached an agreement to diffuse the tensions at the Line of Actual Control (LAC) at Ladakh Border just few days before June 15th, 2020 . This conflict was direct violation of the agreement with China as video proofs show Chinese troops attack unarmed Indian soldiers with Iron rods, stone pelting.
Agreements between China and India regarding Border
India and China have signed some key agreements in past three decades to repair the fragile friendship between the Asian giants. The first pact was signed in 1993 during Prime Minister PV Narasimha Rao's administration. As per the pact:
Key Extract from 1993 pact:
"No activities of either side shall overstep the line of actual control. In case personnel of one side cross the Line of Actual Control, upon being cautioned by the other side, they shall immediately pull back to their own side of the Line of Actual Control. When necessary, the two sides shall jointly check and determine the segments of the Line of Actual Control where they have different views as to its alignment."
Three years later during Prime Minister Deva Gowda's Administration, signed another important agreement between two nations . Here is the extract below:
Key extract (1996):
"If the border personnel of the two sides come in a face-to-face situation due to differences on the alignment of the line of actual control or any other reason, they shall exercise self-restraint and take all necessary steps to avoid an escalation of the situation. Both sides shall also enter into immediate consultations through diplomatic and/or other available channels to review the situation and prevent any escalation of tension." As per the rules of engagement the two nations also have adhere "neither side shall open fire or conduct blast operations within 2 km of the Line of Actual Control".

Key extract2:
"Neither side shall open fire, cause bio-degradation, use hazardous chemicals, conduct blast operations or hunt with guns or explosives within two kilometers from the line of actual control. This prohibition shall not apply to routine firing activities in small arms firing ranges."
It was this agreement of 1996 which also set the rules on military exercises, making it clear that the strategic direction of the main force in an exercise "shall not be towards the other side". The Chinese PLA is carrying out its summer exercises opposite Ladakh which clearly are aimed at threatening India.
Key Extract3:
"Both sides shall avoid holding large scale military exercises involving more than one Division (approximately 1 5,000 troops) in close proximity of the Line of Actual Control in the India-China border areas. However, if such exercises are to be conducted, the strategic direction of the main force involved shall not be towards the other side."
Apart from the above important pact, another pact was signed by two Asian titans in 2013 during Prime Minister Manmohan Singh's administration. Here is the extract below:
Key extract (2013):
"The two sides agree that they shall not follow or tail patrols of the other side in areas where there is no common understanding of the Line of Actual Control in the India-China border areas."
Contrasting behavior of Indian Left Media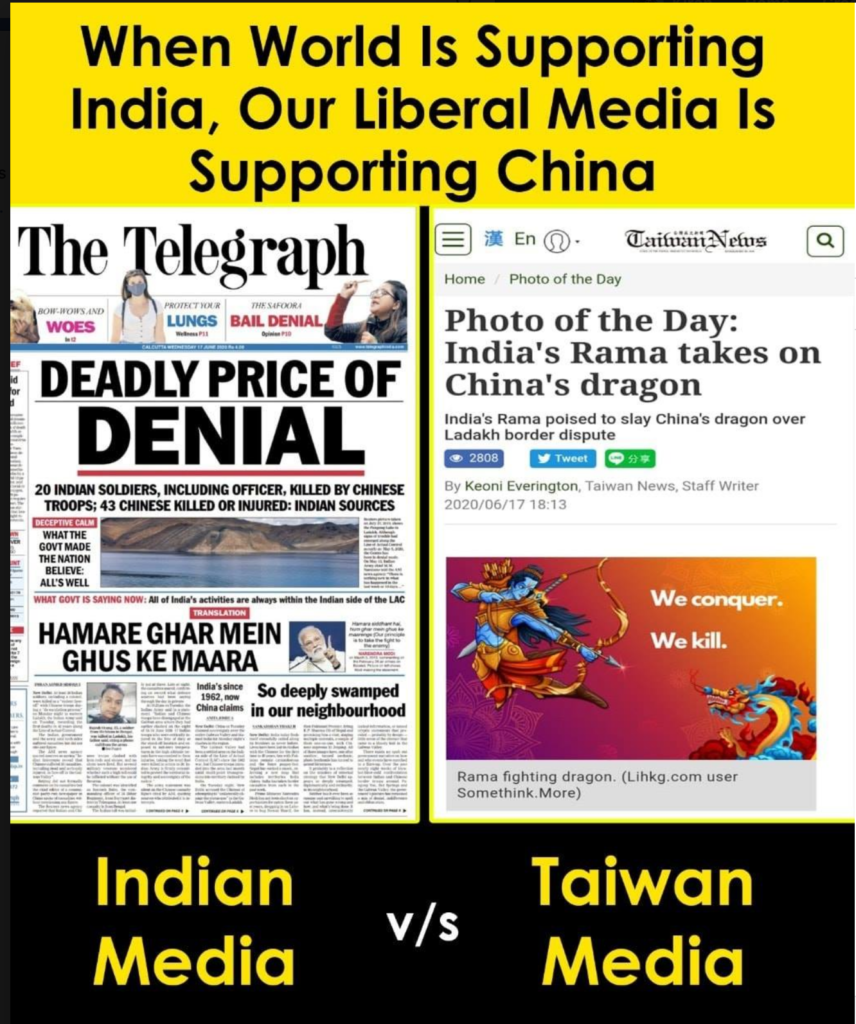 While the twenty martyred bodies were yet to be brought from Ladakh to their families, the Indian media started a Chinese propaganda blaming Indian Government on the behest of congress party and Communist part of India. It is interesting to note that Bengal based print media have published a main page editorial blaming Indian Government on how Chinese were able to kill Indian soldiers and the helplessness of Army and Indian Government unable to save twenty soldiers. The main page editorial has forgotten some basic aspects of the agreements signed between India and China since past three decades. It is not new that Bengal based print and digital media is well against Indian Government as it works as per the directions of communist party of India as the state was under the three-decade rule of communist party. However, writing a main page editorial with no legitimate information on hand is definitely heights of ignorance and a deliberate act of suppressing truth. Interestingly, Cadre of Communist Party of India were seen distributing sweets for attacking Indian army.
Nexus between Chinese Communist Party and Indian National Congress
Normally, any pact or agreements are signed between two governments or universities to share knowledge and work together towards common goal for the benefit of organizations or the people of the country. However, it is interesting to note that in August 2008, an MoU was signed between Communist party of China and Indian National Congress to share the thoughts of mutual interest, regional and bilateral relations between two countries. This was signed between Rahul Gandhi who was General Secretary of Indian National Congress and none other than Xi Jingping of Chinese Communist Party (CCP) who was Vice President at that time and standing committee member of CCP. The MoU was signed during Beijing Olympics and during the presence of his mother Sonia Gandhi who was President of Congress party and chairperson of National Advisory committee ( (NAC) which was categorized as a cabinet rank role only after Prime Minister's office). It also states that the MoU should go beyond UPA government rule and relations should continue with Nehru /Gandhi Family. In 2016, Congress party's president Sonia Gandhi and vice-President Rahul Gandhi led a delegation of Congress workers to China.
Rahul Gandhi's Clandestine meeting with Chinese during Doklam Standoff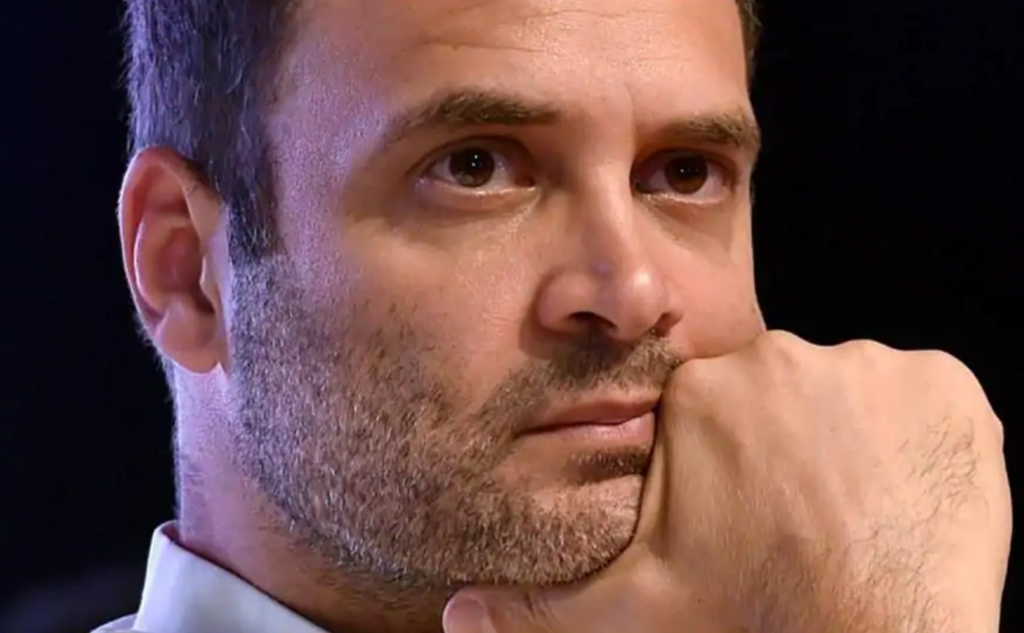 Doklam standoff refers to the military border standoff between the Indian Armed Forces and the People's Liberation Army of China over Chinese construction of a road in Doklam near a trijunction border area of India, China and Kingdom of Bhutan. During the 70-day standoff, while the tensions are high rise, Vice president of Congress Party Rahul Gandhi along with his sister Priyanka Gandhi and Brother In-law Robert Vadra and his two children have visited Chinese Ambassador Luo Zhaohui. He initially denied meeting the Ambassador but after some hours he admitted meeting the envoy and he also defended about his meet. The whole intent of meeting a Chinese ambassador was unknown as it was a secret meeting. Until, the Chinese envoy made it public, Indian people do not have an idea about the meet. The U turn made by Rahul Gandhi was something fishy, but congress party defended "what's wrong". Not only this but few years ago back in 2010, his meeting with American Envoy Timothy Roemer also generated enough controversy. As per wiki leaks, Rahul Gandhi told the latter that Hindu extremist groups could pose a greater threat to his country than Muslim militants. As per the report from " The Guardian" Jason Burke wrote "Gandhi, who is considered a likely prime ministerial candidate, warned Timothy Roemer that though there was evidence of some support for (Islamist group Lashkar-e-Taiba) among certain elements in India's indigenous Muslim community, the bigger threat may be the growth of radicalized Hindu groups, which create religious tensions and political confrontations with the Muslim community".
Rahul Gandhi's deliberate ignorance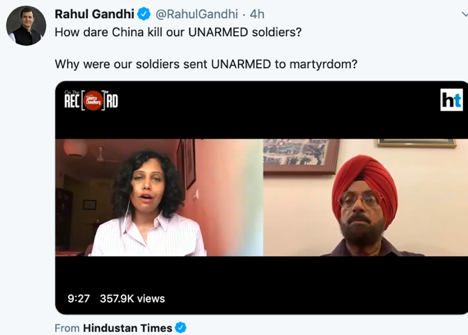 When the pyres of the brave hearts were not even lit, Rahul Gandhi, the Scion of Nehru Gandhi Family, tweeted on how Indian Army had let the soldiers die unarmed at the border on a tweet. He also pointed out the utter failure of the Indian Government and demanded answers while, the Indian Government had scheduled an all-party meet on June 19th, 2020 to brief the Snafu at the border. He and his party conveniently side lined to take cognizance of the agreements signed during the past decades and the congress party's ignorance was indeed a laughingstock of the situation at this grim hour. what can be more to connect dots of his Family and Congress party dubious relation with China as per MoU.
DISCLAIMER: The author is solely responsible for the views expressed in this article. The author carries the responsibility for citing and/or licensing of images utilized within the text.