Institutionalising Phobia: Fears that Become Reality?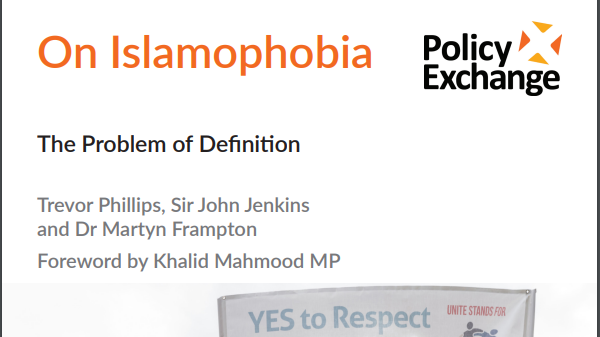 Phobia defined thus as: "an extreme or irrational fear of or aversion to something". Is the fear truly irrational or is this a global reality today?
"Defining Islamophobia", is a research note published by Policy Exchange, UK's leading Tory think tank and authored by Sir John Jenkins who has spent a 35-year career in the British Diplomatic Service; and Trevor Phillips OBE who is a writer, broadcaster and businessman. The report criticises heavily and damns the definition of 'Islamophobia' as proposed by the All-Party Parliamentary Group (APPG) on British Muslims. Why must there be such a definiton in the first place and why must law be changed to institutionalise this fear, asks Policy Exchange.
Questioning the purpose and the motive both of the definition, the research note adds, "Should the Government accept this highly partial definition, which
reflects an agenda unrepresentative of the expressed concerns of many, if
not most, British Muslims, they would risk endangering free speech, press
freedom and open the door to an assault on current counter-extremism
policy.
Many questions need to be asked about how the report was compiled;
whether due diligence was carried out on its authors and their sources;
and what the definition of Islamophobia could mean in practice."
To download and read the Policy Exchange Research Report: "On Islamophobia" click here.
"At first glance, the matter seems uncontroversial. It should be beyond question
that anti-Muslim hatred must be tackled with the same determination as any
other form of prejudice, bigotry or racism in Britain. The question that matters,
however, is whether this initiative will help or hinder that broader effort", says the report.
Questioning the motive of the APPG to publish such a definition, Sir Jenkins and Trevor Philips add, "
First, does the APPG's report contain an accurate or balanced portrayal of the
experiences and position of Muslim communities in modern Britain, or does it
feed into a more divisive narrative of separateness and exclusion? This research
note sets out some serious concerns. Secondly, has due diligence been carried
out on those who contributed written and oral evidence to the APPG's inquiry –
and on those who authored the report?"
Raising serious questions over the position of the government in addressing extremism, counter-terrorism and threat to democratic liberal principles, the report asks, "
Moving beyond this, there is another practical set of questions on the likely
impact of this definition of Islamophobia being adopted by Government and
institutions. What would the effect be on Government counter-extremism and
counter-terrorism programmes (CONTEST)? Would it diminish media freedom in
the UK by encroaching on existing conventions of free expression that already
take account of hate crime legislation? What would be the effect on individual
Muslims and different Muslim communities, including those engaged in counter extremism or who might contest the highly politicised definition offered here?
Does it represent a genuine attempt to promote integration of Muslims into
British society or does it encourage the creep towards communal identity
politics? Finally, is there a risk that this definition opens the door to an
underlying Islamist agenda that purports to represent the interests of British
Muslims but is in fact partisan and divisive?"
In defining 'Islamophobia' the APPG report seems to have establish Great Britain as an intolerant Nation and suffocating towards the Islamic faith. Sir Jenkin and Trevor thus challenge this claim:

"The vast bulk of the APPG's report suggests that the UK constitutes an
"Islamophobic environment" (p.49) and that defining Islamophobia is therefore as
urgent a task as defining genocide was in the aftermath of the Second World
War and the Holocaust (p.43). It is as if we live in a country where it is "open
season" on Muslims (to quote a phrase used by Fatima Manji)."
The terror attacks made in the name of Islamic Jehad, will have to remain unchallenged. The persecution of minorities and hatred towards the 'Kafir' will never be allowed to be questioned because all of this, if done, will amount to 'Islamophobic' behaviour. The APPG report establishes this and qualifies this thus as:
"…the recourse to the notion of free speech and a supposed right to
criticise Islam results in nothing more than another subtle form of antiMuslim racism whereby the criticism humiliates, marginalises, and stigmatises Muslims" (p. 35), as highlighted by Policy Exchange research paper.
Pertinently, the Policy Exchange Research paper by Sir Jenkins and Trevor Philips points out that,
"The APPG's definition, if it was officially endorsed, could seriously undermine
press freedom, as so much reporting and discussion could potentially be
stigmatised as "Islamophobic".19 Many of those calling for the new expanded
definition of Islamophobia have also called for "Leveson II"20 and for a full
inquiry into Islamophobia in the British media.
A capacious definition of Islamophobia might make it more difficult to investigate future stories like the Rotherham grooming scandals. (Recall how the respected Times journalist Dominic Kennedy has been accused of "professional Islamophobia" for
reporting another story concerning Islamism.) The same may apply to journalistic
investigations such as those into Lutfur Rahman, the disgraced Mayor of Tower
Hamlets, who was found guilty of corrupt and illegal practices. It may even
have implications for the Government's capacity to act. Would Eric Pickles, as
Communities Secretary, have been able to order investigators to look into the
financial management of Tower Hamlets, as he did in 2014, without falling foul
of this definition of Islamophobia? Would the Government have been able to
appoint Peter Clarke as Education Commissioner for Birmingham with a remit to
investigate "allegations concerning Birmingham schools arising from the 'Trojan
Horse' letter" in 2014? Would Ofsted have been able to carry out its
inspections the same year, after the emergence of the scandal? Ministers will
have to consider these issues carefully."
A number of scholars of Islam itself have sought a relook at 'the book' and review it. There have also been dissenting voices within the broader Islamic world, which will not be allowed at all – so much for 'Freedom of Speech'? That too in a democracy? The Policy Exchange paper further adds and points out:
"Apart from the Southall Black Sisters, what is missing throughout the APPG
report are any dissenting voices or the views of those Muslims who have either
been accused themselves of Islamophobia or have suffered from acts of hatred
and bigotry perpetrated by other Muslims. As Sara Khan, Lead Commissioner for
Countering Extremism, has written: "A narrow understanding of 'Muslimness'
leaves behind those Muslims who, because of how they choose to live their lives
or practise their religion, don't have a 'Muslimness' that other Muslims find
acceptable." She comments:
'Other Muslims boycott Ahmadiyyah businesses and restaurants, bully Ahmadiyyah children at school, and distribute leaflets calling for their death. If this abuse was experienced by Muslims at the hands of nonMuslims, it would be perceived as anti-Muslim hatred; why should it be any different just because the perpetrators are Muslims themselves?'
The report contains no mention of the Ahmadiyya community. It uncritically quotes Professor Tariq Modood's argument that, as the report puts it, 'Islamophobia should be confined to naming the specific process through which Muslims are racialised by non-Muslims, which thus entails categorising sectarian issues under a different terminology'. In Professor Modood's words: 'I think we have to find some other category for that.' (p. 41) Why? According to this definition, it is impossible for Muslims to be Islamophobic. Intra-Muslim sectarianism and attempts by some Muslims to police the behaviour of others is
erased from the debate and Islamophobia is explained as being directed solely at
Muslims by non-Muslims."
In conclusion, the Policy Exchange Research Paper asks a number of key questions that I reproduce here as it is:

What due diligence was carried out on those who wrote or contributed to the APPG's report?
Were members of the APPG and other MPs who appeared at the launch of the
report fully informed about the connections of those who helped write this
report and contribute evidence? Quite aside from the dubious nature of such
"expert" evidence, the report contains no reference to the previous campaigns of
organisations like MEND to use Islamophobia as a means to attack the
Government's counter-extremism strategy.

How would the APPG's Islamophobia definition affect the freedom of the media?
Many of those calling for the new expanded definition of Islamophobia have also
called for a full inquiry into Islamophobia in the British media and for "Leveson
II"55. Is the aim state regulation that, combined with an official definition of
Islamophobia, could restrict what newspapers and other media outlets are
allowed to publish? The APPG report depicts a rampant media that dehumanises
Muslims and circulates "racist caricatures" (p. 10). Is this a fair assessment of our
free press, a vital democratic asset? Groups like the MCB and MEND have
attacked IPSO and called for more assertive regulation of the press: this is
despite the fact that – since 2014 – there have been around a dozen IPSO
rulings in favour of Islamist complainants. IPSO also considers "third party"
complaints, where a group can complain on behalf of an individual about an
inaccuracy. Notably, the APPG's report refers uncritically to IMPRESS, which it
describes as a "Leveson-compliant independent self-regulatory body for the
press in the UK" – though without mentioning that it is a controversial body
which, as the Times reported on November 30, 2018, "most major publishers
have refused to join out of principled objection to any form of state
interference". Once again, it appears that another agenda may be at play. Does
the Government want to place itself in the position of facilitating this agenda?
How would the definition affect the Government's Counter-Terrorism Policy?
Could acceptance of the new definition of Islamophobia narrow Government
policy options? How could Prevent and Pursue – key planks of the
Government's counter-terrorism policy – survive in their current form once this
new yardstick of "Islamophobia" became enshrined in official culture? Many of
those who are seeking to weaponise this definition already denounce Prevent as
"institutionally Islamophobic".
Would it enable an Islamist agenda?
The report makes little mention of Islamism, a mode of politics that is deeply
contentious and is rejected by a majority of Muslims around the world – yet how
can the question of how to respond to Islamism be disentangled from this issue?
As noted, Islamist groups have in the past used allegations of "Islamophobia" to
shield themselves from criticism. Islamists inevitably conflate themselves with
Islam, like Irish Republicans claimed to defend all Catholics. The same agenda
has reappeared in the APPG report, but the connections with MEND and other
like-minded groups have not on the face of it been made clear to the
parliamentarians asked to support it.
Read the Policy Exchange Research Paper in FULL
DISCLAIMER: The author is solely responsible for the views expressed in this article. The author carries the responsibility for citing and/or licensing of images utilized within the text.