Junagadh annexation to Pakistan: Mountbatten's clever plan of exploitation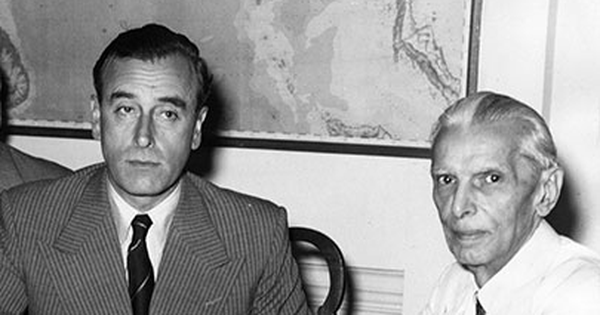 When India gained independence in 1947, Nawab Sir Mahabatkhan Rasulkhanji (also known as Nawab Mahatab Khan III) was in charge of Junagadh, a princely state with a landmass of around 3,337 square miles. There are other tales about the Nawab's eccentricities and his love of dogs, including the fact that he spent $21,000 on the wedding of two of his dogs. In the chapter "A Junagadh Bitch that was a Princess" of "Maharaja," Diwan Jarmani Dass writes that the Nawab invited Rajas, Maharajas, Viceroys, and other notable guests to Roshanara's wedding. He also announced a three-day state holiday and entertained nearly 50,000 people.
The book recounts the bizarre wedding celebration of the dog-bridegroom, "The bridegroom's party was received by the Nawab of Junagadh at the railway station, accompanied by 250 male dogs in gorgeous clothes and jewelry who came in procession from the palace to the station on elephants with silver and gold howdahs. The Ministers and officials of the State and the members of the Royal family of Junagadh were also present at the station to receive Bobby, the bridegroom."
Southwest of Kathiawar is Junagadh. All of its neighbors were Indian States, while the Arabian Sea is to its south and southwest. There was no physical border between Junagadh and Pakistan. About 300 miles separate Port Veraval from Karachi via water. 82% of the roughly 6.7 lac residents were Hindu. The state's citizens wanted to join India. On August 15, 1947, the Nawab did, however, sign the Instrument of Accession in Pakistan's favor. He received assistance from his close friend and diwan, Sir Shahnawaz Bhutto, the late Prime Minister of Pakistan Zulfikar Ali Bhutto's father.
Pakistan kept it a closely-kept secret. Jinnah had predicted that India would accept the accession as a fait accompli if enough time elapsed before the subject was revealed. There were merely some unfounded reports, and India enquired about them with the Pakistan High Commissioner to India. There was silence. On September 6, 1947, another reminder went unanswered. Only one month after the accession, on September 13, 1947, was India made aware that Pakistan had agreed to Junagadh's admission and had signed the Standstill Agreement.
The British were previously aware of the accession but had remained silent. Mountbatten informed the King in his report that Junagadh was Pakistani territory without delay. He stated, "My chief concern as Governor-General was to prevent the Government of India from committing itself on the Junagadh issue to an act of war against what was now Pakistan territory."
Mountbatten revealed, "Pakistan is in no position even to declare war since I happen to know that their military commanders [British, at the top level, at that time] have put it to them in writing that a declaration of war with India can only end in the inevitable and ultimate defeat of Pakistan."
The accession of Junagadh, a Hindu-majority state (and not even a border state), to Pakistan was of the least importance to Mountbatten. In stark contrast, he was quite upset that J&K had joined India and used all of his nasty tricks to deceive the gullible Nehru and guarantee that the accession was contested.
Mountbatten was concerned that India would try to capture Junagadh after Junagadh had joined Pakistan. To ensure the same, he performed pranks on Nehru and Gandhi.
The PM, Nehru, kept silent as was to be expected! Jinnah had properly predicted that an indecisive and erratic Nehru would just engage in his customary high-talk about "international circumstance and international reaction," but would, once again, as usual, soft-pedal the issue in order to avoid making a decision or taking any action.
Regarding Mountbatten, the shrewd Jinnah understood that Mountbatten would not permit India to make any hasty decisions. All Jinnah wished for was for India to refrain from taking any physical action. Gandhi, a pacifist who was more concerned with his "Mahatma" title and the brand of "non-violence" that went along with it, never thought it would be necessary to take adequate action to retake Junagadh. The only person who could have saved them was Sardar Patel because Nehru-Gandhi did nothing.
In contravention of all democratic norms, Sardar Patel passionately protested the "forcible dragging of almost 80% of the Hindu inhabitants of Junagadh into Pakistan via admission." Jinnah and Mountbatten had overlooked the possibility that, in addition to pacifists on India's side like Gandhi and Nehru, who were passive about the country's interests and easy to manipulate, there was also an iron-willed, don't-mess-with-us Iron Man on India's side. Sardar Patel was unaffected by any of Mountbatten's distraction strategies. Mountbatten attempted each of his ideas in turn, but they all fell short. He gave Patel advice on a series of premises: negative global perception! the unnecessary war When there were so many pressing issues, war was inevitable! Why not bring this up with the UNO?
Use the Central Reserve Police and not the Indian Army if at all possible! All of Mountbatten's alternatives and recommendations were rejected by Sardar Patel, who instead chose to use military force to put the matter to rest once and for all. That called for guts, something Nehru and Gandhi lacked. Like in the cases of Hyderabad or Kashmir, Patel did not allow the situation to fester.
Patel moved soldiers while keeping Mountbatten the uninformed in a diplomatic manner. First stationed in the area bordering Junagadh, the newly formed Indian military command known as the Kathiawar Defence Force later captured Babariawad and Mangrol, which Junagadh had claimed as its own. The Junagadh operation was so expertly planned and carried out by Sardar that the Nawab of Junagadh fled to Pakistan on October 26, 1947, handing over control of the state to Shahnawaz Bhutto. Faced with the impending collapse of the government, Bhutto invited India to intervene on November 7 and departed for Pakistan on November 8. On 9 November 1947, the Indian army entered the area, and on 13 November 1947, Diwali Day, Sardar Patel arrived to a festive welcome. The Nawab evacuated the treasury of money and valuables before fleeing with his dogs.
DISCLAIMER: The author is solely responsible for the views expressed in this article. The author carries the responsibility for citing and/or licensing of images utilized within the text.