Khalid Umar asks "Is bollywood controlled by ISI?"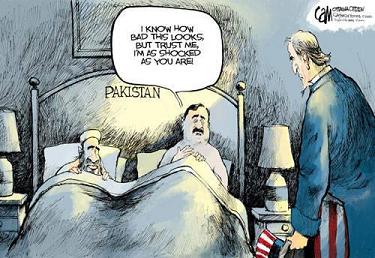 The humongous task which PM #NarendraModi has in front of him includes to detox Bollywood when allegedly icons of the film Industry are into dubious connections and activities.
It should not come as a surprise that Dawood Ibrahim is not the only underworld don and an ISI operative who has connections with Bollywood. Aneel Mussarat, is a Pakistan National, a property developer based in Manchester who is an ISI operative who connects ISI with Bollywood.
Aneel regularly hosts officials from Pakistan in London. In September 2017, Anusha Mussarat, daughter of Aneel Mussarat got married in London and Manchester in a £4 million marriage extravaganza. Imran Khan and other Pakistani politicians and officials joined the wedding. Many of Indian Bollywood celebrities also attended the wedding.
AnilKapoor, #KaranJohar, #SonamKapoor, #HritikRoshan, and #SunielShetty were among the prominent names who participated in all the functions of the marriage and performed where #ImranKhan and important Pakistani politicians including, Shah Mahmood Qureshi, Babar Awan, Khursheed Kasuri, Sheikh Rasheed Ahmed and Makhdoom Ahmed Mehmood were guests among others. The wedding reception was hosted by Kuch Kuch Hota Hai director Karan Johar. Imran Khan was invited on the stage by Karan Johar to share his wedding experience with others. Anil Kapoor is friends with Aneel since 25 years. Aneel also attended Sonam Kapoor's marriage. It should not come as a surprise that Sonam Kapoor tweeted in favour of Anti-CAA protest.
Aneel has been involved in financing Anti-CAA activities in the UK. He finances films that project anti-India and anti-Hindu sentiments and Bollywood is an accomplice. Please note that when Deepika attended the protest in JNU on Aneel's call, General Asif Ghafoor of #ISPR , also praised her in a tweet. Aneel Mussarat who has verifiable links with the ISI provides support to Bollywood's and other celebrities in money laundering.
I wonder, Indian High Commission takes special precautions in issuing visas to persons of Pakistan origin but why he is so easily able to visit India and join the celebrity functions is anybody's guess and I think that how a person with known connections with Anti-Indian elements is able to visit India with ease and without ever being questioned on his dubious connections.
BACKGROUND OF ANEEL MUSSARAT
In 2008, at 38 years of age, he rose to prominence after being listed (a doubtful report published in the Sunday Times and not backed by any financial evidence) as the 12th richest Asian in Britain with worth £205 million from property business. In 2018, the businesses he hold does not seem to be doing that great. His name does not appear even in the first 100 of the richest Asians. Rather it is nowhere.
According to my research, for all businesses where Aneel Mussarat holds a current appointment a combined total current assets value of £15.1m with a total current liabilities of £12.9m and a total current net worth of £9.9m, which is very poorly indeed. These are also self-declared financial information and not through independent audit reports.
DUBIOUS BUSINESS PRACTICES
From 2006 onwards, Mr Aneel Mussarat has been involved in a staggering 122 company directorships with 8 dissolved companies, 98 resigned and 16 active directorships. You don't need to be business guru to know that this denotes dodgy & fraudulent business practices. All the companies he has been associated with were fake. There are no audited accounts and the accounts of 90 companies he has been associated does not show any group accounts.
ANEEL'S CONNECTIONS WITH CORE PAKISTANI MILITARY ESTABLISHMENT AND ISI
Chico Jahangir, Aneel Mussarat and Zulfi Bokhari make the core friends and cronies group of Imran Khan in Britain. Aneel was introduced to Imran Khan through Sahibzada Jahangir (@chicoJahangir) who is his old friend since 40 years and head of PTI Britain and Europe and a founding member of PTI. He is brother of Mrs Fauzia Kasuri.
Walima (feast) of Imran Khan's marriage with Jemima Khan was held at his house in London. On 04 August 1993, Aneel Mussarat hosted fundraising dinner in London for Shaukat Khanum Memorial Cancer Hospital during which #AmitabhBachan and #DalipKumar were invited. Nusrat Fateh Ali Khan also performed at the event.
AneelMussarat also attended the rallies of PTI in the years preceding 2018 and had frequently dashed to Pakistan along with Sahibzada Jahangir. Imran Khan specially came to attend the marriage ceremony of Aneel Musarrat's sister on 18.11.2016 in Manchester. Aneel is allegedly in business relations with the brothers of the Pakistan's Army Chief Gen Bajwa who live in Birmingham.
ROLE OF BOLLYWOOD IN SHAPING PUBLIC OPINION
Bollywood plays a vital role in shaping public opinion. Bollywood celebrities have often shown that for them patriotism is a movies stuff only. Bollywood celebrities have been flirting with people with known connections with anti-India establishment.
The warm relationship between ISI agents and the so-called Bollywood celebrities is not a secret. It is high time that Bollywood stars be investigated for their Anti- Indian dubious links.
Pic Credit – Https://Www.Memri.Org/Reports/Editorials-Pakistani-Dailies-Call-Accountability-Pakistans-Inter-Services-Intelligence-Isi

Appeared on https://newsroom24x7.com/2020/09/30/is-bollywood-controlled-by-isi-of-pakistan/
DISCLAIMER: The author is solely responsible for the views expressed in this article. The author carries the responsibility for citing and/or licensing of images utilized within the text.