Liberals furious after Sambhaji Bhide Guruji suggests that a reporter wear bindi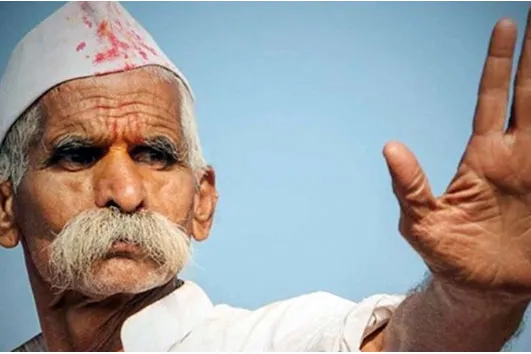 Sambhaji Bhide Guruji, the activist-leader of Shri Shivpratishtan, wouldn't meet with a Saam TV reporter until she wore a bindi. As was to be expected, the liberal brigade was outraged with Guruji and claimed that his demand "insulted" women. The event happened after Bhide Guruji's meeting with CM Eknath Shinde at Mantralay.
When the reporter requests a sound bite on the video, Guruji responds, "I will talk to you when you put on a bindi. I think Bharatmata exists in every woman. A widow, Bharatmata is not. So put on a bindi, and I'll speak with you. It is difficult to discern what about this is offensive. Is it offensive to compare all women to Bharatmata? Only in the eyes of people "You declined to give an interview to a female reporter because she wasn't wearing a bindi," the notification reads. What a woman wears does not define her; her work does. You have enraged the people of Maharashtra with your comment. The women's commission is curious why you demanded that the reporter wear a bindi before agreeing to an interview.
Unsurprisingly, Bhide Guruji received a notification from the State Women Commission, which is run by Rupali Chakankar of the Congress-supporting Nationalist Congress Party (NCP). Chakankar claimed the activist insulted women and journalism in the tweet she posted in conjunction with the notification. She said that he had spoken things that "demeaned" women. Sanjay Raut, the leader of the Shiv Sena, was accused of abusing reporters during a press conference. Still, one of the users correctly pointed out that the commission had merely turned a blind eye to the incident.
ताई, संजय राऊत ने महिला पत्रकार समोर असताना, लाईव्ह पत्रकार परिषदेत शिव्यागाळ केली. काय कारवाई केली का?
एखाद निषेध पत्रक तरी?#HMV मुद्दा दाबण्याचा निष्फळ प्रयत्न आहे हा. @saamTVnews @abpmajhatv @TV9Marathi @LoksattaLive आम्ही हिथेच आहोत.. रोज दणदणीत वाजवणार सगळ्या #HMV ची. pic.twitter.com/6QstMNxtUR

— शिवानी मराठे 🚩 (@ShivaniSMarathe) November 2, 2022
Additionally, it should be mentioned that Chakankar was Missing in action when a 13-year-old girl was viciously raped in Kolhapur. Chakankar's prejudiced behaviors are clear evidence of NCP's Hindudvesh (Hindu hatred). In addition, Congress showed its anti-Hindu sentiment when several of its state-level leaders came out in favor of the journalist. The standard "Manusmriti" and "Brahminical patriarchy" tropes were used by the cabal to target Guruji. It is important to note that positions like these are sometimes used as a means of "handing positions to deserving party members."
A message from Guruji's official Twitter account criticized the liberal cabal and questioned their position on Muslim women wearing the hijab.
— Sambhajirao Bhide Guruji (@bhidegurujii) November 3, 2022
The Hindudveshi media seized the chance to disparage Shri Bhide. The name Guruji was used in quotes in the Indian Express article to imply that the title wasn't appropriate for the activist leader. In order to disparage Guruji, it also utilized phrases like "right-wing leader" and "renowned for inflammatory comments." A number of Maharashtrian "journalists" (read: Presstitutes) also "stood with" the Saam TV reporter.
Free Press Journal referred to him as "sexist" and used the standard "Hindutva" label that the anti-Hindu media employs to disparage Dharmic leaders and give the term a bad reputation.
It is quite evident that the whole situation is being exaggerated in order to malign Bhide Guruji because of his Dharmic background. Furthermore, they find it difficult to accept that he is a leader who defends Hindu culture and tries to advance Hindus on the ground.
He holds a Ph.D. in physics and an MSc with a gold medal. He left his position as a professor at Fergusson College in Pune in the 1980s to pursue his passion for protecting Chhatrapati Shivaji Maharaj's forts and inspiring young people to get involved in conservation initiatives. In this regard, the so-called Purogamis (Progressives), who exploit Chhatrapati's name for political gain, have rarely accomplished even a tiny fraction of Guruji's work.
For the past 40 years, he has resided in this area. He travels on an ancient bicycle and strolls barefoot. His neighbor Vaishali Bapat tells TOI that the only things he owns are books, the jute sacks he uses as a mattress, and a towel that he uses as a cushion.
In response to a different query regarding the state government's plan to forbid religious observances in its offices, Bhide stated that he finds the action offensive because Hindus own India. He claims that embracing secularism will harm the nation at a time when Hindu civilization should be emulated by the entire world. Bhide defines Hindutva as adhering to Chattrapati Shivaji's values.
He urges the Hindu community to uphold the ideals of Shivaji Maharaj and Shambhaji Maharaj of living and dying for the nation. According to Bhide, that ought to be the aim of every Hindu, claims Boom Live in its story on Guruji.
When requested to wear a symbol that is intrinsic to Hinduism simply because it originates from someone whose ideology they disagree with, only "liberals" will react with indignation. Remembering that Rajmata Jijau stood for defending Hindutva and that those who oppose it have no right to use Rajamata's name is important for those who utilize her name in politics.
DISCLAIMER: The author is solely responsible for the views expressed in this article. The author carries the responsibility for citing and/or licensing of images utilized within the text.