Two more including a veterinary nabbed in Omesh Kolhe's murder case, NIA takes over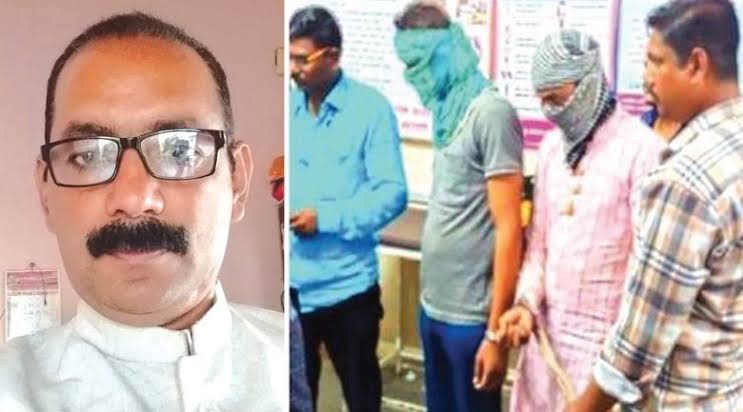 In connection with Umesh Kolhe's murder in Amravati, Maharashtra, for his social media post endorsing Nupur Sharma, two more accused have been taken into custody. One of them is the primary accused Sheikh Irfan Sheikh Rahim (age 35), while the other is a veterinary doctor who encouraged the murder of Umesh Kolhe.
Sheikh Irfan was nabbed on July 2, 2022, and was taken into custody in Nagpur. He provided logistical support, is accused of inspiring Shamim and his friends to carry out the murder. He also runs an NGO.
Prior to that, the police had detained Dr. Yusuf Khan Bahadur Khan (age 44), the sixth suspect, on Friday night in Amravati. Veterinarian Dr. Yusuf Khan runs a clinic in the area. Khan, according to the police, had posted a message on WhatsApp groups criticising Umesh Kolhe. He said that Kolhe was supporting Nupur Sharma in his writings, which incensed them and led to murder the Hindu man. According to a police officer, Khan encouraged the others to carry out the murder. Khan was produced in the court and was placed in police custody until July 4.
Prior to that, five people have already been detained by the Maharashtra Police in relation to the crime. They are identified as Muddasir Ahmed (also known as Sonu Raja Sheikh Ibrahim), Shahrukh Pathan (also known as Badshah Hidayat Khan), Abdul Taufiq (also known as Nanu Sheikh Taslim), Shoheb Khan (also known as Buriya Sabir Khan), and Atif Rashid Adil Rashid. Muddasir Ahmed is age 22. (age 22).
On Saturday, the police officially acknowledged that Kolhe was murdered for supporting Nupur Sharma, despite initially insisting that it was a case of robbery gone wrong. After MHA turned the matter over to NIA, they changed their stance. Before that, Maharashtra police tried to paint the incident as a robbery case.
According to Vikram Sali, Deputy Commissioner of Police for the city of Amravati, the murder was motivated by retaliation for Kolhe's support of Nupur Sharma in a Facebook post. Khan had posted about Kolhe in a WhatsApp group, accusing him of disseminating articles in support of Nupur Sharma. This incited Kolhe's accusers, who then determined to assassinate him. Khan therefore encouraged the other accuser.
Umesh Kolhe was killed on the night of June 21. When Umesh Kolhe closed his medical store at around 10 p.m., he was riding his scooter home. There is CCTV footage of the incident and it can be seen that three suspects on bikes approached Umesh Kolhe as he was riding home from his shop, stopped him, and fatally stabbed him close to a school. Sanket Kolhe, the son of Umesh Kolhe, and Vaishnavi, Sanket's wife, were also riding different scooters.
The National Investigation team has taken up the case investigation ten days after Umesh Kolhe's murder.
Meanwhile, Mahesh Kolhe, Umesh Kolhe's brother, revealed that his brother had forwarded certain messages in favour of Nupur Sharma in several WhatsApp groups, he said that they didn't believe it would lead to any problems. He added that neither his family nor his brother had received any threats.
While speaking to ANI, Mahesh Kolhe added that he was being told the exact reason of the murder, and he was assured by police that 4 people are arrested. "Some newspapers published that it is a loot or robbery case. Though the police officials assured us that they have not told any such thing to any reporter. Some newspapers went on to publish that there was a brief scuffle between the attackers and my brother, but this is not the fact. The fact is just that they came, stabbed the knife, and ran away."
DISCLAIMER: The author is solely responsible for the views expressed in this article. The author carries the responsibility for citing and/or licensing of images utilized within the text.