Maldives environment minister Ali Solih attacked while riding bike, accused recited Koran's verses before attacking him.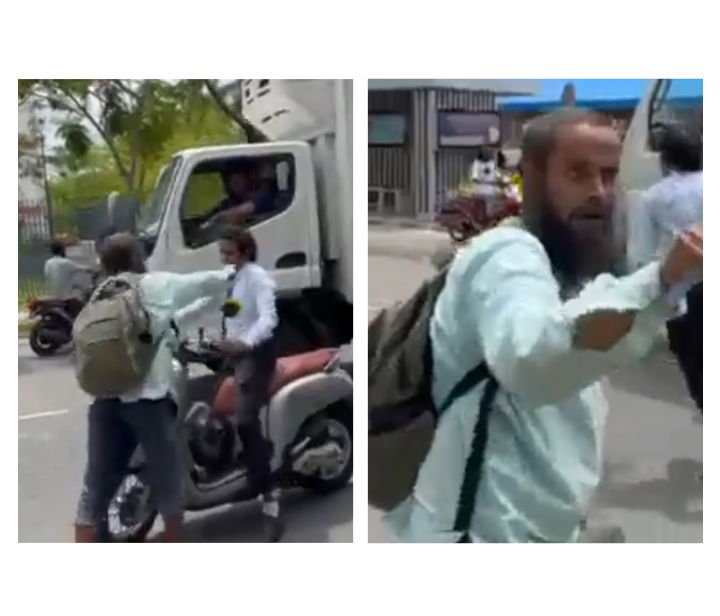 Maldives environment Minister Ali Solih was attacked with a sharp object while he was on a bicycle in the Hulhumale region of the capital Male. The person who attempted to slit his throat was quickly taken into custody by the Maldivian Police. The incident have occurred on Monday when Minister Solih was riding his two-wheeler in the Hulhumale region of Male. The attacker block the path of Maldivian Minister Ali Solih Before and then he began to attack the minister in persuit of killing him by reciting a few lines from the Koran.
The Minister's left arm got injured because of the attacks made by the assailant who was trying to slit the neck of the minister. In an effort to save his life, Minister Solih sprang off the motorcycle and ran away from the scene. Currently he is receiving care at the Hulhumale Medical Center. A video of the incident that went viral on social media shows the attacker attempting to slit the Minister's neck many times but failing. The attacker started yelling at Solih shortly after he fled abandoning his bike on the street. In the regional tongue, he conversed with locals as well.
The assailant attempted to attack State Minister @alisolih's neck. pic.twitter.com/CpZSSMQWCA

— Muaviath Anwar (@Muaaviath) August 22, 2022
The event was reported and the male police arrived on the scene and detained the attacker. Although the police are looking into the incident and questioning the perpetrator, it remains unclear why the attack was organised and carried out. The Maldives are threatened by both the recruitment of foreign violent groups and growing Islamic radicalism. Prior to then, the island was in the news because of the assault on former president Mohamed Nasheed in Male. The bike that was parked outside Nasheed's home had explosives on it. The former President had to undergo treatment for months in Germany.
According to reports, the current administration, which is presided over by President Solih and Speaker Nasheed, is renowned for its democratic and liberal stance on social values and governance. The Maldivian Democratic Party (MDP), which is in power, has been waging a protracted campaign against the growth of radical ideologies on the island nation of the Indian Ocean. Minister Ali Solih, the state minister for the environment, climate change, and technology, is the victim in the current predicament. He is also the spokesperson for the Jumhooree Party (JP), a coalition partner of President Ibrahim Solih's Maldivian Democratic Party (MDP).
DISCLAIMER: The author is solely responsible for the views expressed in this article. The author carries the responsibility for citing and/or licensing of images utilized within the text.