Mamata's Masque Slips, Revealing Jinnah: Declares August 16th Direct Action Day As Khooni 'Khela Hobe Divas'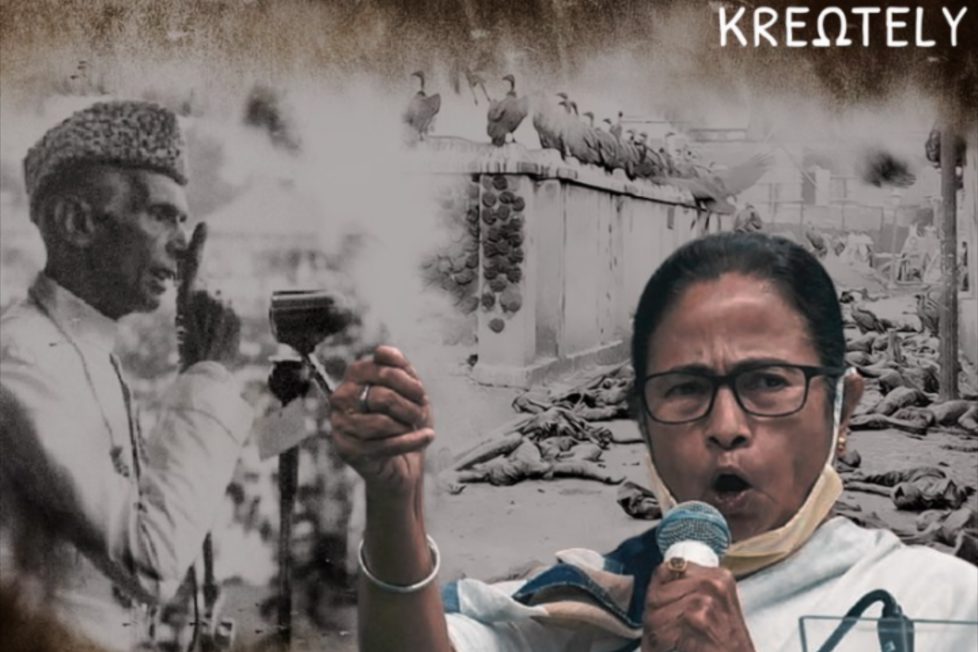 Mamata's masque has finally slipped revealing the Mohammad Ali Jinnah within her as she declares the infamous August 16th date as the 'Khela Hobe Divas'. The significance of August 16th is not lost on Bharatiyas, especially the Bengali Hindus as they were subject to the worst kind of genocide with Jinnah and Suhrawady declaring August 16th 1946 as the Direct Action Day on which the jihadist Great Calcutta Killings commenced. Mamata is openly positioning herself in the shoes of Jinnah by this brazen move even as she faces severe criticism for allowing a horrendous state sponsored genocide of Hindus who exercised their democratic right to vote against her ruling party, the Trinamool Congress in the recently held Assembly elections.
It is quite clear by now that it is not just party politics or political rivalry which drives Mamata, there is a far more sinister ploy afoot to Islamise Bengal, appease jihadi elements and systematically settle illegal Bangladeshi Muslims and Rohingyas in the state by driving out Hindus if they do not convert to Islam or ascribe to anti-Hindu ideology.
In her public speech today, Mamata Banerjee declared her drivel against the BJP would not be confined to Bengal but would go country wide to wipe the Saffron party out from India. For this she chose August 16th as the 'Khela Hobe Divas' when she would begin her mission to wipe out BJP, which is the same day 75 years back Jinnah and his Jihadist comrades set out to commit pogrom of Hindus in and around many districts of Calcutta in a bid to get the whole of Bengal included in East Pakistan, now Bangladesh. Two men gave leadership to thwart this – Shyama Prasad Mukherjee and Gopal Chandra Mukherjee (popularly called, Gopal Patha).
After the May 2nd Assembly election results the ruling TMC goons unleashed a retributive bloodbath and mayhem by burning houses, brutally lynching people, murders, rapes, destruction of property in West Bengal affecting more than 25000 people in West Bengal. In a report prepared by a Committee of the NHRC set up under the direction of the Supreme Court, the West Bengal government was castigated in severe terms for total abdication of rule of law by Mamata's government and letting the TMC criminal elements have a field day going on a rampage creating utter destruction and pillage all over Bengal.
The report noted that over 1,979 people gave written complaints with most of the complaints emerging from Cooch Behar, Bhirbhum, Bardhaman, North 24 Paraganas and Kolkota. The NHRC also crticised the gross negligence of West Bengal Police by abysmally negligible arrests of criminals accused of heinous crimes like rioting, dacoity, rape etc. The NHRC noted that only 1300 out of the total 9300 accused have been nabbed. Even from this 1300, 1086 of them have already got bail and are openly threatening the victims. A 60 year old woman was raped in front of her grandson and her house looted, by TMC criminals just because they supported the BJP. A minor 16 year old girl was brutally gangraped to punish her for being a BJP activist. A young Kolkata based BJP worker and animal lover who housed several street dogs from Kolkata was lynched to death and his house was set on fire by TMC criminals. The saga of torture and devastation by TMC is endless.
Mamata now has declared that she would adopt the same Khooni 'Khela Hobe' in rest of the states in India to oust BJP from power. More than the saffron political party, it is devout Hindus who are the real target of anti-Hindu forces under the garb of political violence or political rivalry. So, come August 16th Mamata's Direct Action Day Khooni 'Khela Hobe' is going to move from West Bengal to rest of India, only time will tell how Hindus and the Sangh Parivar are going to counter this brazen attack on them by the combined anti-Hindu forces.
DISCLAIMER: The author is solely responsible for the views expressed in this article. The author carries the responsibility for citing and/or licensing of images utilized within the text.