Mewat violence: What was the historical perspective behind Meo agitations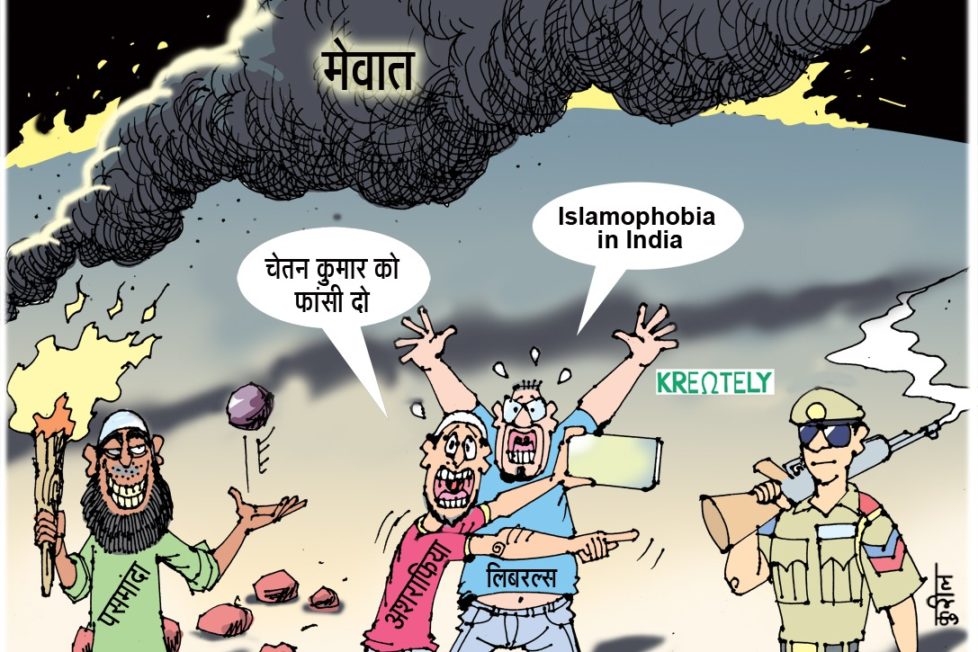 Because Mewat
is in the news for the wrong reasons, I thought some historical perspective should be brought forward. Here I chose perspective around the Meo agitations of 1932-33 in Alwar and Bharatpur. Alwar, the North Eastern part of Rajasthan, and its surroundings regions were predominantly inhabited by the Meo Muslims, and hence the whole area was known as Mewat since medieval era. In 1932-33, the Meo population was approximately 0.6 millions, and was distributed among several administrative units as below (in lakhs)
A)Alwar: 2.5 (majority in Tijara, Kishangarh, Ramgarh and Laxmangarh Tahsils)
B) Gurgaon: 2 lakhs in Gurgaon (majority in Firozepur Jhirka Tahsil)
C) Bharatpur: 0.75 (majority in Pahari and Nagar Tahsils)
D) Jaipur: 0.75 All of them were united by cultural and matrimonial bonds.
Sources:
1) File No. 25. SN.24, Bag. N.1 Group-B, Bharatpur Confidential, Rajasthan state Archives, Bikaner.
2) File No.33, pt. III-IX. 1934, Bag. N.4 Group-B Bharat. Cont., R S.A.. Bikaner.
3) File No.32. S.N.30. Bag. N.3 Group-B
Let's first focus around issues of Alwar.  The bitter relationship between Muslims and Hindus wasn't a new thing which many would like to play it out as an anomaly. On December 16, 1923, an institution named Anjuman Khadimul-Islam was established in Alwar. Initially it portrayed itself as an institution with educational objectives but soon it began to show its true colour, as an institution for political Islam. In the March of 1932 they published a list of complaints against the Alwar state, and sought assistance from the Muslims pan-India. They began to spread their vicious communal propaganda against Alwar state, and this finally lead to riots in May of 1932. The riots were so horrifying that the army had to be called in to control the same.
Sources:
1) Political and Constitutional Development in princely states of Rajasthan (1920-49), by Laxman Singh, 1970, p.60.
2) Foreign Political 743-P (S) N.A.L. New Delhi.
There is a book in it which gives information about the Meo agitation of Alwar State. This booklet was published by an organization of Meos. p.4. Few Muslims went to Delhi and voiced their grievances against the state of Alwar. The Muslim leaders who weren't from Alwar took deep interest in matter. In October 1932, the president of All Indian Muslim Conference alongwith a delegation met the viceroy and presented a memorandum of the demands of Alwar Muslims:
A) Arrangement for teaching of Urdu and Persian
B) Reservation of Muslims in government jobs C) Reduction in land revenue and excise duty, etc for Muslims
Source: Foreign Political 743-P (S) N.A.L. New Delhi. There is a book in it which gives information about the Meo agitation of Alwar State. This booklet was published by an organization of Meos. p.4.
In November 1932, the Meo Muslim cultivators repealed officials from collecting revenue, stating that it was excessive. Dr. Mohammed Ali of Alwar collaborated with Muslim leaders of Gurgaon and Ambala, and made a committee to carry out the Meo agitation. In response, the Maharaja of Alwar without losing any time issued a proclamation addressing Meo subjects ordering appointment of a three member inquiry commission. The commission had Raja Durjan Singh as the chairman with other members being revenue minister Raja Ghazanfar Ali Khan, and Ganesi Lal. The terms and conditions set down for the commission were as below: "The present agricultural condition is confined not only to the state of Alwar but is a worldwide problem generated by the great depression. So this commission will inquire into the problems of peasants and make a survey of their economic conditions. The area of inquiry will not be limited to only troubled Tahsils but it will extend to all the Tahsils of the state."
Sources:
1) File No.33, Pt.III 1934. Bag N.4. Alwar Conf, R S.A. Bikaner.
2)File No.1449, S.N.17 Group-A Alwar Conf.. R.S.A. Bikaner.
Interestingly although the step of Maharaja was pro Meos, none except that of Alwar cooperated with the commission. This non-cooperative temperament of Meos came because of the resolution passed by All India Alwar conference on December 3, 1932 which was held at Firozpur Jhirka (Punjab) under the presidentship of Khan Bahadur Rahim Baksh. Meos were so much frenzied that a visit of inquiry officials in Dhemukar (a village of Kishangarh Tahsil) saw them manhandling those revenue officials. It was quite an open fact that Meo Muslim leaders from outside the state had convinced them that all the problems would be solved by provoking the authorities to such an intense level that it might become indispensable for them to kill a few of Meos. This clearly establishes that the agitation had nothing to do with economic problem, rather it was more about political Islam.
Source: File No.1449, S.N.17 Group-A Alwar Conf.. R.S.A. Bikaner.
Then we come across incidence where the British Indian spokesmen for the Alwar Meos protested that the reason why the Meos were in revolt was that the Alwar administration had by excessive revenue demands, iniquitous jagirdari system, harsh —unsympathetic forestry laws, grazing & shooting rules and irrigation methods, reduced them to semi -starvation and desperation. But this was far from truth. The cultivation done by Meos had same laws & system which prevailed for Hindus too in other districts of the state. In fact, there was 0 discontent in the districts where population of Meos was null. State had also brought provisions of a few reliefs. Undoubtedly, the Meo agitation was only for the political Islam's fire which was stirred by Tablighi Jamat of Punjab which got very well clarified by the inquiry commission. The commission concluded that the regions saw instigation of Meos for the instigations by the outside elements. According to commission, the members of Anjuman, an illegal organisation in the state had collaborated with these outsiders, thereby taking advantage of the poor conditions of cultivators for their own goals set around Political Islam. The inquiry gave the information that the People who had migrated to Delhi did vicious propaganda against the state. The disrespect for law was so strong that even the people against whom warrants had been issued in Alwar were roaming freely in the regions were agitation was active. The emigration movements & the agitation was closely associated. The leaders of of emigration movement were the ones inflaming the agitation on the lines of political Islam. In the British India, those leading Mewat agitation were instigating the emigrants not to return to Alwar with sole purpose to gain more sympathy of Muslims outside the state (ie in British India). A large number of Meos had left the Alwar state taking refuge in place of their relatives in Bharatpur state and Gurgaon district. Their count was 2,500 & 1,000 in respective places. The Governments of Alwar and Bharatpur were persuading them to return to their respective states but nothing like that would happen. On the other hand non-Muslim population of the troubled areas lived in constant fear for their lives and properties at the hands of Meos as many of them roamed freely in British India (riot affected areas) carrying rifles and guns. Interestingly, many retired Muslim military officers were actively organising the Meos as army. Having these observations, commission observed that if officials of Gurgaon and Alwar did not work in close cooperation the situation would get out of control as British India had become shelter to criminal Meo rioters.
Sources: 1) @timesofindia, January 2, 1933
2) @thetribunechd, (The Tribune), Jan 6, 1933 3) File No.1449, S.N.17 Group-A Alwar Conf. R.S.A. Bikaner.
4) Excerpt from a letter written by Lothian to Political Agent Easter Rajputana, Feb 1, 1933, N.49-P/P-P33, 1933, B.N.-4, Group-B, Bharatpur Conf., R.S.A Bikaner.
5) @TheStatesmanLtd 3/1/1933
The commission saw that the situation became so serious and critical that in the early months of 1933, the Alwar Meos were entirely on a war type stand. The riots soon spread to Tijara, Ramgarh and Laxmangarh with clear objective to teach a lesson to the local Hindus, who refused to donate money for carrying on a fight against the state. Soon the violent agitation spread and began to get worse. According the estimate the number rioters/ agitators was around 80,000 (ie almost 14% of total population of Meos. With an assumption that around 60% were children and women, it would mean that almost 1/3rd of total adult Meo Muslims were involved in rioting). The intensity was so huge that the state authorities failed to take situation in control. The rioters burnt around 20 houses and a lots of property was looted. Finally British troops had to be brought in to control the situation which would finally deactivate the violent agitation. One may argue that the resin behind agitation was entirely economic but the truth remains it ended up becoming a riot against Hindus. Nothing different than what had happened in Malabar, decade ago. The Muslim leaders did their best to ignite more fire. The agitation in Alwar just took a pause and didn't die off entirely leaving behind far reaching consequences which we see till today in form of #GuruGramViolence #MewatHaryanaViolence The paramount power opportunistically too a decision to bring the Revenue and police departments under the control of British authorities. Capt. A.W. Ibbotson was appointed as Revenue Officer and Macnamara as the Chief of Police. The things won't go down well and huge differences arose between the Maharaja of Alwar State and Capt. Ibbotson wrt the introduction of reforms in Alwar state by the British authorities. The Maharaja was quite uncomfortable to see an outsider's interferences. On the other hand, the British authorities complained that the Maharaja was non-cooperative in the introduction of new reforms. Then British government further decided to appoint a new PM for Alwar who should be entrusted with the administration of the state and the the Maharaja was advised to proceed to Europe. The new PM was Francis wylie. British capitalised on the situation of communal unrest as the card to bring there entry in Alwar. Colonel Ogilivie, AGG Rajasthan States, advised the Maharaja of Alwar to choose between one of two options: A) Quit Alwar for a period of two years B) To accept a commission of inquiry to investigate the conditions of Alwar. Finally the Maharaja of Alwar was exiled in May 1933. Here in this first part of discussion we find that the the pursuing of Political Islam by Meos led to getting Alwar fall in the hands of British. Even now we see that the foreign agencies try hard to capitalise on any insurgence in India, whether it is Mewat or anywhere else. Though the advantage taken is way different than the colonialists of the past.
DISCLAIMER: The author is solely responsible for the views expressed in this article. The author carries the responsibility for citing and/or licensing of images utilized within the text.