Modi's India on way to Hindu Rashtra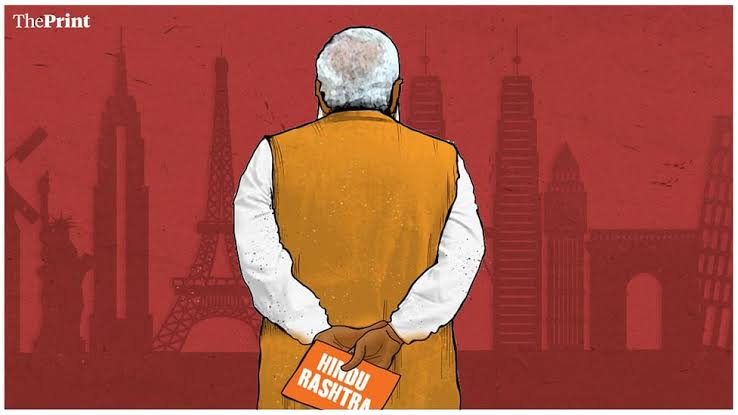 Aim of BJP Government 
BJP or Bhartiya Janta Party well known as the party of Hindus was formed on 6 April, 1980. Its main agenda was to make Bharat a Hindu Rashtra and a better place to live. BJP started its work by gathering hindus all over India with a help of a Shobha Yatra that led to reunite hindus after a long time of Congress Rule. The Congress tried to kill the rights of hindus and let muslims do whatever they wanted. Indira Gandhi was selling india in wrong hand in it was noticed by the leaders of Rashtriya Swayamsevak Sangh. The leaders of RSS decided to quit the Sangh and start working for the nation on a wide scale. This time it wasn't as the Sangh member but it was more on a political surface. BJP in first election 1984, just won 2 seats and now again it was a tough time. In the leadership of Atal Bihari Vajpayee Ji BJP again with motive of Hindutva and Jan Seva and performed well in next elections winning 82 seats in 1989.
Wins of BJP in elections
Year      Seats
1984   –   2
1989   –   85
1991    –   120
1996   –    161
1998   –    182
1999   –    182
2004   –    138
2009   –    116
2014    –    282
2019    –    303
india's neighboring country changed into secular country
In 2007 the neighboring country of India which is Nepal was converted into a secular country. On this, the current Chief Minister of Uttar Pradesh, Yogi Adityanath did many protests. Saying : "Nepal must declare itself a Hindu Rashtra." Further he said " Around 100 Crore of Hindus are eagerly waiting for the new constitution to frame in Nepal and its implementation soon. It was there desire that Himalyan nation should again be declared as Hindu Rashtra as it was earlier. Yogi Adityanath's dream of hindu rashtra was not only for Nepal but is also for India. And not only CM Yogi but also many BJP leaders want the same. On way to Hindu Rashtra Mission the BJP government had started taking many hard steps such as Removing of article 370 and 35A, passing of citizenship amendment bill and Giving green signal to the decision of Ram Mandir in favor of hindus. 

Now the biggest question is that will modi ji make india a hindu rashtra ? If yes what are the steps he had already taken in this mission ?
Strategies of Modi on way to hindu rashtra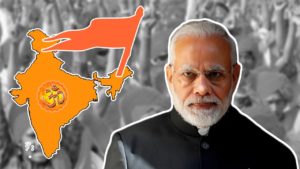 One of the major strategy was passing of Citizenship Amendment Bill.  Modi Government passed this bill on 12 December 2019. Under which the Refugees from before 2014 which came from Afghanistan, Pakistan and Bangladesh and were illegally staying in india were to be granted indian citizenship. But after this many of the indian states were facing protests by the Muslim Community and they made the situation more and more tensed. But why this protests were made ? So well there was a reason behind this that according to CAA citizenship of India will only be provided to Hindus, Sikhs, Jains, Buddhists, Parsis and Christians. In this Muslim refugees were not involved. Now the second reason to instigate protest was NRC (National Register of Citizens). This register basically documents every legal citizen of the India so that the identification of illegal immigrants is easy and they can be sent back to their respective nations. But this National Register is only updated in Assam since 1951 as there is huge count of Bangladeshi refugees. 

As a result to which Amit Shah announced in parliament that this National Register will be updated now all over India. This stated to show documents by everyone to proof themselves as a citizen of India. Now problem started rising when Muslims started corelating NRC with CAA. Now the Muslims started thinking that all religions in india will pass the NRC and CAA act easily except muslims and the indian muslims if somehow fails to prove there citizenship will be sent to detention camps. 

Now the 2nd major step of Modi Government that proves modi ji wants to make India a Hindu Rashtra is the construction of Ram Mandir. In year 6 December 1992 , Babari Masjid was destroyed. As a result to which India faced many riots. And all the riots were planed by the Muslims in which approximately 1500 Hindus died. Muslims now continued to attack Hindus just because there masjid was destroyed. More than 80 temples were destroyed as revenge attack. (Just imagine 80 temples destroyed just because of a single masjid). 2hrs and 10 min after demolition of Babari Masjid, Mumbai faced 12 serial blasts injuring 1500 people and leaving 257 people dead.
decision on ram mandir 
Both the communities Hindu and Muslim were circling around the court since 1949 and finally in 2019 the supreme court gave the verdict of the question " Ayodhya mein kya banega " and the answer was Ram Mandir. But the problem arouse here that when this case was in court for so long then the supreme court didn't gave verdict but as soon as BJP won with majority of votes, suddenly supreme courts gave the verdict in the favor of Hindus.
now moving on 3rd step to Hindu Rashtra
The 3rd major step towards Hindu Rashtra is Uniform Civil Code. Actually the in Indian Constitution article 44 says that India should apply uniform civil law in which there will be same laws for every religion. But for now Hindu Code Bill is applied for Hindus, Sikhs, Buddhists and Jains and Shariya law for Muslims. As an old ritual of Keeping in mind the tradition of spreading unrest and riots all over the country the Muslim Board opposed this law with help of riots, shaheen bagh protest, By raising anti-national slogans in JNU, riots in Lucknow etc. Muslim Personal Law Board said that they will not get there religious freedom, also said that they fear that their traditional laws will be neglected and new laws will be put on them by force. Muslims also fear that after implementation of this law Modi Government will interfere in their personal tradition as a result to which India's secularism will come to danger.
But if it is so, then why did the Modi government do all the things mentioned above. Now the question arise does modi ji wants to make a pro Hindu Rashtra ? To know this we have to know that why muslim immigrants were not involved in CAA on the other hand every other religion was included in it.
1st was the Muslim majority of illegal immigrants that come from Afghanistan, Pakistan and Bangladesh. All these countries are Muslim majority countries where people living in minorities are facing atrocity. Muslims are forcibly converting them to islam, raping their daughters, mothers, killing their sons, fathers and the other male members in the family. Making women of Hindus, Sikhs, Jains and Buddhists their sex slaves. Torturing them for accepting islam.
2nd main reason for excluding muslim immigrants is security threat. As everyone knows that Afghanistan and Pakistan has maximum number of terror groups and so the terrorists of those two countries can easily take shelter in India in the form of immigrants and can threaten the National Security.
3rd reason is National Register of Citizens. Here the first problem is that people link NRC with CAA. But the opposition of BJP said that if any Indian Muslim fails to prove themselves as an Indian, will have to leave the country by hook or crook or will be sent to the detention camps.
Rules for NRC 
There was no compulsory document like if you'll show adhar card or pand card then only you can be considered as the citizens of India. The Muslim Personal Law Board started spreading rumors and created chaos all over the country as a result the Shaheen Bagh, Delhi was full of Muslims for more than 6 months with a huge protest. Now it is postpone by the government.
Any one document from the below list can prove the citizenship of the applicant. 
Electoral rolls up to March 24, 1971.
Land and tenancy records.
Citizenship certificate.
Permanent residential certificate.
Refugee Registration Certificate.
Any government issued license/certificate.
Government service/ employment certificate.
Bank or post office accounts.
Birth certificate.
State educational board or university educational certificate.
Court records/processes.
Passport.
But if you don't have any of the documents you can take any of the eyewitness with you for registration. But wait a second, you are living in a country from past 8 years and you don't even have a single document ? Doesn't it  sounds phishi ?
Ram Mandir Verdict Proof 
So now talking about the importance of this place. The reason behind Hindus fighting for this place is Bhagwan Ram. Bhagwan Ram is the most popular god in Sanatan Dharma and Ayodhya Mahatmya that is a religious text of Hindus says that place is the birth place of Bhagwan Shri Ram. Now its obvious that we look at this as a pilgrim site. Now talking about the Muslim side, Muslims think that the founder of Mughal Empire Babar's general Mir Baqi made this Masjid known as Babari Masjid in 1958. At that time a surveyer of East India Company Francis Buchanan said that he found this fact written on Babari Masjid. He also recorded the statement of the locals. According to the locals there was a Ram Mandir that was destroyed by Babar and gave it a shape of a Masjid. These are the two sides of the story. But what's the truth. So well according to author Kunal Kishor's book Ayodhya Revisited, it is stated that  from 1528 to 1688 no documents has the proof of Babari Masjid present in Ayodhya. And the author Meenakshi Jain in her book RAMA AND AYODHYA, writes that the earliest record of this Babari Masjid is of Jai Singh 2 who a Minister of Mughal Empire. He bought that land and its nearby land in 1717. In his document we can see a three dome structure that Muslim consider as a Mosque. But for this structure Jai Singh wrote "Chatti" which means birth place. A platform seen in its courtyard on which Hindus are shown doing their rituals and shown worshiping.
Other than this an article was published in "MADRAS COURIER" that Babarnama (the diary of babar in which he wrote the incidents and events) also don't contained any information that was related to Babari masjid or the existence of it. So, now on this basis the Supreme Court had given this Verdict in favor of Hindus? Supreme Court in the starting phase of the dispute said that the court with not go with belief and faith but on evidence. These evidence that the Hindus had brought but the Muslims could not bring. So on the basis on the evidence Supreme Court announced that Ram Mandir will be built on that place.
uniform civil code (uCC) 
Uniform Civil Code in not against any religion or community. From this the Modi government says that everyone will benefit.
Minorities of every religion will get government benefits. For example there are lots of Muslim Dalits who do not get any reservation or any benefit despite having a scheduled cast.
Quick and legal justice.
Now the final question what really BJP did in step towards Hindu rashtra ?
Yogi's Uttar Pradesh: 
17 lakh+ houses have been sanctioned under Pradhan Mantri Awas Yojana. In which 11 lakh houses have been already constructed and delivered.
Uttar Pradesh jumps 10 places to become second in "ease of doing business" ranking.
After 2017 the biggest roads and highway network of India is in Uttar Pradesh.
Purwanchal Expressway Project of 341 km.
Bundelkhand Expressway Project that will be 300km.
Gorakhpur and Ganga Expressway that will be operational from 2021 last.
GDP of UP in 2017 was 14.45 Lakhs crore and now GDP of UP is 19.45 lakhs crore.
No corruption.
Zero Tolerance.
680 encounters in 5 years.
1400+ prized crooks arrested.
Mafias arrested and killed in encounter.
Criminals houses Bulldozed.
49 rape cases in a month of February in UP, 14 rapists shot dead in counter firing and 12 behind bars.
Uttar Pradesh police is first time doing and enjoying their duty.
Instant and rapid action on Criminals.
Mandirs construction
Yogi orders food inspectors not selling of meat till next 9 days until Navrati finishes.
Jumme ki namaz was delayed so that hindus can celebrate holi.
First time in the history Aligarh hindus celebrated holi in police security. Masjids were covered as Hindus were angry and happy at the same time.
These were the steps by yogi towards ram rajya.
My dream of Hindu Rashtra will soon come true. Har Har Mahadev.
DISCLAIMER: The author is solely responsible for the views expressed in this article. The author carries the responsibility for citing and/or licensing of images utilized within the text.