Mukhtar Baba's restaurant is illegally running in the land of ancient Hindu temple which was sold to him by Pakistani.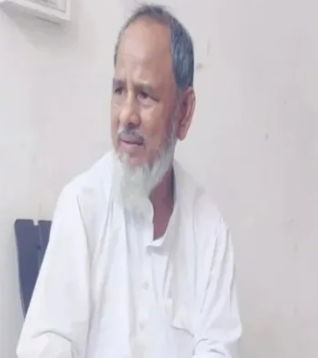 Mukhtar Baba, the owner of popular restaurant Baba Restaurant has been arrested by Police in connection with the Kanpur violence which was unleashed by muslim mob against the remarks of Nupur Sharma on prophet of muslims. Mukhtar Baba is the the owner of popular restaurant Baba Biryani. Mukhtar Baba had given funds to Gaya Zafar Hayat Hashmi who was the main culprit of the Kanpur violence. On the day of the conflict, Mukhtar Baba allegedly gave away free biryani to stone throwers. A crowdsourcing campaign was dubbed Baba Biryani. Baba Biryani had assisted in setting up food and funding for those ordered to throw stones.
But what is more shocking is that the propular restaurant Baba restaurant of Mukhtar Baba is being built illegally in the land of ancient temple. Biryani's restaurant is running in the place which is recorded in the government records as Ram-Janaki temple. A citizen of Pakistan sold a Ram Janaki temple in Bekanganj police station area. The concerned authorities took cognizance of the issue and notice was being given the buyer Mukhtar Baba.According to the information, the property in Bekanganj area of ​​Kanpur was sold in 1982 by Pakistani citizen Abid Rehman to Mukhtar Baba of Kanpur. At that time Mukhtar Baba had a cycle repair shop in the temple premises. Abid Rehman moved to Pakistan in 1962, where his family was already living, Rahman returned briefly to sell the property and sold the property to Mukhtar Baba. After purchasing the property, Mukhtar Baba evicted 18 Hindu families living there from the premises and built a hotel on it.The land which was sold by the Pakistani national is still listed as a temple in the records of Kanpur Municipal Corporation. The probe into the matter had started last year.
DISCLAIMER: The author is solely responsible for the views expressed in this article. The author carries the responsibility for citing and/or licensing of images utilized within the text.