Muslims Chanting Allah Hu Akhbar in Malanggad? It has a Story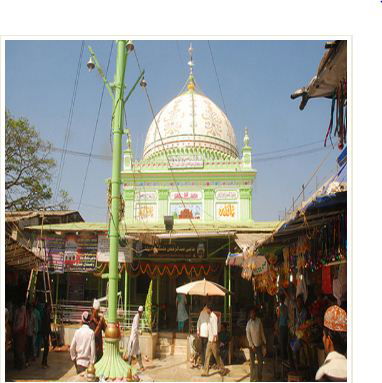 Recently a video of Muslims chanting Allah Hu Akhbar in Hindu temple is going viral on social media.
Although people are confused because of the design of the structure and how does it look like a Muslim shrine? To answer, this video is just the tip of the iceberg. This is an ongoing dispute for the past several decades and gets violent mainly during certain festivals, several Hindu activists from VHP, Bajrang Dal, and other locals had been attacked and also arrested trying to reclaim the identity of the temple. This is not new but the good part is, the issue from this rural area is going national and international. Where people can see how Hindu temples and iconic places were taken over by Muslims now a big battle even to perform pooja in these temples.
Malanagadh was previously known as Haji Malang and Muslims claim to be Baba Abdur Rehman Malang Shahm popularly known as Haji Malang baba's tomb (shrine). Which in reality the tomb is of Sree Macchindranath, the incarnation of
Navanath, which was the resting place of Baba Machindranath, a saint revered by the Nath Sampraday.
For several years the place was known as Haji Malang and officially run by Muslims as per Islamic rituals and ways of the Sufi sect. However, the name made to change to Malanggad from Haji Malang in 1996 by several local Hindus and Anand Dighe of then pro-Hindu Shiv Sena with support of Bala Saheb Thackrey.
Malanggad is located in Kalyan East outskirts of Mumbai, Maharashtra. Malanggad was built by the King Naladev of the Maurya dynasty in the seventh century. Malanggad consists of three small parts of the mountain. Kalyan is a historic city that had a heavy presence and overwhelming domination of the Muslim population called "Juna Kalyan" and the rest of the city is dominated mainly by Hindus.
Kalyan can become hotspots of many religious tensions as it has plenty of historical connections from the time of Chatrapati Shivaji Maharaj and his Durgadi fort which is another hotspot of religious tension. Durgadi fort has a temple of Durga Maa and also the same place is claimed by Muslims where there is a broken wall which the treat it is a masjid. Due to the conflict, the fort is heavily guarded by the police. Imaging this is in the fort of the great Maratha warrior in the state of the great Marathas Hindus have to go through this just to worship in their religious places.
These places are just a few examples. Hindus who are sleeping wake up, Hindus who are aware Buckel up Hindu it's a long way to go!
DISCLAIMER: The author is solely responsible for the views expressed in this article. The author carries the responsibility for citing and/or licensing of images utilized within the text.