No rolling back of agnipath scheme, no defence jobs for rioters: senior officials of defence at press conference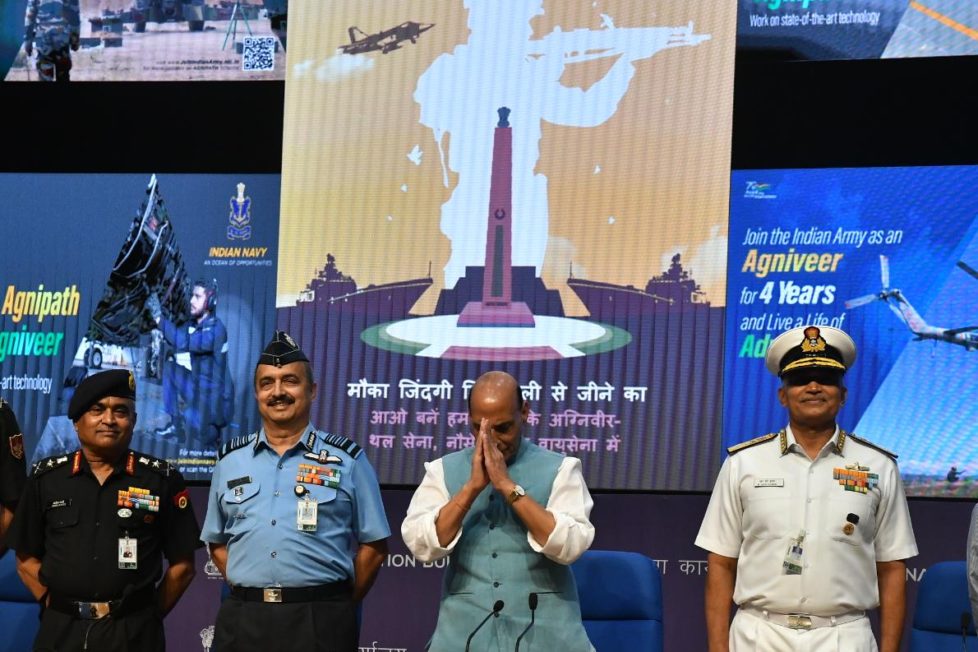 Military officials from the Indian army, navy, and air force conducted a joint press conference on the Agnipath scheme on Sunday. The tri service press conference was organised in Delhi to dispel myths about the defence forces' recruitment procedure, which have caused furore among certain section.
The conference was presided by Lt. Gen. Anil Puri, additional secretary in the department of military affairs, Lt. Gen. Ponappa from the army, Vice admiral Dinesh Tripathi from navy and Air Marshal Suraj Jha from the air force.
Anil Puri emphasised the importance and purpose of the Agnipath initiative. Puri stated that this plan had been in the works for a long time, and that "with this change, we aim to add youthfulness and experience." Today, many jawans are in their 30s, and commanders are promoted much later than in the past. Agni Veer will offer the perfect balance of expertise and youth to the team."
Puri went on to say that the system was put in place in response to the Kargil review committee's and the Arun Singh committee's recommendations. "We wanted to minimise the age profile because we wanted a combination of Josh and hosh." The average age is currently 32 years, and we wish to lower it in accordance with the Kargil review committee's recommendation and Arun Singh committee.
According to him, the Agniveers will be given various concessions in regions such as Siachen and other areas that are currently available to regular soldiers. There was no discrimination against them in the service conditions, according to Lt. Gen. Puri. If they devote their lives in the service of the nation, 'Agniveers' would be compensated with Rs 1 crore.
The officer also stated that when devising the concept, the defence stop brass did not account for the possibility of violence.
Those who participate in violence against the Agneepath scheme won't be allowed to join the defence forces, according to Lt. Gen. Puri. "In the military forces, there is no space for indiscipline," he said.
All candidates must submit a written pledge that they have not committed any acts of violence or arson earlier. He further stated that candidates will be subjected to police verification, and if any FIRs are filed against them, they will be barred from entering the armed forces.
Lt. Gen. Puri also stated that the Agneepath scheme will not be reversed, as some opposition parties and violent demonstrators have demanded. "In terms of the scheme's role back, no. Why should it be reversed? A progressive step toward making the country more youthful. What is the purpose of making it young? We are tinkering with 'desh ki raksha'. There is no space. I'll give you an example. Do you know how many high-altitude casualties have been documented just for health reasons? Read about it and you'll see why being youthful is so vital," the officer advised.
Adding further in the Agneepath recruitment process, Lt. Gen. Anil Puri announced that the intake of Agni veers will increase to 1.25 lakhs in the future, rather than the current level of 46000.
Puri stated that reservations for 'Agniveers' by various ministries and departments were pre-planned and not in response to the arson that occurred after the launch of the Agneepath scheme. A slew of opportunity windows and recruiting preferences for Agnipath graduates after four years have been declared by several state governments, notably Haryana, and other Central ministries.
According to Lieutenant General Puri, 17000 people quit their professions in the armed services each year, and not everyone wants to remain in the military for a long time. "Every year, around 17600 people retire prematurely from the three services, and no one ever asks what they would do after they retire," he said.
Vice admiral Dinesh Tripathi stated that from November 21 this year the first naval Agniveers will start reaching the training establishments in INS chilka Odisha. He went on to say, "Both female and male Agnivesh are allowed for this."
"Indian Navy has 30 women officers at present sailing on different Indian Navy ships. We have decided that under Agneepath we will recruit women also."
Vice Admiral Dinesh Tripathi stated, "They will be employed aboard warships as well."
Lt. Gen. Bansi Ponappa discussed the Agnipath scheme's recruitment schedule. "We'll get the first batch of 25,000 'Agniveers' by the first week of December, and the second round will be admitted around February 2023, bringing the total to 40,000," he added. The registration procedure for the first batch of Agnipath will begin on June 24, 2022, according to Air Marshal SK Jha.
DISCLAIMER: The author is solely responsible for the views expressed in this article. The author carries the responsibility for citing and/or licensing of images utilized within the text.