Origin of Our Beloved : Dosa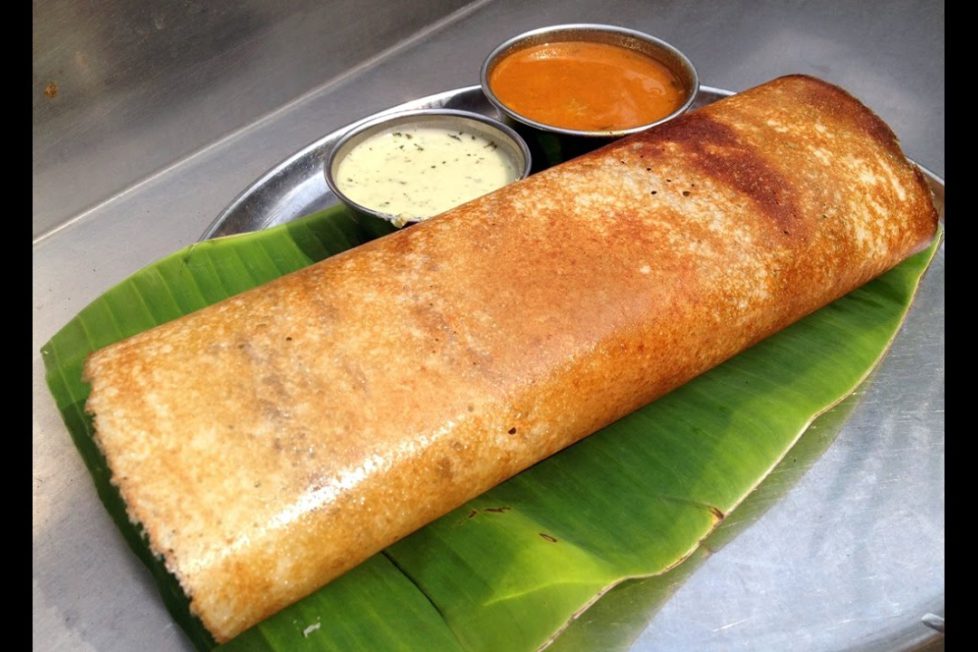 There is a very interesting story about the origin of 'Dosa'.
This interesting culinary accident happened during the times of famous Telugu Poet Tikkana Somayaji (1205 – 1288 AD). who is considered as one among the 'Trinity of Telugu Poets or Kavi Trayam' (Nannayya Bhattaraka, Tikkana Somayaji and Yerrapragada / Errana) who together translated Vyasa Mahabharata into Telugu version 'Andhra Mahabharatam'.
Those days, Tikkana was Royal Poet and one of Amatya in the court of Telugu Chola king Manumasiddhi II (1248 – 1263 AD). King Himself was considered as a great food lover and had the service of a skilled cook 'Narayana Sarma'.
King and royal family were found of 'Idly, Uppu Pongali (salty pongal) with coconut chutney, Masala Kharappodi (famous masala red mirchi powder or Gunpowder), tasty Pulusu (a sambar kind of preparation with lot of vegetables) and fresh Ghee in the morning breakfast.
One fine day the cook accidently poured more water while grinding the 'Idly batter'. The diluted paste was no longer ideal for preparing Idly. Anguished and disturbed, he consulted his friend 'Madhavacharya' who used to look after the Kitchen of the Royal palace.
Both Narayan Sharma and Madhavacharya cogitated a while and decided to make 'thin crispy Ghee Pan Cakes' as part of the morning breakfast for King and Courtiers using the same diluted Idly batter.
King was pleasantly surprised at this innovative new dish 'thin crispy Ghee Pan Cakes'. Inquisitive king with the royal Poet and Amatya 'Tikkana somayaji' decided to personally visit the royal kitchen and learn about the process.
Narayan Sharma the Cook prepared 'diluted 'Idly batter and started preparing thin Crispy Ghee cake with help of a hot iron flat Pan. Poet Tikkana amazed at the culinary skill of Narayan Sharma observed two times a typical sound 'Suyiee' in the entire process. Once while water is sprinkled on the hot pan and second time while the batter is spread over the hot pan to make that thin crispy pan cake.
Impromptu, repertoire the Witty poet Tikkana in excitement exclaimed as 'Dve Suyiee – "ద్వే సుఁయ్". Narrating about the typical sound emanated during preparation.
(Dve meaning two times like in Ekam, Dve, Thrini and Suyiee means sound). And the 'thin crispy pan cake' got its name 'Dve Suyiee' which changed into 'Dosuyie – Dosai – Dosa or Dose or దోశ'.
Initial Masala Dosa were prepared using Plantain (Unripe Banana) for nearly 4-5 centuries. It was after the introduction of Potato in 17th century in India, Potato made it to Dosa Masala. Today Potato Masala is the most frequently used ingredient of Masala Dosa.
Have a Lovely Morning Breakfast with Thin Plain crispy Ghee Coated Dosa.
DISCLAIMER: The author is solely responsible for the views expressed in this article. The author carries the responsibility for citing and/or licensing of images utilized within the text.