Pakistan Blasphemy Law "Toolkit for Slaughtering Minorities"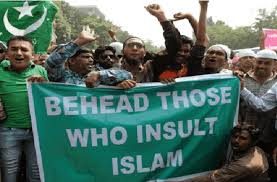 "Asia Bibi": One of many Minorities booked under pretext of Blasphemy Law.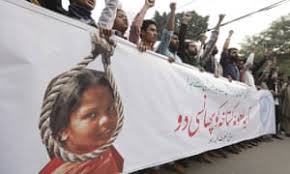 Asia Bibi Background
Asia Bibi was a Pakistani Christian who lived in the village of Ittanwala, some 40 miles south-east of Lahore. The village was surrounded by green fields and fruit orchards. Asia lived peacefully with her husband and five children and worked as a farm laborer like many of the women of her village in fields.
How Asia Bibi was falsely implicated under Blasphemy Law 
It was the month of June 2009, Asia Bibi was working with women for picking berries in fields. After working for hours under the scorching sun, all women were thirsty and exhausted and stopped for a break. Her coworkers asked Asia Bibi to fetch some water from the nearby well.
After fetching water from the well, Asia Bibi on her way back took a sip of the water from the bowl before handing it over to her Muslim co-workers. This sipping of water made her coworker women mad and they got very furious with Asia Bibi. In Pakistan, many conservative Muslims don't like to eat or drink with people of other faiths as they believe that non-Muslims are impure and are lower-class humans. 
Asia Bibi's co-workers throw racist remarks at her, declaring her as "dirty filthy women" and as a result, an argument got erupted and fierce words were exchanged on both sides.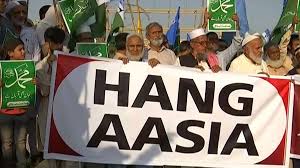 After Five days of women's water's fight, Asia Bibi was taken to surprise when the police barged their way into her house. She was accused of insulting the Prophet Muhammad. Asia Bibi was cold-blooded after she felt that the conditions are worst. There was a big mob outside her house chanting slogans "Death to Asia Bibi" and the mob was led by the village cleric who had accused her of blasphemy. Mob dragged Asia Bibi outside and tried to kill her right in front of the police. But, she was arrested and charged with blasphemy
Asia Bibi was put under trial but she maintained her innocence throughout the trial. But in 2010 Pakistan's lower court sentenced Asia Bibi to death. In Pakistan, the punishment for blasphemy against Islam and its prophet is either life imprisonment or death.
In Pakistan, the punishment for blasphemy against Islam and its prophet is either life imprisonment or death. But all too often the allegation is misused as a way to settle personal scores. Once someone has been accused of blasphemy, before their case has even gone to trial, they and their families come under attack[1].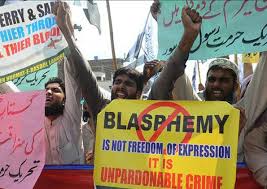 But as in most cases, the allegation is misused as a way to settle personal scores. Asia Bibi was also booked under the same false pretext. As in most cases, if someone has been accused of blasphemy in Pakistan before the accused has even gone to trial, the accused and his families come under attack from the local community and the Asia Bibi family is not an exception.
Asia Bibi has to spend nine years of her life in solitary confinement away from her 5 children and husband.
Asia Bibi Family Turmoil and Nightmare during her imprisonment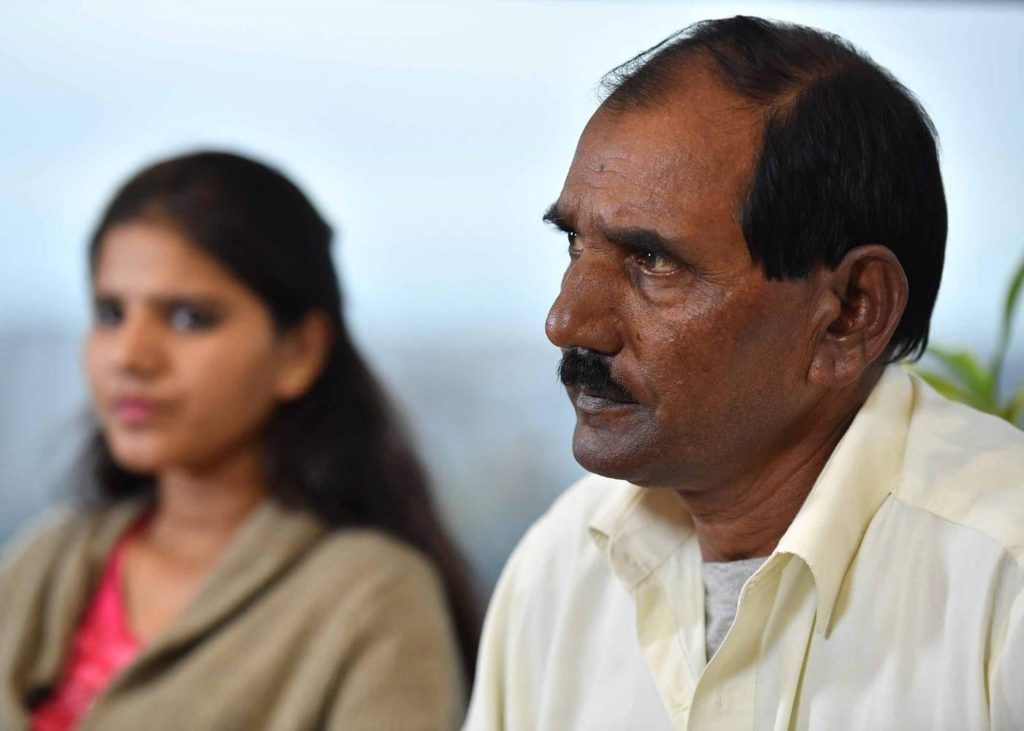 Asia Bibi's husband Ashiq and her 5 children had been on the run ever since Asia's arrest under a false blasphemy case.
Asia Bibi Husband Ashiq with a somber face and maintaining his composure has told in an interview to BBC "If a loved one is dead, the heart heals after some time. But when a mother is alive, and she gets separated from her children, the way Asia was taken away from us, the agony is endless," He further stated "Despite the years of insecurity and uncertainty I have gone through, And although I have lost my freedom, my livelihood, and my home, but I am not ready to give up hope. I will keep struggling for Asia Bibi released."
Asia Bibi older daughter weeping abruptly in an interview to BBC mentioned "We are living in constant fear, there is always a feeling of anxiety and insecurity, that anything could happen to us. We haven't seen our mother in years. We just go to school, are not allowed to play outside, we have lost our freedom…." 
Post-Acquittal Riots after Asia Bibi was acquitted
Asia Bibi was finally acquitted from Blasphemy charges on 31st October 2018, nine years after her arrest by Supreme Court despite the pressure of thousands of hardline Muslims due to lack of evidence.
Within hours of the Asia Bibi verdict, outraged by the landmark ruling, millions of hardline jihadi took to the streets demanding one thing "Death to Asia Bibi". 
Hardline Muslims attempted to force the whole nation and government into submission for three consecutive days. All cities and towns main roads were blocked, cars and buses were set alight, toll booths ransacked and police officers attacked. The administration was forced to close many offices, businesses, and even schools particularly in the eastern province of Punjab, as commuting became impossible.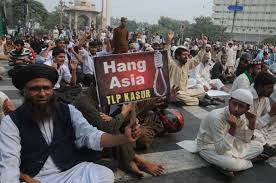 The country watched in horror while their government seemed barely visible1.
Pakistan people watched everything in horror while the newly-elected Imran Khan Administration seemed barely visible. And after three days of escalating chaos, the government finally capitulated as there were lots of minorities' bloodshed on road.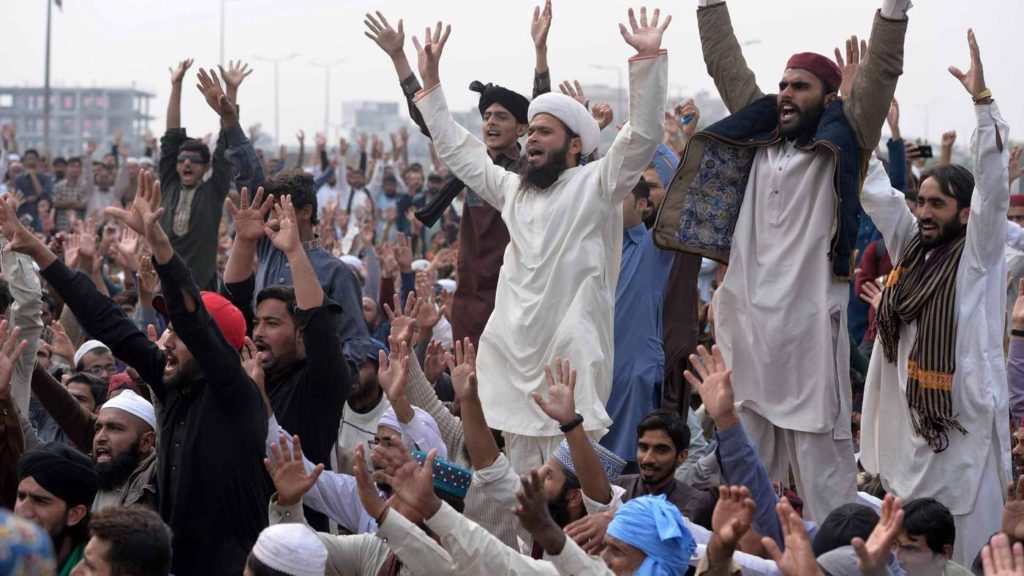 Political Party Tehreek-e-Labbaik Pakistan (TLP) and his hardliner leader Khadim Hussain Rizvi took to social media advocating civil disorder and violence. He openly called for the judges who acquitted Asia Bibi to be killed, and encouraged mutiny within the army, declaring chief of the army was an apostate and he had renounced Islam.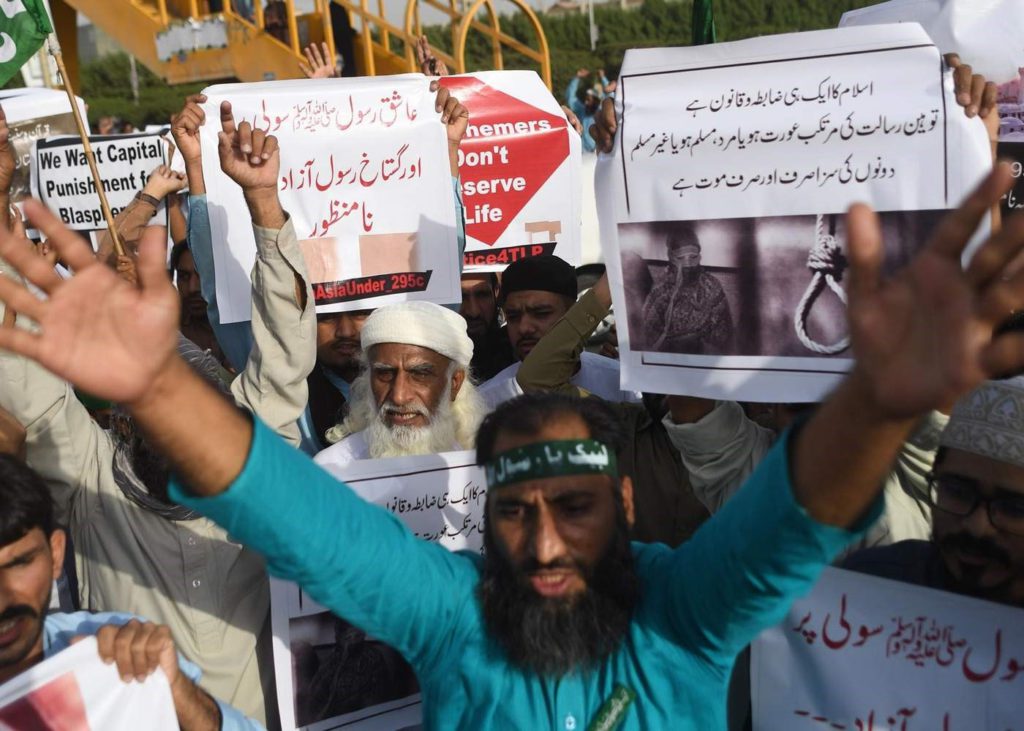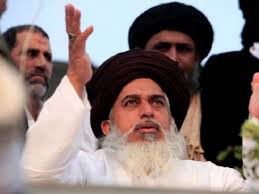 Rizvi put his Jihadi thoughts in the tweets he did after Asia release:
"If Asia is found not guilty despite her confession in court and before the trial court, and acquitted after 9 years it can be a big question mark on the decision. It means that there is something rotten in judicial procedure or there is some third umpire making the decision". He further accused the West of encouraging blasphemy against Islam and the Prophet Muhammad. He also tweeted "People deliberately committed blasphemy so they could get money and be granted asylum by Western countries". 
Asylum in Canada
Canadian Government gave asylum to Asia Bibi after her release and she finally landed on May 8th, 2019 in Canada where she reunited with her family.
"It is a big day," Saiful Malook told the Guardian. "Asia Bibi has left Pakistan and reached Canada. She has reunited with her family. Justice has been dispensed.[2]"
Wilson Chaudhry of the British Pakistani Christian Association said the family were living under assumed identities and with security in Canada that he expected would be beefed up with Asia's arrival.
"I think when time moves on and tensions ease, they would be living as normal people without security," Wilson said.
"For sure they would live with some new identities there. They would not use the same identities which they have had back in Pakistan.[2]"
---
[1] https://www.bbc.co.uk/news/resources/idt-sh/Asia_Bibi
[2] https://www.theguardian.com/world/2019/may/08/asia-bibi-arrives-in-canada-after-leaving-pakistan
DISCLAIMER: The author is solely responsible for the views expressed in this article. The author carries the responsibility for citing and/or licensing of images utilized within the text.