Poonch attack: Why Pakistan is likened to a chameleon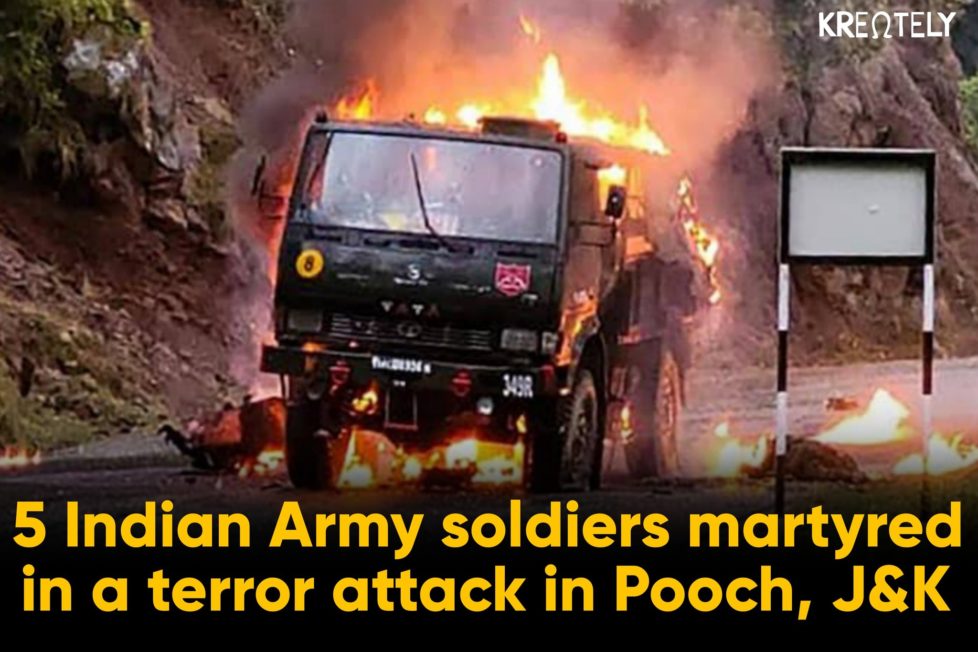 5 Army personnel attained sadghati in a gruesome terror attack yesterday, whereas 1 has sustained injuries.  The terrorist attack took place in Poonch, J&K, and was initially thought of as an accident.  A vehicle carrying the jawans was attacked using grenade launchers according to recent updates.  It is also important to note that the place of attack is about 7 km from the line of control between Pakistan and India. The attackers were hiding in the jungle area and were waiting for the vehicle to approach.  Yesterday, the responsibility of this attack was claimed by People's Anti-Fascist Front (PAFF), an offshoot of Jaish e Muhammad.

The outfit was formed in 2019, after the removal of Article 370. It has since claimed responsibilities for the following attacks
3 June 2021: PAFF militants claimed responsibility for the murder of Rakesh Pandita, leader of BJP
11 August 2021: PAFF claimed responsibility for an attack against Indian forces in Rajouri District, in which four Indian soldiers lot their lives
11 October 2021: PAFF claimed responsibility for an attack in Mendhar in the forests of Poonch district, in which 9 Indian soldiers lost their lives
3 October 2022: J&K Director General of Prisons Hemant Lohia was killed in his house. PAFF claimed responsibility of this attack

Newspaper reports suggest that the ammunition used in this attack was made in China. More than seven terrorists were part of this attack, and the police is carrying out raids to find more information and nab the attackers. The onslaught is connected with the recent G20 meeting planned to take place partly in Kashmir.  Several pictures and videos of the attack were shared on the Telegram channels of PAFF, where many handles were seen celebrating the attack.  The Khurasan Diary, a terrorist watchdog also confirmed that the Tanveer Rather, the spokesperson of PAFF has confirmed they carried out this attack. Rajouri and Poonch are on a high alert as intense searches are underway.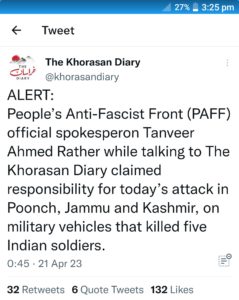 It is curious to observe that soon after Pakistan confirmed the news of its foreign Minster Bilawal Bhutto Zardari to attend the SCO meeting in India next month, Indian Army jawans were attacked by terrorist outfit, a shadow of LeT / JeM which have been confirmed as Pakistan proxies in India.  The attack has caused severe anger and outrage in India, and the public sentiment against Pakistan has become only stronger.  Former Police Chief of J&K, SP Vaid has demanded that the government refrain from welcoming the Pakistan Foreign Minister to India. During the last few days, several Youtube videos of Pakistanis have emerged protesting against India's plans to hold the meeting in Kashmir.  It is sad to see that a county where people are struggling to make ends meet, is still adamant on disrupting peace in India. Some blame the attack on the deep state within Pakistan, while others have simply had enough of the chameleon like approach of the neighbouring country.
The late General Bipin Rawat had explained the phenomena of 2.5 war in 2021.  He had specified how China and Pakistan may come together to engage Pakistan on two borders, while by the .5, he meant the enemy within which will come together to support the evil designs of the country.  In the aftermath of yesterday's gruesome attack, several accounts on Twitter and Instagram have been seen celebrating and rejoicing the death of Indian soldiers.  Not to forget, only a few days ago, former Governor of J&K Sri Satya Pal Malik had made some claims about the Pulwama attack, with the clear attention to bring the government in question.  Following the allegations, the break-India forces in the country all started to gather force on social media.  There is a big chane that all of these elements are working in a consorted manner, with the aim to damage India.
The NIA has visited the site of the incident some time ago.  The Indians expect a strong and apt response from their government.
DISCLAIMER: The author is solely responsible for the views expressed in this article. The author carries the responsibility for citing and/or licensing of images utilized within the text.