Pitru Paksha: "Dharmic way of Liberation of Our Ancestor Souls"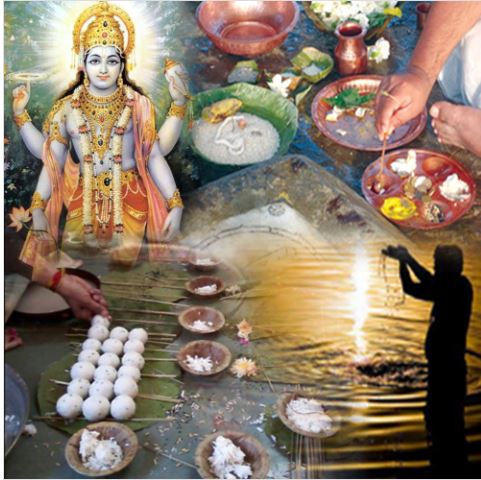 As per the religion of Hindus, Shraddha Ceremony or Pitru Paksha is an important ritual and is generally a day of remembrance. Rituals and ceremonies are performed to pay homage to one's ancestors (Pitr), especially the lost Parents, Grandparents, Siblings, Children, and even Teachers or Friends. The Shraddha rites are conducted so that the journey of our especially the lost Parents, Grandparents, Siblings, Children, and even Teachers or Friends after the demise is comfortable and stress-free. It is a way of expressing gratitude for what they are and for praying for the lost parent's peace. During the Pitru Paksha or Shraddha Paksha, ceremonies are performed for the entire community of "Pitr."
When Pitru Paksha / Shradh is celebrated
According to North Indian Purnimant Calendar, Pitru Paksha is observed from the 1st Tithi of the Ashwin Maas and continues till New Moon Day (Amavasya) also known as Sarvapitri Amavasya or Mahalaya Amavasya. But according to South Indian Amavasyant Calendar, fifteen days period during Krishna Paksha of Bhadrapada month is known as Pitru Paksha.
It is interesting to note that it is just the nomenclature of lunar months which differs and both North Indians and South Indians perform Shraddha rituals on similar days. This entire phase of 15 days is also known as Pitri Pokho, Sola Shradha, Kanagat, Jitiya, or Apara Paksha. During this period, the Shraddha or Tarpan of the ancestors is performed on the Tithi on which they met eternity.
Many sources include Bhadrapada Purnima which usually falls one day before Pitru Paksha into fifteen days period of Pitru Paksha. Bhadrapada Purnima which is also known as Proshthapadi Purnima is an auspicious day to perform Shraddha rituals but it is not part of Pitru Paksha. It is also advised that Mahalaya Shraddha for those who died on Purnima Tithi is done on Amavasya Shraddha Tithi during Pitru Paksha and not on Bhadrapada Purnima.
Pitru Paksha starts one or two days after Ganesh Ji Visarjan. Pitru Paksha is also known as Mahalaya Paksha. The last day of Pitru Paksha is known as Sarvapitri Amavasya or Mahalaya Amavasya. This is the most significant day of Pitru Paksha. If the death date of the deceased person in the family is not known then his or her Shraddha can be performed on Sarvapitri Amavasya.
In West Bengal, Mahalaya Amavasya marks the beginning of the Durga Pujan festivity. It is believed that Goddess Durga was descended on the Earth on this day.
Meaning of Pitru Paksha / Shradh
Shradh, originally a Sanskrit word, is a combination of two words "Sat" meaning truth, and "Adhar" meaning basis. So, it means anything or any act that is performed with all sincerity and faith. It is said, "Shraddhyaa Kriyate Yaa Saa": Shradh is the ritual accomplished to satiate one's ancestors. This ritual expresses one's unconditional reverence towards the ancestors.
Origin of Pitru Paksha / Shradh
As per Hindu sacred texts, Rishi Atri – among the 10 sons of Lord Brahma was the first one to decipher the rituals of Shraddha as devised by Lord Brahma to his son Nimi Rishi. Grieved by the Sudden death of his Son, Nimi Rishi being guided by Narad Muni started invoking his ancestors who soon appeared before him and said, "Nimi, your son has already taken the place amongst Pitru Devas. Since you have performed the act of feeding and worshiping the soul of your departed son, it is the same as if you had performed Pitri Yajna". Since that time the Shradh is accounted as the important ritual of the Sanatana Dharma.
Why is Pitru Paksha / Shradh performed?
According to Hindu scriptures, after death soul has to wander in the various worlds. Pitru Paksha is an occasion to pacify the departed ancestors by performing Shraddha. It is a ritual to repay debts to the ancestors.
Hindu scriptures like the Agni Puran, Garuda Puran, Vayu Puran, etc. explain the significance of "Shradh" in great detail.
What did Bhagwan Krishna mention about Pitru Paksha?
Pitru is the souls of departed ancestors of one's family. Those who are alive today have a long line of ancestors encompassing many generations.
According to Bhagavad Gita, the holy book of Sanatana Dharma, the Atma /Soul is immortal. The relevant shlokas which describe the immortality of souls and their rebirth are given below.
वासांसि जीर्णानि यथा विहाय नवानि गृह्णाति नरोऽपराणि |
तथा शरीराणि विहाय जीर्णा न्यन्यानि संयाति नवानि देही || 2.22||
vāsānsi jīrṇāni yathā vihāya
navāni gṛihṇāti naro 'parāṇi
tathā śharīrāṇi vihāya jīrṇānya
nyāni sanyāti navāni dehī
As a person puts on new garments, giving up old ones…the soul similarly accepts new material bodies, giving up the old and useless ones.
नैनं छिन्दन्ति शस्त्राणि नैनं दहति पावक: |
न चैनं क्लेदयन्त्यापो न शोषयति मारुत: ||2.23||
nainaṁ chhindanti śhastrāṇi nainaṁ dahati pāvakaḥ
na chainaṁ kledayantyāpo na śhoṣhayati mārutaḥ
The soul can never be cut to pieces by any weapon nor burned by fire, nor withered by the wind.
अच्छेद्योऽयमदाह्योऽयमक्लेद्योऽशोष्य एव च |
नित्य: सर्वगत: स्थाणुरचलोऽयं सनातन: || 2.24||
achchhedyo 'yam adāhyo 'yam akledyo 'śhoṣhya eva cha
nityaḥ sarva-gataḥ sthāṇur achalo 'yaṁ sanātanaḥ
The individual soul is unbreakable and insoluble, and can be neither burned nor dried. He is everlasting, present everywhere, unchangeable, immovable and eternally the same.
जातस्य हि ध्रुवो मृत्युर्ध्रुवं जन्म मृतस्य च |
तस्मादपरिहार्येऽर्थे न त्वं शोचितुमर्हसि ||2.27||
jātasya hi dhruvo mṛityur dhruvaṁ janma mṛitasya cha
tasmād aparihārye 'rthe na tvaṁ śhochitum arhasi
One who has taken his birth is sure to die, and after death one is sure to take birth again. Therefore, in the avoidable discharge of your duty, you should not lament.
आब्रह्मभुवनाल्लोका: पुनरावर्तिनोऽर्जुन |
मामुपेत्य तु कौन्तेय पुनर्जन्म न विद्यते ||8.16||
ā-brahma-bhuvanāl lokāḥ punar āvartino 'rjuna
mām upetya tu kaunteya punar janma na vidyate
From the highest planet in the material world down to the lowest, all are places of misery wherein repeated birth and death take place. But one, who attains to My abode, O son of Kunti, never takes birth again.
धूमेनाव्रियते वह्निर्यथादर्शो मलेन च |
यथोल्बेनावृतो गर्भस्तथा तेनेदमावृतम् ||3.38||
dhūmenāvriyate vahnir yathādarśho malena cha
yatholbenāvṛito garbhas tathā tenedam āvṛitam
As fire is covered by smoke, as a mirror is covered by dust, or as the embryo is covered by the womb, the living entity is similarly covered by different degrees of this lust.
आवृतं ज्ञानमेतेन ज्ञानिनो नित्यवैरिणा |
कामरूपेण कौन्तेय दुष्पूरेणानलेन च || 3.39||
āvṛitaṁ jñānam etena jñānino nitya-vairiṇā
kāma-rūpeṇa kaunteya duṣhpūreṇānalena cha
Thus, the wise living entity's pure consciousness becomes covered by his eternal enemy in the form of lust, which is never satisfied and which burns like fire.
इन्द्रियाणि मनो बुद्धिरस्याधिष्ठानमुच्यते |
एतैर्विमोहयत्येष ज्ञानमावृत्य देहिनम् || 3.40||
indriyāṇi mano buddhir asyādhiṣhṭhānam uchyate
etair vimohayatyeṣha jñānam āvṛitya dehinam
The sense, the mind, and the intelligence are the sitting places of this lust. Through them, lust covers the real knowledge of the living entity and bewilders him.
एवं बुद्धे: परं बुद्ध्वा संस्तभ्यात्मानमात्मना |
जहि शत्रुं महाबाहो कामरूपं दुरासदम् || 3.43||
evaṁ buddheḥ paraṁ buddhvā sanstabhyātmānam ātmanā
jahi śhatruṁ mahā-bāho kāma-rūpaṁ durāsadam
Thus knowing oneself, to be transcendental to the material senses, mind, and intelligence. O mighty-armed Arjuna, one should steady the mind by deliberate spiritual intelligence and thus – by spiritual strength – conquer this insatiable enemy known as lust.
सत्त्वं रजस्तम इति गुणा: प्रकृतिसम्भवा: |
निबध्नन्ति महाबाहो देहे देहिनमव्ययम् ||14.5||
sattvaṁ rajas tama iti guṇāḥ prakṛiti-sambhavāḥ
nibadhnanti mahā-bāho dehe dehinam avyayam
Material nature consists of three modes – goodness, passion, and ignorance. When the eternal living entity comes in contact with nature, O mighty-armed Arjuna, he becomes conditioned by these modes.
सत्त्वं सुखे सञ्जयति रज: कर्मणि भारत |
ज्ञानमावृत्य तु तम: प्रमादे सञ्जयत्युत ||14.9||
sattvaṁ sukhe sañjayati rajaḥ karmaṇi bhārata
jñānam āvṛitya tu tamaḥ pramāde sañjayaty uta
Sattva binds one to material happiness; rajas conditions the soul toward actions; and tamas clouds wisdom and binds one to delusion.
रजस्तमश्चाभिभूय सत्त्वं भवति भारत |
रज: सत्त्वं तमश्चैव तम: सत्त्वं रजस्तथा ||14.10||
rajas tamaśh chābhibhūya sattvaṁ bhavati bhārata
rajaḥ sattvaṁ tamaśh chaiva tamaḥ sattvaṁ rajas tathā
Sometimes the mode of goodness becomes prominent, defeating the modes of passion and ignorance, O son of Bharata. Sometimes the modes of passion defeat goodness and ignorance and at other times ignorance defeats goodness and passion. In this way, there is always competition for supremacy.
सत्त्वात्सञ्जायते ज्ञानं रजसो लोभ एव च |
प्रमादमोहौ तमसो भवतोऽज्ञानमेव च ||14.17||
sattvāt sañjāyate jñānaṁ rajaso lobha eva cha
pramāda-mohau tamaso bhavato 'jñānam eva cha
From the mode of goodness, real knowledge develops, from the mode of passion, greed develops; and from the mode of ignorance develops foolishness, madness, and illusion.
ऊर्ध्वं गच्छन्ति सत्त्वस्था मध्ये तिष्ठन्ति राजसा: |
जघन्यगुणवृत्तिस्था अधो गच्छन्ति तामसा: ||14.18||
ūrdhvaṁ gachchhanti sattva-sthā madhye tiṣhṭhanti rājasāḥ
jaghanya-guṇa-vṛitti-sthā adho gachchhanti tāmasāḥ
Those situated in the mode of goodness gradually go upward to the higher planets; those in the mode of passion live on the earthly planets; and those in the abominable mode of ignorance go down to the hellish worlds
सर्वभूतेषु येनैकं भावमव्ययमीक्षते |
अविभक्तं विभक्तेषु तज्ज्ञानं विद्धि सात्त्विकम् ||18.20||
sarva-bhūteṣhu yenaikaṁ bhāvam avyayam īkṣhate
avibhaktaṁ vibhakteṣhu taj jñānaṁ viddhi sāttvikam
When the embodied being is able to transcend these three modes associated with the material body, he can become free from birth, death, old age and they're distressed and can enjoy nectar even in this life.
Why Pitru Paksha / Shradh is done?
According to Garuda Purana, after thirteen days of death soul starts its journey for Yamapuri and it takes seventeen days to reach there.
The Atma / Soul travels through Yamapuri for another eleven months and only in the twelfth month, it reaches the court of Yamaraj. During the period of eleven months, it has no access to food and water. It is believed that Pindadan and Tarpan done by the son and family members satisfy the hunger and the thirst of the soul during its journey till it reaches the court of the Yamaraj.
Hence Shradh rituals are considered very important during the first year of death.
What does our Dharma say about Shradh?
The Rishi Kingdom has profusely talked about three kinds of Debts or Rin in Mahabharata. He clearly states in this epic that without clearing these debts, a person's life remains unfulfilled and wasted. Hence one should aspire to free himself from these debts. In brief, these debts are:
Dev Rin (Dev Debt)- Obligation towards Lord Vishnu, which is fulfilled by various Donations
Rishi Rin (Rishi Debt) – Obligation towards Lord Shiva, which is fulfilled by gaining Knowledge and sharing it with others.
Pitru Rin (Pitru Debt) – Obligation towards Lord Brahma, which is fulfilled by performing Pind Dan and Shradh for the ancestors.
The performance of Pind Dan, Shradh, and Tarpan ( a libation of holy water) relieve the hunger and thirst of the departed soul.
What are the types of Shradh?
Prominently the texts mention 12 kinds of Shradh. These are:-
What are the rituals of the Hindu Shradh?
All the rituals of shraddha rites will be performed by the performer (Karta). Shradh rituals consist of the following main activities –
Vishwadeva Sthapana (विश्वेदेव स्थापना)
Pindadan (पिण्डदान)
Tarpan (तर्पण)
Feeding the Brahmin (ब्राह्मण भोज)
Vishwadeva Sthapana is created by brahmins where the whole ritual is done.
Pindadan is the offering of rice, cow's milk, Ghee, sugar, and honey in form of Pinda (rounded heap of the offering) to the ancestors. Pindadan should be done with whole-heartedness, devotion, sentiments, and respect to the deceased soul to fulfill it.
Tarpan is the offering of the water mixed with black sesame (तिल), Barley (जौं), Kusha grass (कुशा) and white flours. It is believed that ancestors are appeased by the process of Tarpan. The below verse is recited while performing Tarpan.
 वसुरूपास्त् तृप्यतमिदं तिलोदकम गंगा जल वा तस्मै स्वधा नमः, तस्मै स्वधा नमः, तस्मै स्वधा नमः।
Pindadan and Tarpan are done by inviting Brahmanas for doing the worship. Feeding the Brahmin is a must to complete the Shraddha ritual. Offering to the crows is also made before food is offered to the Brahmin. Further to extend hospitality and get blessings, the Karta gives Dakshana(fees) to the Brahmanas.
Importance of Black Seesum Seeds in Pind Dan and ShradhBlack sesame seeds are an inseparable part of any Shradh ceremony. One of the most significant properties of Black sesame seeds, as per Ayurveda, is their quality of absorbing negative energies both from the external environment and the internal system of a body. Thus, Sesame seeds in a way help to purify the surroundings.
What does Each Shradh stand for?
The Shradh of the ancestors is performed on the Lunar Tithi on which they passed away. However, there are shradh for specific purpose also:-
Pratipada Shradh is also considered suitable to perform Shraddha for maternal grandfather and grandmother (known as Nana-Nani).
The fourth day or

Chautha Bharani

and the fifth day or

Bharani Panchami

is allotted for people who died in the previous year.

Panchami Shradh

is also considered suitable to perform Shradh for family members who died unmarried

Avidha Navami

is also considered suitable to perform Shradh for married women who died before their husbands. Also known as Matrinavami it is considered suitable to perform Shradh of one's Mother.

Dwadashi Shradh

is also suitable to perform Shradh for those who had taken renunciation before death.

Thrayodashi Shradh

is suitable to perform Shradh for dead children.

Ghata Chaturdashi

is for people who died a sudden and violent death.
The

Mahalaya

or

Sarvpitri Amavasya

is for all the ancestors and forefathers.
What is to be done if Shradh Ceremony can't perform?
In case one may not be able to perform the proper rituals of the Hindu shraddha Ceremony due to lack of time or other unforeseen reasons, one can simply throw some sesame seeds in flowing water and then offer sesame to Brahmanas. This act is considered to be auspicious. During this period offering food to animals and birds is a charitable thing to do. Feed cows and crows in Pitru Paksha. Making donations of food, clothes and utensils also help in completing the rituals of homage.
Shraddha rites are considered very important during the first year of demise because it gives the soul momentum allowing it to move to a higher region.
Advantages of Performing Shradh
Pitru Paksha / Shradh Paksha help achieve triumph in the following areas:-
For financial stability and progress in life.
For procurement of wealth in terms of immovable property and assets.
For progress and smoothness in the running of the business.
To attain spiritual enlightenment.
For the betterment of education and knowledge
Path to Liberation of Souls "Atma"
After taking birth in a new body, the performance of the new body is judged by his karma. If an individual performs well during his lifetime, the rebirth of his Atma / Soul after death will be at a higher level. Bad karmas of the lifetime may push the Atma / Soul to lower levels if it reincarnates. Therefore, Gita preaches the effects of karma on the levels of rebirth.
We are alive today. Our Atma / Soul are with us and we are performing according to our likes and dislikes. Some of our actions are good, some are bad. Therefore, our spiritual levels may not be very high. Similarly, our ancestors also lived their lives according to their personal likes and dislikes, acquired positive and negative qualities. The Atma / Soul keeps on taking rebirth till it attains liberation (Moksha).
As Shree Krishna preaches in the Bhagvad Gita,the Atma / Soul cannot attain liberation till its records of performance are of a very high order. Our ancestors were also people like us whose actions might have been similar to ours. They lived in more difficult circumstances. They might have struggled very hard to keep themselves and their family alive. They might have compromised on many occasions and might have taken an objectionable path. Therefore, they may not be free from the cycle of birth and death

.
The Atma / Soul may not take rebirth immediately after death. Based on the karma of the previous life, they may be wandering between heaven and hell. Such a state of Atma / Soul is in the form of a spirit or ghost waiting for liberation.
The Atma / Soul, after reincarnating in a material body, cannot be expected to be free from blemishes. The material body is subject to many pulls and pressures caused by positive and negative energies operating in the universe.
The Atma / Souls of our ancestors who may be waiting for liberation affect our lives in many ways. They cannot look to others for help. They can look towards their descendants only for spiritual help because the descendants are heirs to their wealth and belongings. These unliberated souls send signals to their descendants as reminders for the help they need which is generally referred to as

 "

Pitru Dosha

".


In the Bhagwad Gita, such circumstances have been narrated clearly which influence the activities of the Atma / Souls incarnating into the material body.

 
The Spiritual Science Research Foundation (SSRF) has done extensive studies on spiritual matters concerning ancestors. They say that "More than 50% of mankind is below the 30% spiritual level with minimal spiritual strength". If our ancestors had the same spiritual strength, they will look towards us for the liberation of their souls.
The extracts from the Bhagvad Gita are quite revealing and illuminating. They clearly point towards "The possibility that the souls of our departed ancestors may not be in a liberated state. They may be waiting for liberation and since they are without a material body, they cannot take the necessary steps for liberation themselves. They are in a spiritual state and they can send only signals to their descendants through dreams, shocking incidents, disease, etc. A careful analysis of these signals is necessary for the descendant because only they can take the necessary steps for the liberation of the souls of departed ancestors".
DISCLAIMER: The author is solely responsible for the views expressed in this article. The author carries the responsibility for citing and/or licensing of images utilized within the text.