Prabhu shri ram – Revered in North "And South India"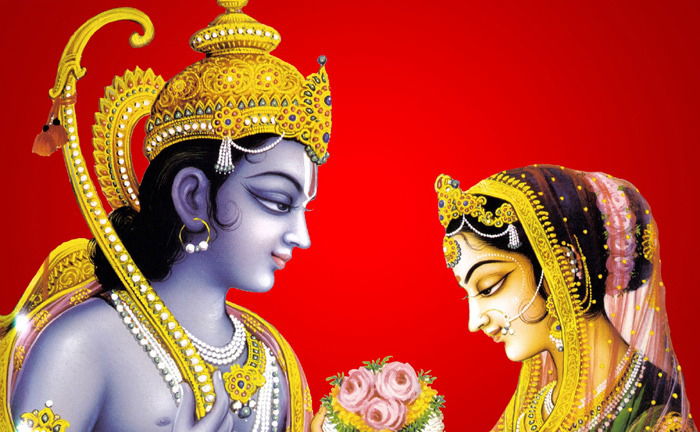 Lord Rama the target of the Dravidian parties of Tamilnadu ironically is depicted as "divine" and as " deity" in Kamba Ramayana as opposed to Valmiki Ramayana.
Kambar wrote the "Ramavataram" popularly called the Kamba Ramayana the Tamil epic comprising of 11000 stanzas. Kambar was a great Tamil scholar of the medieval era-1180-1250 CE. His epic was based on Valmiki Ramayan but Kambar modified it to suit the prevailing Tamil culture.
The basic differences between the Valmiki and Kambar's versions were on 3 main points.
1 Valmiki saw Rama as a human being who followed dharma. A sun king of the Ishavagu dynasty. Kambar elevated Rama to the level of a deity, 1 of the 10 Avatar of Lord Vishnu.
2 Valmiki has written about Uttara Kandam after lord Rama returns victoriously to Ayodhya with ma Sita, Lakshman, and Anjaneya. The birth of Luv and Kush is also spoken about. But Kambar stops with the victory over Ravan. There is no mention of Luv and kush.
Kambar's verses have been adapted, altered by many modern poets and lyricists.
Ancient Tamil kings of Chera Chola Pandia Pallava dynasties in addition to the Vijayanagar and the Chalukyas have built innumerable temples for lord ram all over south India.
The Alwars (Devotees of lord Ram & all his avatars) have written Paasurams (Lyrics & Verses) in praise of Lord Rama which is part and parcel of everyday ritual in all vaishnavaite temples. Kulasekara Alwar a Chera king has composed a lullaby which is so melodious that it will even put a hardcore Dravidian cadre to deep sleep.
Saints like Thyagaraja and Annamacharya have composed innumerable songs on Lord Rama which are sung by Carnatic musicians in concerts to date and are a permanent feature.
There are innumerable ancient temples all over TamilNadu dedicated to Lord Rama. With all these irrefutable proofs yet, TamilNadu devotees were silent mute spectators to the crude barbaric attempts of the Dravidian movement which insulted Lord Ram Sita Mata in public by garlands of chappals, stone pelting, etc. It is divine or devil' irony that The man at the forefront leading these cruel crude attempts was none other by the name "E V Ramasamy" the head of the " DravidarKazhagam". The argument put forth is Lord Rama is an Aryan imported from the north who came to India through Bolan and khyber pass. A few more ridiculous theories also found its way to sway the public.
The following are the few ancient Shri Ram temples in Tamilnadu.
Eri Kaatha Ramar meaning lord ram who saved the lake from a breach at Madurantagam near Chingleput, an hour drive from Chennai.
Kothandaramar temple at Rameswaram where Lord Rama worshipped lord shiva. After this worship, he began the task of building the "Ram Sethu" to Sri Lanka.
Valvil Ramar temple at pull a Thiruppullamboothangudi. Here Lord Rama is supposed to have performed the last rites for Jatayu.
4 Kothandapani Ramar temple at Ayodhya Pattinam Salem.this temple is believed to have existed during the Ramayana times itself.
Mudikondan Kothandaramar temple which is about 2000 years old. Here the main deity Lord Rama stands in the form of a king with a crown on his head, signifying his royal lineage.
Kumbakonam lord Sarangapani temple. A unique feature of Lord Rama with his brothers Lakshman, Bharathan, and Shatrughan giving darshan is the marvelous attraction here. The 60 odd carved pillars in this temple depict various scenes from the Ramayana
The Yoga Ramar temple at Padavedu on the Vellore Tiruvannamalai route is another beautiful temple. Here we see Lord Rama in Artha Padmasana lord ram with Lakshman without his bow and arrow and Sita Mata on either side. He is in deep meditation and Lord Anjaneya at his feet with a book in his hand takes us to another plane of bhakti.
Vaduvur in the Cauvery delta region boasts of one of the most beautiful Murthy of Lord Rama. The sculpture is so intricately carved that we can see the veins in Lord Rama's hands. It is also one of the richest temples with over 5000 acres but all gobbled up by the greedy politicians.
The above mentioned are the very few important temples for lord ram that I have mentioned to prove that He was very much the divine deity worshipped by ancient Tamil people.
Can the Dravidian ideology about lord ram be thrown into the garbage that it deserves. Will Lord Ram accorded his revered place at Ayodhya on august, 5, 2020 paved the way for his same rightful position in Tamil Nadu also.
LORD "RAMA AS SWAMY" IS READY TO GIVE HIS BENEVOLENT DHARSHAN AT AYODHYA HIS RIGHTFUL JANMASTHAN. IN TAMIL NADU TOO LORD RAMA WILL SUCCESSFULLY CLAIM HIS PREVILAGED REVERED STATUS AT THIS MOST AUSPICIOUS TIME.
The Dravidian brigade can be dumped into the "RIVER COOVAM" or beg for lord Rama to forgive & cleanse them of their past sins.
DISCLAIMER: The author is solely responsible for the views expressed in this article. The author carries the responsibility for citing and/or licensing of images utilized within the text.