Rebuttal to Times of India's Article Blaming Astrology for "Advancing" the Dates of Maha Kumbh by 1 Year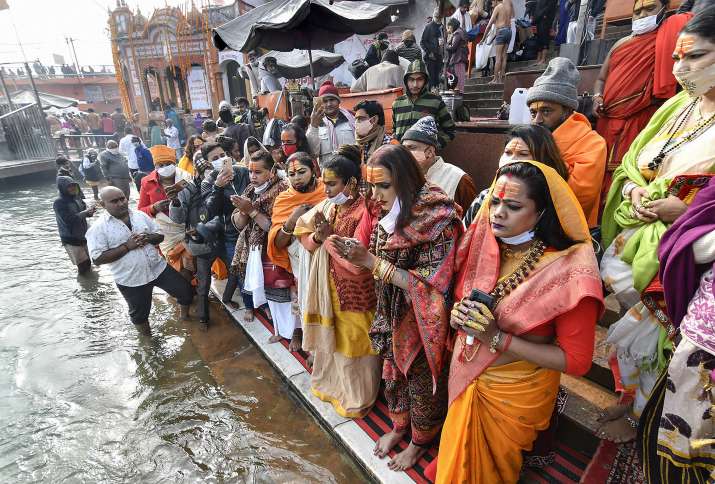 Recently I stumbled upon an article from Times of India on my Twitter timeline whose headline read "How astrology caused a super-spreader by advancing Maha Kumbh dates". When I followed the link, it required a TOI+ login which comes as a paid subscription. So, it became clear to me that people would not read it much since it required a TOI+ login but the headline itself intrigued me as how could Astrology "advance" the dates of Maha Kumbh at Haridwar. Fortunately, I found a subscription of TOI+ with me that came complimentary with a Times Now subscription. I hadn't used it much, but as they say, even a stopped clock is right twice a day, this virtually useless login now became handy for me. I decided to read the aforementioned article.
As I perused the article, it became clear to me that its author, a person named Sheo S Jaiswal, is not only alien to Vedic Jyotish and the logic behind organizing Maha Kumbh at Haridwar, but also he seems more interested in terming this holy event as "super-spreader" without having presented any data in complete article to prove this claim. I later on condemned this article on my Twitter timeline, but somehow I felt that this article targeting astrology and terming Maha Kumbh as a super-spreader required a detailed rebuttal. Hence, this article.
Before we rebut this article, let us first understand some basic things that the author of this article apparently does not know. The first thing we ought to know is when actually is Maha Kumbh organized in Haridwar. Its answer is found in the Skanda Purana according to which, when Jupiter is transiting in Aquarius Sign (Kumbh Rashi) and Sun enters Aries (Mesh Rashi), then there is excellent Yoga of Kumbh in Haridwar.
The second thing we ought to learn is that Jupiter transits in one Sign (Rashi) for approximately 13 months (and not one year). The general belief is that Jupiter transits (remains) in one Sign for one year, but in reality, this duration can be anywhere from over 11 months to 13 months. However those who are versed with Jyotish (astrology), do not work with approximations but organize things on the basis of exact transit. The table below also reflects that Sun transits in one Rashi for 1 month, and since there are 12 Rashis in all, it takes Sun 1 year to move through all 12 Zodiac Signs. The Sun enters Aries (Mesh), the first Rashi in Zodiac Belt, on 13/14 April every year. This year, it did on 13 April. Jupiter had entered Aquarius (Kumbh Rashi) on 6 April, 2021.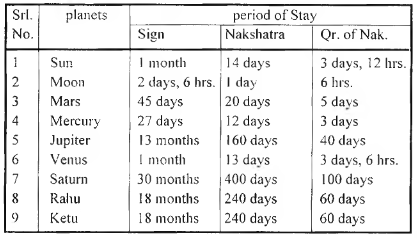 Now since Jupiter was already transiting in Kumbh from 6th April 2021, and Sun subsequently entered in Aries on 13th April 2021, Shahi Snan was scheduled on 12th and 14th April 2021 respectively, and about a fortnight later on 27th April 2021. Now Jupiter would transit in Kumbh again after about 12 years. This duration is generally 12 years, but sometimes it can be 11 years too (due to varying duration of Jupiter in each Rashi). The gap between two Kumbh events at Haridwar mostly remains 12 years and only once in about 80 years, two events fall 11 years apart – a case that happened this time. The fact that the 'exact date' of Kumbh is determined by astrology is also mentioned in the first line of Wikipedia page of Haridwar Kumbh Mela.

Now, let's return to the TOI article and see how it begins.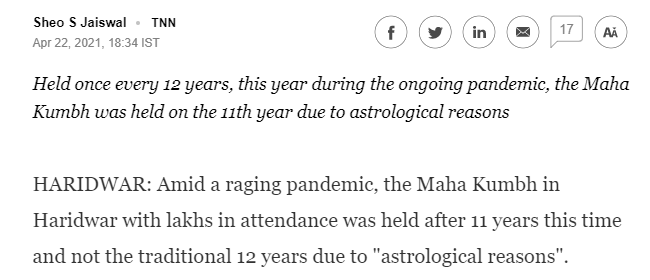 The author, unknown of the two "necessary" conditions for Maha Kumbh ar Haridwar (Jupiter in Kumbh and Sun in Mesh) straightaway makes a claim that it is held once every 12 years. He attributes this gap of 11 years to "astrological reasons" but he definitely does not know that the reason for general gap of 12 years between to Kumbh at Haridwar is also astrological.
The author again claims in the first line of the article that Kumbh is organized "traditionally" after every 12 years. This is again a wrong statement. It is 'mostly' organized after a gap of 12 years. It is reiterated that the reasons behind Kumbh are solely astrological, and they are based on compulsory fulfilment of two abovementioned 'necessary ' conditions and Kumbh is organized only when both of these are fulfilled. In past too, two Kumbh events have seen a gap of 11 years. A screenshot from Wikipedia page of Haridwar Kumbh Mela below confirms that it was organized in 1938 after 1927, a gap of 11 years. An astrologer or any person versed with Jyotish could have foretold in 2010 itself or at any time based upon knowledge of upcoming planetary transits that the next Kumbh would take place in 2021, and not in 2022 (a gap of 12 years from year 2010) because the two necessary conditions, that are completely 'astrological', would be fulfilled after 11 years and not 12 years. This gap of 11 years would not be observed again this century. Hence, the perception of Kumbh occurring after every 12 years is common, but an exception exists to it after every some decades.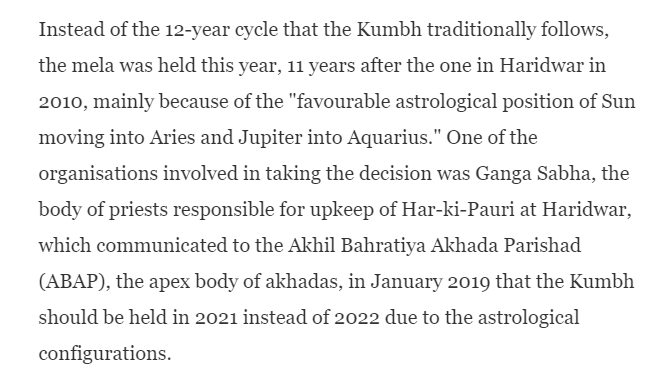 The author, without having any knowledge that reasons behind Kumbh in Haridwar are only astrological, again claims in second paragraph that Kumbh Mela was held in this year instead of a 12 years gap because of "favourable astrological position of Sun moving into Aries and Jupiter into Aquarius". The keyword here is favourable. The author does not know that conditions mentioned by him are not favourable but they are necessary for Kumbh to take place at Haridwar. Since the necessary conditions for Kumbh at Haridwar are formed in this year instead of 2022, the body of priests responsible for upkeep of Har-Ki-Paudi at Haridwar, that is surely more astrologically aware than the author of the article in contention, correctly informed ABAP that Kumbh should be held in 2021 instead of 2022. But the apparent intention to blame the body of priests for advancing Kumbh by one years is evident in the paragraph.
It is into the fourth paragraph of this article (screenshot below) that the author, for the first time, gets mirror of the correct answer when he was told that the two conditions "essential" for Kumbh at Haridwar are formed in 2021 and that they would narrowly miss to exist at the same time in 2022, which is why, it misses out to become the "Kumbh year'. The author must have understood here that since 2022 reasonably misses out from becoming the Kumbh Year, astrology cannot be held responsible to "advance" its dates by one year. In the last line, he again uses the word favourable instead of essential, most likely a deliberate act.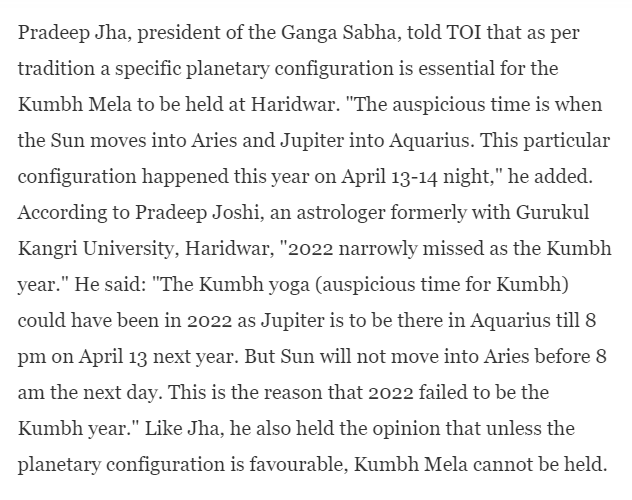 Shri Champat Rai Ji, the general secretary of Ram Janmabhoomi Tirtha Kshetra Nyas, confirmed the author that the dates of Kumbh are not fixed arbitrarily. It can be neither advanced nor postponed. Screenshot from the article below.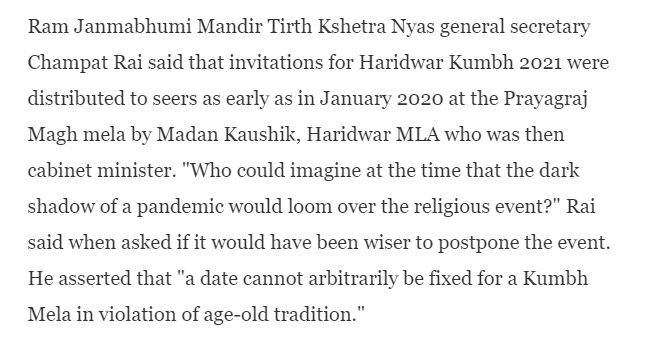 In the last paragraph, the author claims that the intentions of Trivendra Singh Rawat, the former CM of the state, to cut down the scale and grandeur of Kumbh Mela allegedly irked seers, priests, traders and other stakeholders. His successor announced that RT-PCR reports would not be required for coming to the festival is author's another claim as evident in the screenshot below, most likely to give strength his imaginary allegation. However, this claim is inaccurate as a report (available at this link) in Hindustan Times dates 25 March, 2021 mentions that the state govt. made it mandatory to bring a negative RT-PCR report not older than 72 hours for attending the Kumbh Mela in Haridwar. Later on in April 2021, the Health Ministry too made it mandatory. It can be read at this link. Strangely, the author of this article has concealed both the orders aimed to arrest the spread of COVID in the Kumbh Mela due to reasons best known to him. Most likely, author's desperation to term Kumbh as a super-spreader event prevailed on his duty to report truth. Also, there was no provision of tent colonies this time. So, one could just come, take a dip and leave.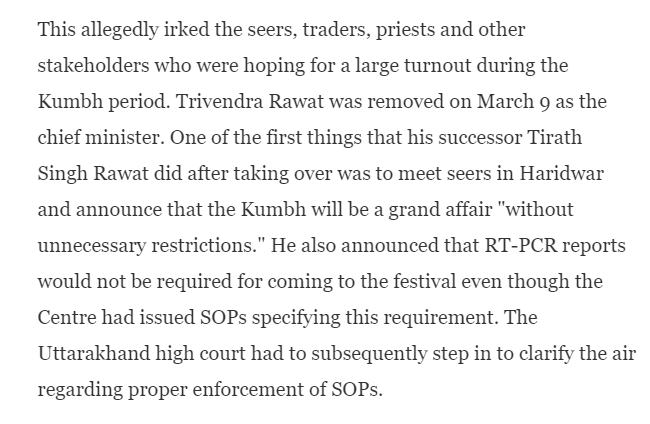 The author termed Kumbh as a 'super-spreader' event in the headline itself but fails to put even one proof to this effect. If we look at the facts, the mandatory requirement of a negative RT-PCR report for attending the Kumbh Mela proved to have brought considerable success in effort to clip the spread of COVID in a large gathering of Kumbh. As per media reports, only 5,037 people tested positive in 17 days out of 3.5 million people who attended Kumbh. The fact of 3.5 people attending Kumbh can be ascertained from this article. Thus, the total positivity ratio at Kumbh remained less than 1% while that shot over 20% in several states. The screenshot below reflects the number of infections that occurred in 17 days. Hence, with a meagre positivity ratio, Kumbh Mela remains far from being called a super-spreader event.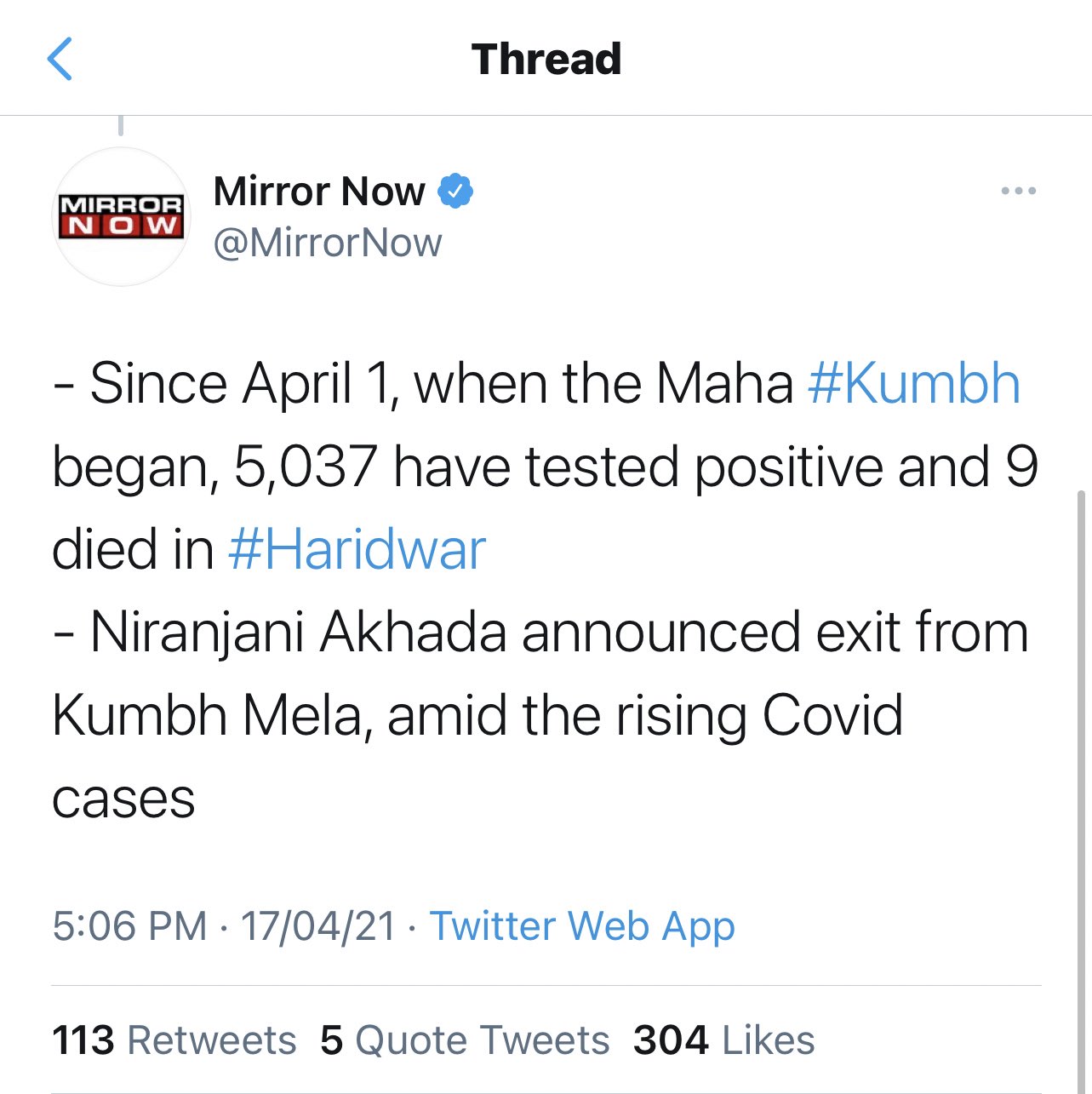 Thus, if facts are known, it can be realized that the headline of this article, hidden behind a paywall, makes two claims, both of which are false and the author, in the content has put no substance to prove these claims as true:-
Astrology did not advance the date of Kumbh Mela by an year. It happened only when it was slated to take place. It was organized only when two necessary astrological configurations happened simultaneously.
Kumbh cannot be claimed to be a super-spreader event, specially when its total positivity ratio remained well-below 1% but those of many states that had neither elections nor Kumbh remained at alarming levels.
I would not have even bothered to read the article if the word 'astrology' was not mentioned in the heading, but once I read it (fortunately, due to having a TOI+ subscription) and understood that the author was audacious to demean astrology and Kumbh without having the knowledge of either, I considered it fit to respond to it. Kumbh is so much a holy event for Hindus that according to Shri Vishnu Purana, results that are obtained upon doing thousands of Ashwamedha Yagna, hundreds of Vajpeya Yagna and by going around the earth a hundred thousand times, that Punya can be obtained only by doing a bath at Kumbh. It goes without saying that the conditions of good behaviour and devotion are attached to it through several other shlokas. However, those unable to go at Kumbh can do certain observations at their residence to have the same effect of taking bath at Kumbh.
This was all in this rebuttal. Stay safe, get vaccinated and follow all COVID guidelines. Jai Shri Ram
DISCLAIMER: The author is solely responsible for the views expressed in this article. The author carries the responsibility for citing and/or licensing of images utilized within the text.