Ruins of the Martand Sun Temple wants to narrate us a sad story !!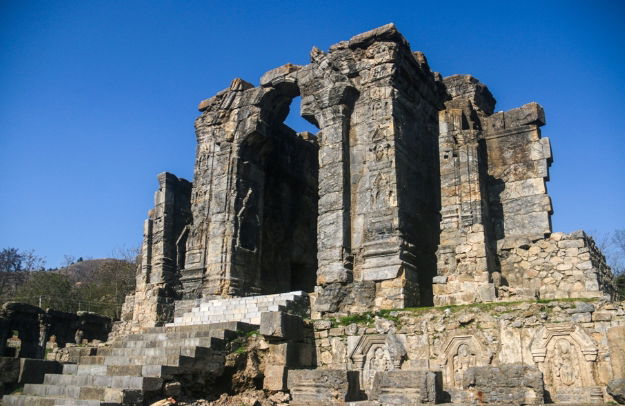 Ruins of the Martand Sun Temple wants to narrate us a sad story !!
Reviving Martand Sun Temple should be the first step towards the resurgence of our civilizational crown ie. Kashmir. And reviving the past glory of our civilizational crown Kashmir is the first step towards the resurgence of our Dharmic civilization. On 8th of May, Manoj Sinha who is the Lieutenant Governor of Jammu and Kashmir participated in the auspicious Navgrah Ashtamangalam Pooja at Martand Sun temple, Mattan, Anantnag.
Martand Sun Temple was built by Great Hindu King Lalitaditya Muktapida. But unfortunately, muslim ruler Sikandar Butshikan, the idol breaker, in the early 15th century ordered complete demolition of the Martand Sun Temple, an exercise that is said to have lasted for a year. It was done in his effort to convert Hindus of the Valley to Islam, which he succeeded in doing to a large extent by persecuting Hindus on large scale, destroying the Hindu-Buddhist icons of culture and infusing terror in the minds of Hindus and Buddhists of the Valley. He had also destroyed a large number of Buddhist temples and masterpieces.
The art (vaults, spires etc) in the temple is similar to Notre-Dame (a few European geographers called it the Notre-Dame of India). It predates Notre-Dame by 500 years. It was destroyed by Sultan Sikandar "the idol breaker" Butshikan 600 years ago, as part of his efforts to forcibly convert Kashmiri people to Islam. It lies in utter ruin ever since. The ruins lie in wait at Anantnag (Jammu & Kashmir) since 600 years. Nobody has ever come forward to restore or reconstruct the temple. It was a majestic temple dedicated to Lord Surya which attracted visitors from China and Korea in its heyday. Ruins of the Martand Surya Mandir, Jammu & Kashmir. It is known by locals today as "shaitan ka gufa" (den of the devil), in a clear insult to Hinduism. This was further emphasized in the 2014 Bollywood film Haider, in which the Devil's Dance sequence was shot at this temple.
Credit – Trueindology
DISCLAIMER: The author is solely responsible for the views expressed in this article. The author carries the responsibility for citing and/or licensing of images utilized within the text.