Sadak 2- The most disliked film trailer in the World: The reason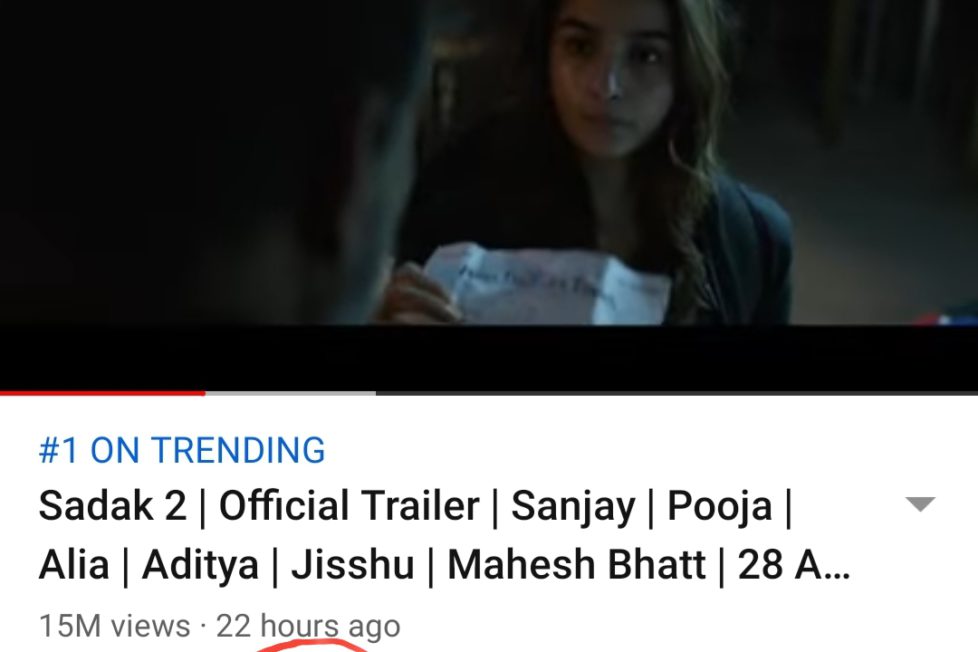 'In fake guruyon ki wajay se maine kisi apne ko khoya hai'- the dialogue highlights the Hinduphobic theme of the upcoming film, 'Sadak 2' directed by Mahesh Bhatt, who makes a directorial venture with this film after 20 years. 'Sadak 2' is a sequel to the 1991 film, 'Sadak', directed by Mahesh Bhatt , starring Sanjay Dutt and Pooja Bhatt, Bhatt's daughter from his previous wife, Kiran Bhatt. 'Sadak' was a take off from the Robert De Niro starrer Hollywood film, 'Taxi Driver'.

While 'Sadak' was a box office success, it's sequel, 'Sadak 2', seems to have hit a roadblock even before it's release, slated on 28th August, in the OTT platform, Disney+ Hotstar. The trailer of the film was released yesterday, i.e. 12th August, on YouTube and within 2 hours of it's release, the film trailer had garnered 5 lakh 'dislikes' and within 24 hours of it's release, the said film trailer has become the most disliked trailer in the world with 4.7 Million dislikes amongst 15 Million views, overtaking the Hollywood film, 'Ghost Busters' in gathering such a mass scale negative opinion prior to release.
'Sadak 2' does not deviate from the usual Hinduphobia, which has plagued Bollywood over the past many years, gathering momentum in recent times. The film is about a taxi driver, Ravi (Sanjay Dutt), who is trying to fight depression after losing his wife, Pooja (Pooja Bhatt) by helping a young woman, Aaraya (Alia Bhatt) expose a 'wicked Godman' (Makarand Deshpandey) running an Ashram involved in unlawful activities. As always, the target of this film is a Hindu godman, an attempt to project Hindus and their spiritual gurus in a negative light. We have had films aplenty, on the same subject, on earlier occasions and the intent is to make our youth averse to Hinduism. As has been pointed out by ex RAW official, Mr. N. K. Sood, in his YouTube video, post the mysterious death of Sushant Singh Rajput, that such hinduphobic films are funded by the Pakistani ISI agents like Aneel Musarrat, who is extremely close to most of the Bollywood bigwigs- they were seen partying and dancing with him on many occasions including his daughter's marriage. It is also an open secret that Bollywood is controlled by the dreaded terrorist and underworld don, Dawood Ibrahim, who too, fund such hindu hating films.

Hinduphobia is nothing new to Mahesh Bhatt and his school of film making. Some of the horror/thriller flicks, which had come out of the House of the Bhatts did display tinges of hinduphobia- films like 'Raaz 3' and 'Jannat 2'. Mahesh Bhatt, a left leaning film maker had been very critical of some of our Central Govt's policies like the CAA and has been a part of the 'intolerance claiming brigade' of intellectuals. His thoughts have been echoed by his family members including his brother and film producer, Mukesh Bhatt, 2nd wife, wife, Soni Razdaan and his daughters, Pooja and Alia. Mahesh Bhatt had been an integral part of a malicious book launch on December 6, 2010 by Congress leader, Digvijay Singh of a book titled '26/11 : RSS ki Sazish' (26/11: An RSS Conspiracy) written by Aziz Burney, the Editor-in-Chief of the Urdu Newspaper, 'Sahara'. The book was meant to frame the RSS for the Mumbai Taj Hotel terror attacks on 26/11/2008, thus whitewashing the role of Pakistan's ISI in the said attacks. It is also alleged that Mahesh Bhatt's son, Rahul Bhatt had been associated with and helped the prime conspirator of the 26/11 attacks, Daood Sayed Gilani aka David Coleman Headley, an US-based terrorist of Pakistani origin, whom he had met in a Mumbai gym through a mutual friend, Vishal Varak. Though, Rahul Bhatt, a fitness instructor, had denied the allegations thereafter, yet the duo are believed to have been in touch via e-mails, even after the 26/11 attacks, as reported by Hindustan Times dated 27th May, 2011.

However, the downgrading of the 'Sadak 2' trailer may not have much to do with it's inherent hinduphobic theme but has to do with the close association of Mahesh Bhatt with Rhea Chakraborty, Sushant's girl friend and the prime accused in his death, by Sushant's family for illegally transferring money worth Rs. 15 cr from the actor's account. Soon after Sushant's death, intimate pictures of Bhatt and Rhea went viral on social media establishing a close relation between the two. Besides, Bhatt's daughter and the protagonist of the film, Alia Bhatt had, in the past, made a contemptuous remark about Sushant Singh Rajput during her appearance at Karan Johar's, Talk Show, 'Koffee with Karan'. The actor's bizarre death had immediately sparked off a nepotism debate, wherein it was pointed out by those with closely associated with Bollywood, that 'outsiders' to the industry, viz. those with no apparent family connection with it, are side-tracked by the high and mighty of the industry and an allegation was made that the Alia Bhatt and Karan Johar cabal might have played a significant role in sidelining Sushant and preventing good films coming his way . Right after Sushant's death, both Alia and Karan Johar were trolled by the twitterati for being the flag bearers of nepotism, a thought which was echoed by fiery actor, Kangana Ranaut too, who since then, has been leading the campaign seeking justice for Sushant (Reported by 'The Week' dated 15 June, 2020). These are the primary reasons for the film's downgrading. It may also be noted that Alia Bhatt had switched off commenting on her twitter handle when she was badly trolled in her post announcing the launch of the 'Sadak 2' trailer.

It is apparent from the above that negative publicity of 'Sadak 2' was primarily on account of the association of the film's makers and actors with the death of actor, Sushant Singh Rajput- a death which has caused the maximum national outrage in recent times, than with Hinduphobia. However, the malicious motive behind the making of the film cannot be ignored. With the clever casting of veteran film and theatre actor, Makarand Deshpande, who, with his brilliance and spontaneous acting, is capable of bringing any character essayed by him, to life, Mahesh Bhatt would have been successful in pushing forth an extremely vile, murderous and fraudulent image of the Hindu spiritual gurus, which most certainly has been portrayed by Deshpande, with aplomb, into the minds of the ordinary and gullible cinegoers. This is one aspect, viz. Hinduphobia in our films, which needs to be looked into with all seriousness by one and all, since films have an indelible influence on human minds.
However, the downgrading of the film, 'Sadak 2' is a lesson for all errant film makers that they cannot take their viewers for granted as, in the era of social media, the united effort of the film lovers can give the makers a big thumbs down if they commit the mistake of hurting and offending them.
DISCLAIMER: The author is solely responsible for the views expressed in this article. The author carries the responsibility for citing and/or licensing of images utilized within the text.