#Satire – Muslims Vehemently Oppose Woke Navratri Curfews; Claim Such Restrictions Suppress Love Zehad!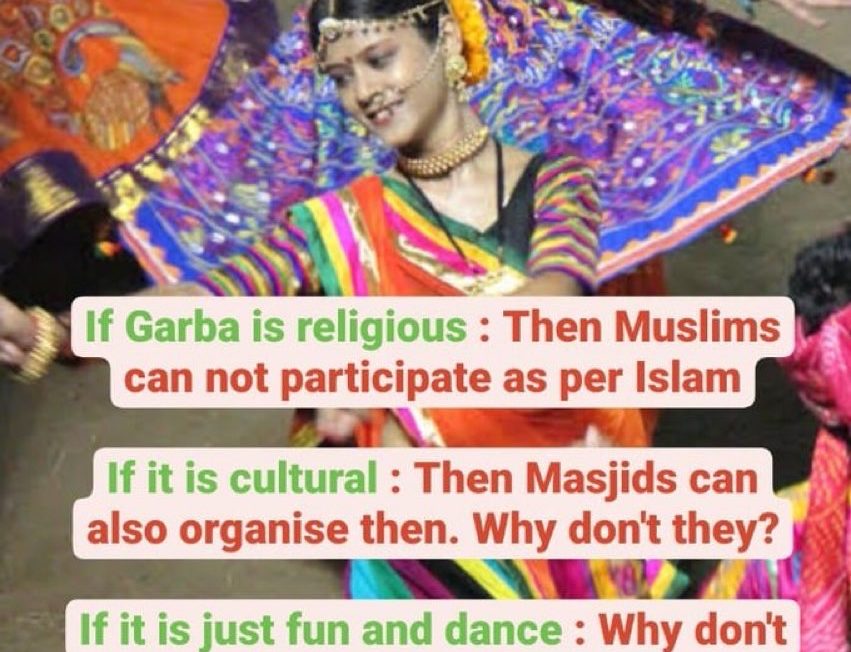 It is a well-known fact that India is turning woke.  The christian-commie-woke-islamist nexus is hell-bent on erasing Hindu festivals, Hindu identity, and Hindu individuals in general.  Muslims kick and scream about their right to do namaz on streets, buildings, schools, universities, and even toilets.  Illegal mazars crop up in the dark of night and acres of land are proclaimed as waqf property citing the asmani decree.
Enter Navratri season.  This is the biggest religious festival where Hindus celebrate the feminine.  Though Muslims have no concept of the divine feminine since they treat the female gender like third-class crap, the kaum is very upset at the chrisitan-woke judges curbing the festival of Garba.  Just in recent history, the evil Nizam celebrated Dusshera by forcing stripped Hindu ladies and making them perform naked garba.  This was in 1948 and sets the history of garba being celebrated by Muslims.
Navratri is prime hunting season for Muslim boys as they go from society to society in hope of preying upon willing and unwilling Hindu girls.  If the garbas are muted, and loudspeakers are banned, where will their Hindu prey go to play Garba?  Where will Muslim guys find their victims?
Some Muslims are claiming that Garba and Navratri are secular functions and that Muslims have a right to play Garba with Hindu girls.  Since the woke HINOs in the judiciary are diluting the Hindu festival, many apologists are determined to host secular Garba at masjids and on other, waqf properties.  Muslims have to hunt somewhere!!  So why not create their own hunting grounds?  They've successfully created dargahs and more Hindus visit Ajmer Sharif and Haji Ali than Muslims!  The secular model is quite successful.
Muslims find the Bajrang Dal to be pests and therefore they would most likely invite newly trained young Talibani recruits to keep Hindus out from their secular Muslim Garba functions.  Also, only Hindu women with back open blouses will be granted entry to the secular Garba as per the Taliban bouncer training.  If Muslim women want to play Garba or wish to monitor and/or aid their husbands find a second or third kafir wife, they should be allowed in but would have to be covered in a black tent or the shuttlecock hijab.
Secular garbas will be coming soon to an unsuspecting town near you.  Get ready to jive to sufi renditions, qawallis, and other soft-zehad music where bAllah is glorified.
Long live the innovative desert cult.
DISCLAIMER: The author is solely responsible for the views expressed in this article. The author carries the responsibility for citing and/or licensing of images utilized within the text.