Stories that need to be told – (Burma 1943)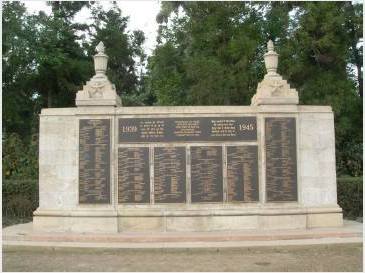 The Kohima War Memorial, Nagaland. Dedicated to Soldiers and Officers of the British Indian Army who laid down their lives in defense of their Motherland fighting against the Imperial Japanese Army.
In 2018 I wrote an ode to my grandfather (uncle's father, or as we Tamilians say, Mama Thatha). It was the culmination of an almost two year long search to find out what exactly happened to him. All these years, throughout my childhood, we kids were often told that he had been killed by an accidental discharge from his own sten gun. Sounded too far fetched, at least to me, since the back story was that there were no locks in those days and as such and he happened to trip over a root and fell upon his own gun, causing it to discharge. The theory of someone tripping over a root and falling upon a gun and getting shot in the process has too many variables and just as many loopholes. As it turns out, I stood vindicated when I read his service certificate. The certificate makes NO mention of an accidental death. My grandpa, Major Veswanatha (Vishwanathan) Panch (Service No: IC/172) is an Amar Veer Senani who took bullets on his chest at the age of 28, fighting the Japanese in the dense jungles of what was then called Burma. THAT is the truth.
Major Panch belonged to the Queen Victoria's Own Madras Sappers and Miners, now called the Madras Engineering Group, whose headquarters is about ten kilometers from where I stay in Bangalore. For the last few years, each time I passed the MEG Center on my way to work, I always wondered what his last few days would have been like. The battles, sights, smells, the atmosphere in general. The hopelessness of the whole situation where they found themselves fighting another man's war. Maybe these weren't as romantic as the movies make us believe. I cannot fathom what must have been going through his mind on the battlefield, however, what I DO know is that he was a good or rather a great soldier.
His son, my periappa (bade pappa), who the Major barely saw, narrated stories he had heard from his mother, of how the Major would stand at the end of the stairwell in the Vinayakar Temple at Malleshwaram, breaking coconuts with his bare hands as a pratigya / venduthal. Many such stories fascinated us kids. It is only now that there is clarity. Major Panch was just ONE person among millions, these were living breathing souls who had paid a heavy price to safeguard humanity in general from the forces of fascism and authoritarianism. It is said that my grandpa took over 9 bullets while fighting the Japanese and that he battled his injuries for three days before he passed.
Ultimately, I did find some closure in the form of a certificate from the Commonwealth Graves Commission and an email from this gentleman in U.K. whose father also served in the same battalion as my grandpa, Major V. Panch. I stood vindicated. He had indeed died in battle and not in some god-forsaken accident. Sometimes I pray for and wonder how many have not had any closure and are still looking either for their loved ones or news about their loved ones even after seven and a half decades. People should be made aware of an organization like CWGC (Commonwealth War Graves Commission) which may be in a position to clarify doubts and bring about closure to so many people from that era.
The reason I'm narrating this is because these were real people with real stories. Burma, although hardly finds a place in the overall narrative as a theater of battle, it saw some of the fiercest battles of the Second World War and also marked the beginning of the end of imperial Japan, and I proudly can say that one of my ancestors fought and fell defending the cause of humanity as a whole. Similarly, countless stories of valor, sacrifice, courage, and of steadfast determination against all odds have gone untold. Many consigned to the annals of history. The next generation needs to be made aware that the air of freedom they breathe is as much drenched in the blood of our soldiers as much as it is in that of our martyrs. The Indian Army was back in the day and continues to be the largest volunteer force the world has ever seen. Over a million fighting men, countless mules, combat equipment, guns and armaments, general supplies, medicines, innumerable doctors and nurses, and millions of tonnes of food rations were exported from India. Yet we find ourselvs consigned to the back benches of the modern narrative. The history taught in schools needs to be rewritten to narrate more stories like that of my grandpa, Major Veswanathan's. Its high time the historical narrative changes to place India at the forefront of the great war. Time for us to collectively honour the memories of men like Major Panch. Men who sacrificed their today for our tomorrow. Jai Hind!
DISCLAIMER: The author is solely responsible for the views expressed in this article. The author carries the responsibility for citing and/or licensing of images utilized within the text.