Structure of Indian Army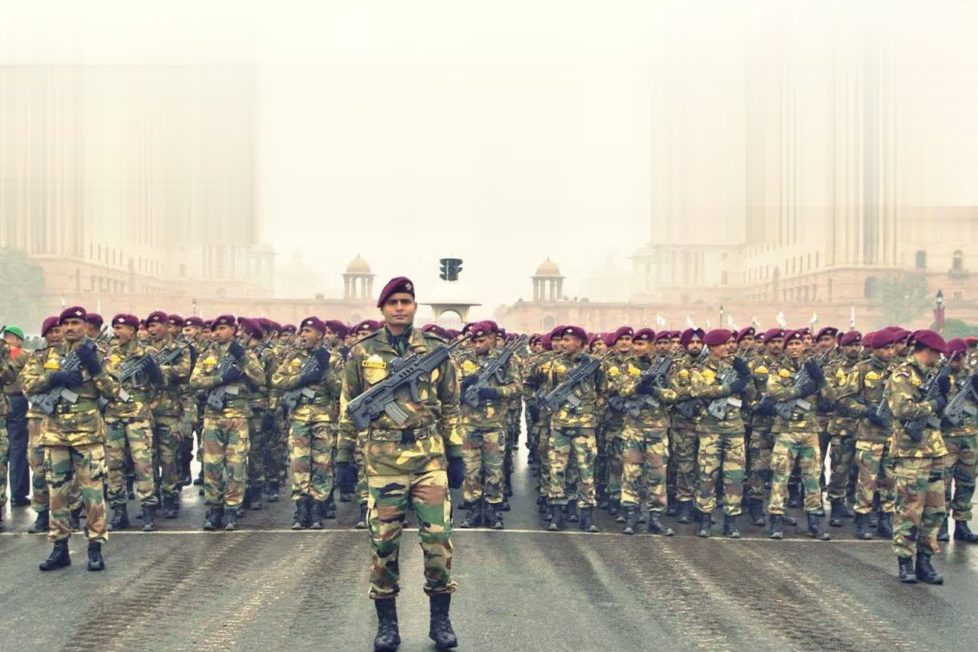 The Indian army is one of the biggest and respectable organizations in India or, we can say, the world. But have you ever wondered how this big organization consisting of more than 11 lakhs of soldiers works so finely? The only discipline cannot suffice the answer, it is a hell of a well structured and controlled system about which, this is post is. So coming to biggest authority or structure that controls the Army is the Army Headquarter, located in the South block of Delhi. There are six commands and one training command which fall under Army HQ :
Northern Command, located in Udhampur, J&K.
Western Command, located in Chandimandir.
South Western Command, located in Jaipur.
Central Command, located in Jaipur.
Southern Command, located in Pune.
Eastern command, located in Kolkata.
And, Army Training Command (ARTRAC), located in Shimla.
Now let us come to formation and structure of Indian Army :
First comes the Army HQ, located in the capital city of Delhi and it is under the command of the Chief of Army Staff (COAS). Under HQ comes the seven commands located pan India stated above, Each command is headed by General Officer Commanding-in-Chief with the rank of Lieutenant-General. Each command is directly affiliated to the Army HQ. The staff in each Command HQ is headed by the Chief of Staff (COS) who is also an officer of Lieutenant General Rank. Besides these, army officers may head tri-service commands such as the Strategic Forces Command, Integrated Defence Staff (IDS) and the Andaman and Nicobar Command.
Under the seven commands comes the corps. Each command can have 2 or 3 corps. And is led by Lieutenant-General rank officer.
After the corps come divisions, it generally has 15,000 troops and 8,000 support elements. It is headed by General Officer Commanding of Major General rank. There are 2-3 divisions in each corps.
Under the division comes Brigade, as the name suggests, it is headed by Brigadier rank officer. There are 3-4 brigades in a division. It has 3000 troops with support elements.
Under the brigade, there are 3 battalions and 1 supportive element. Each battalion has 900-1000 troops and is commanded by an officer of the colonel rank.
These battalions are further divided into companies. Each company 120 or sometimes 200 troops and it is headed by a Major or Captain.
Each company is further divided into 3 or 4 platoons, it has 20 to 30 troops. A platoon is headed by a lieutenant or Captain.
lastly comes the smallest constituent of the Indian Army, section. A section has 10 troops and is headed by Havildar.
This has been simplified with the help of a flowchart given below: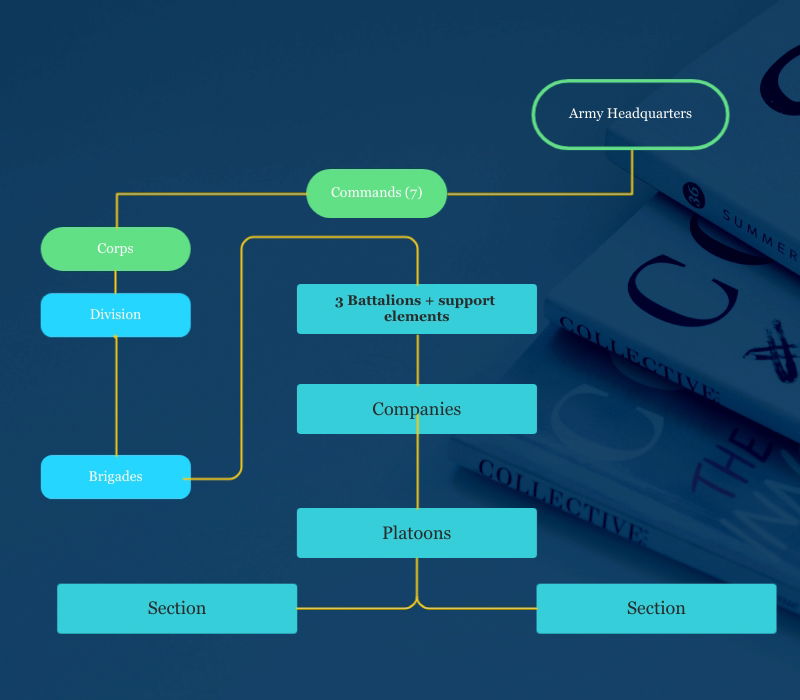 DISCLAIMER: The author is solely responsible for the views expressed in this article. The author carries the responsibility for citing and/or licensing of images utilized within the text.