SUMATI MORARJEE – The Woman Who Ruled A Man's World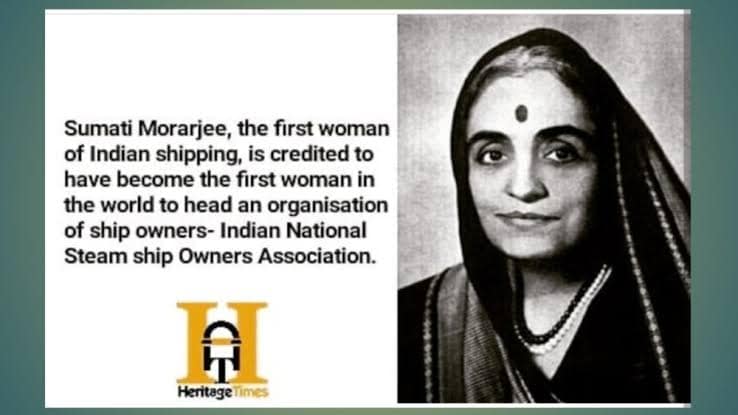 In 1970, when she was 61, the lady with Sindoor & Saree became the Vice President of World Shipping Federation in London.
Feminists never accept these women as role-models because it doesn't fit with their propaganda.
This lady Sumati Morarjee was President of Indian National Steamship Owners Association, and headed 43 Shipping Vessels with manpower of around 6000 people at Scindia Steam Navigation Co.
Born on this day (13/03/1909) as Jamuna for a wealthy family, she was married to Shanti Kumar Narottam Morarjee at a young age.
Shanti Kumar's father Narottam was the founder of Scindia Steam Navigation.
When Sumati was 20, she was included in board of directors, while Shanti Kumar looked after Hindustan Shipyard, Gokuldas Mills, it was Sumati who built Scindia Steam Navigation to its Zenith from humble beginnings.
Under her, Scindia Navigation became the Largest Fleet in Bharat
Both Sumati & Shantikumar involved in helping the freedom fighters & were ardent followers of MK Gandhi, she was also involved in Underground activities between 1942 & 48.
Meanwhile, in 1946, she became the president of Indian Fleet Association.
After Independence, this brave woman was instrumental in bringing the Sindhis from
Pakistan during Partition..
Sumati was an ardent devotee of Krishna Bhagawan & it was Sumati who helped Swami Prabhupada (ISKCON) to propagate the life of Krishna to West.
In 1971, she was awarded with Padma Vibhushan.
Sumati Morarjee joined Krishna's feet on 27th June 1998 due to Cardiac Arrest at Bombay.
#VANDEMATARAM
DISCLAIMER: The author is solely responsible for the views expressed in this article. The author carries the responsibility for citing and/or licensing of images utilized within the text.