Taj Mahal – A Hindu Temple (Part 4/6)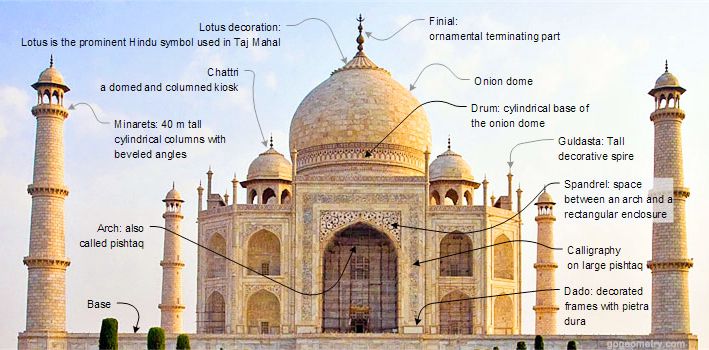 Such are the magnificent marble-paved, shining, cool, white bright rooms of the Taj Mahal temple palace's marble ground floor. Even the lower third portion of the walls is covered with magnificent marble mosaic. The doorway at the left looks suspiciously closed with a stone slab. One can perambulate through these rooms around the central octagonal sanctorum, now occupied by Mumtaz's fake grave. The aperture, seen through of the central door, enabled perambulating devotees to keep their eyes fixed on the Shiva Linga in the central chamber. Hindu Shiva Lingas are consecrated in two chambers, one above the other. Therefore, Shahjahan had to raise two graves in the name of Mumtaz–one in the marble basement and the other on the ground floor to desecrate and hide both the Shiva emblems from public view. [The famous Shiva temple in Ujjain also has an underground chamber for one of its Shiva-lingams.]
This is the Dhatura flower essential for Hindu Shiva worship. The flower is depicted in the shape of the sacred, esoteric Hindu incantation 'OM.' Embossed designs of this blooming 'OM' are drawn over the exterior of the octagonal central sanctorum of Shiva where now a fake grave in Mumtaz's has been planted. While perambulating around the central chamber one may see such 'OM' designs.
This staircase and another symmetrical one at the other end lead down to the storey beneath the marble platform. Visitors may go to the back of the marble plinth at the eastern or western end and descend down the staircase because it is open to the sky. But at the foot the archaeology department has set up an iron door which it keeps locked. Yet one may peep inside from the iron gate in the upper part of the door. Shahjahan had sealed even these two staircases. It was the British who opened them. But from Shahjahan's time the stories below and above the marble ground floor have been barred to visitors. We are still following Mogul dictates though long free from Mogul rule.
On the inner flank of the 22 locked rooms (in the secret storey in red stone below the marble platform) is this corridor about 12 ft. broad and 300 ft. long. Note the scallop design at the base of the plinth supporting the arches. This is the Hindu decoration which enables one to identify even a bare plinth.
Source: Stephen Knapp – Taj Mahal: Was it a Vedic Temple?
Part 5 https://kreately.in/taj-mahal-a-hindu-temple-part-5-6/
DISCLAIMER: The author is solely responsible for the views expressed in this article. The author carries the responsibility for citing and/or licensing of images utilized within the text.