Taj Mahal – A Hindu Temple (Part 6/6)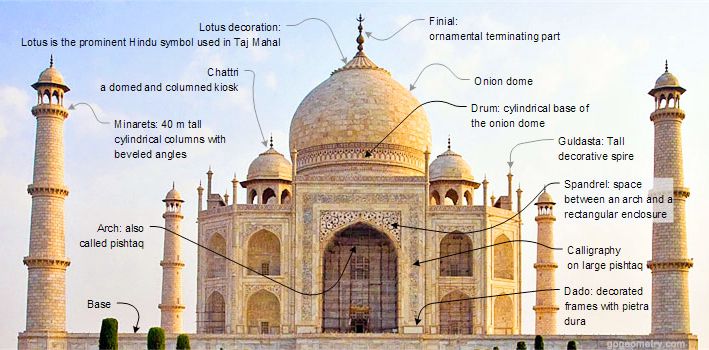 One of the 22 riverside rooms in a secret storey of the Taj Mahal, unknown to the public. Shahjahan, far from building the shining marble Taj, wantonly disfigured it. Here he has crudely walled up a doorway. Such imperial Mogul vandalism lies hidden from the public. This room is in the red stone storey immediately below the marble platform. Indian history has been turned topsy turvy in lauding destroyers as great builders.
Many such doorways of chambers in secret stories underneath the Taj Mahal have been sealed with brick and lime. Concealed inside could be valuable evidence such as Sanskrit inscriptions, Hindu idols, the original Hindu model of the Taj, the desecrated Shiva Linga, Hindu scriptures and temple equipment. Besides such sealed chambers there are many which are kept locked by the Government. The Public must raise its voice to have these opened or it should institute legal proceedings. Shree P. N. Sharma of Green Park, New Delhi who peeped through an aperture in these chambers in 1934 A.D. saw a pillared hall with images carved on the pillars.
Burhanpur is a very ancient historic city on the Central Railway between Khandwa and Bhusawal junctions. Burhanpur and the nearby Asirgarh (fort) used to provide hospitality to Hindu royals proceeding north or south on pilgrimage, weddings or military expeditions. Barhanpur has many magnificent mansions which are currently being described as mosques and tombs of alien Islamic invaders. This building is one such ancient Hindu royal palace captured by the Moghuls. Mumtaz died here during her 14th delivery around 1630 A.D. while she and Shahjahan were camping here. She is said to be buried in a Hindu pavilion in front of this palace.
Mumtaz is supposed to be buried in this garden pavilion of the ancient Hindu palace (Ahu Mahal) 600 miles from Agra, in Burhanpur. Another version says that Mumtaz's corpse was kept here exposed to sun, rain, and wild beasts for six months. The date of her death, the date of her removal from Burhanpur to Agra, and the date of her assumed burial in the Taj Mahal are all unknown because the entire Taj Mahal-Mumtaz legend is a concoction from the beginning to end. [Mumtaz was only one of several hundred wives and women that Shahjahan kept in his harem.]
Source Stephen Knapp – Taj Mahal: Was it a Vedic Temple?
Part 1 – https://kreately.in/taj-mahal-was-tejo-mahalaya-photo-investigation-p1/
DISCLAIMER: The author is solely responsible for the views expressed in this article. The author carries the responsibility for citing and/or licensing of images utilized within the text.