RamMandir Done…Time to Reclaim Next 40,000.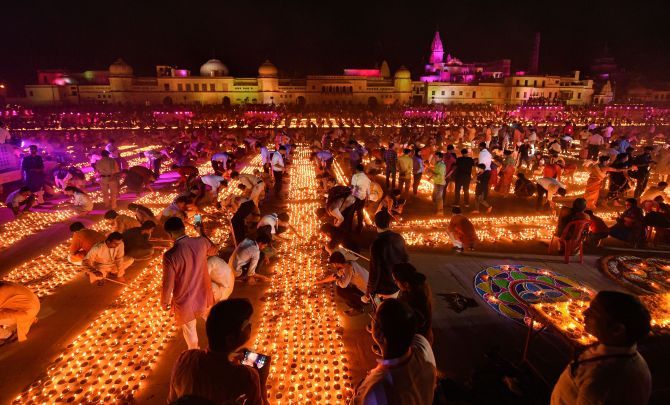 "Aai, stop…is this us?" My son screamed. I was already a few paces ahead but picked up the delight in his squeal. I hurried back and sat down beside him on the black stone tread. Pointing to the ascending steps I said, "There are three more up there…that's us too!"  
"So what happened here?" He inspected the marble plaque for an answer. Brushing off the dust on that riser revealed our family name in Marathi. "These four steps were built in the memory of your great-great-grandparents by your Panaji-Panjoba. They paved the way that lets us walk down to the temple right now."
"Did they build this temple? Were they rich?" Imagination got the best of him.
"Well, they had hearts of gold. No, they didn't build this temple alone but were part of a community that did – one that resisted every attack on their identities yet refusing to give up on their Dharma!"
He grew unsure of whether to quiz me further, so I volunteered the story. "
After the death of Shivaji Maharaj, Aurangzeb conquered Satara fort and surrounds. Locals knew the horrors that were already marching towards them with swords and spears. Nothing was safe…especially the sacred!
They knew the vigrahas will be mutilated, smashed, burnt, or melted down if they were made of precious metals.
They knew sculptures in relief on walls and pillars will be disfigured or torn down and sacred vessels and scriptures used in worship will be defiled and scattered or burnt.
They knew Brahmin priests and other holy men in and around the temple will be molested or murdered and cows slaughtered on the temple sites so that Hindus could not use those premises again.  
Legend has it that the pujari took his time, gracefully completing each of the sixteen upacharas that dawn. He gathered the beautiful image of Ganapati in every cell of his being as he performed abhishek, dressed him in his finest silk and offered dhoop, deepa and naivedya. More than the panch aarti, it was the aura of Ganapati that lit up the garbha griha today for he too was prasanna. The pujari's devotion flowed as tears and the image of his Divine wrestled to stay in his eyes as he stepped out of the garbha griha. The samayi continued to flicker until it ran out of breath. All that remained was the aura of Ganapati.  
The dispirited pujari and a few villagers had long sealed the garbha griha."
Puzzled, he asked, "so the real Ganapati is still sealed inside?"
"Yes, it is…The pujari and the villagers put a round stone outside the sealed garbha griha, smeared it with shendur, decorated it with garland and made it look like the actual deity. They had every intention of returning after the invaders left. Alas, that was not to be. Ashes to ashes, dust to dust…many tried and they were crushed. The pujari and villagers were massacred, the temple defiled, and the legend lost! Invaders changed hands and the British continued the unabated plunder that the Islamic invaders began.
Through the centuries of turbulence, some were brave enough to light the lamp each day. What we worship today is not just the stone that protects the Ganapati sealed inside but the sacrifice and valour of our ancestors who put up a fight.
It was only in the 1960s that the society decided to pool their resources and rebuild the temple and the surrounds that we see today. Ours is a history of survival against unimaginable odds, let no one tell you otherwise!"  
Today, Hindus reclaim THE most significant part of their story with the Shri Ram Janmabhoomi Shilanyas. A monumental day not just for Hindus, but humanity!!
Dr Rajat Mitra pens on the occasion, "The Hindu community hasn't been in the habit of reclaiming. They have only seen what belonged to them, taken away. The people of India have waited five hundred years for him to come back to his temple. Perseverance marked in stone with the blood of thousands who were slaughtered for it."
Today, let us heal together, our tears flow freely with joy as we reunite with our Divine and welcome him home. Let Prabhu Shri Ram reinvigorate Bharat.
Tomorrow, let us get to the work that remains. Reclaim Temple Movements revival of Alathiyur Subhramanya temple shows us what is possible when we come together.
Look around your…there probably is a tired, broken temple waiting for you to light the lamp and breathe new life into it.
Take your pick. Which temple will you rejuvenate?
Leave a comment or a photo below.

#FindaTemple
#LightaLamp
#ReclaimTempleMovement
#BringOurGodsHome
Jai Shri Ram.
References:
Hindu Temples: What happened to them? Volume 1: A Preliminary Survey – Sita Ram Goel
Heroic Hindu Resistance to Muslim Invaders (636 AD to 1206 AD) – Sita Ram Goel
5th August 2020 – A Day of Independence From Fear – Dr. Rajat Mitra
https://rajatmitra.co.in/5th-august-2020-a-day-of-independence-from-fear/
Reclaim Temple Movements revival of Alathiyur Subrahmanya Temple
https://www.facebook.com/ReclaimTemples/videos/394974444480002
DISCLAIMER: The author is solely responsible for the views expressed in this article. The author carries the responsibility for citing and/or licensing of images utilized within the text.