Tejashwi and Rahul: Princes Bond Easily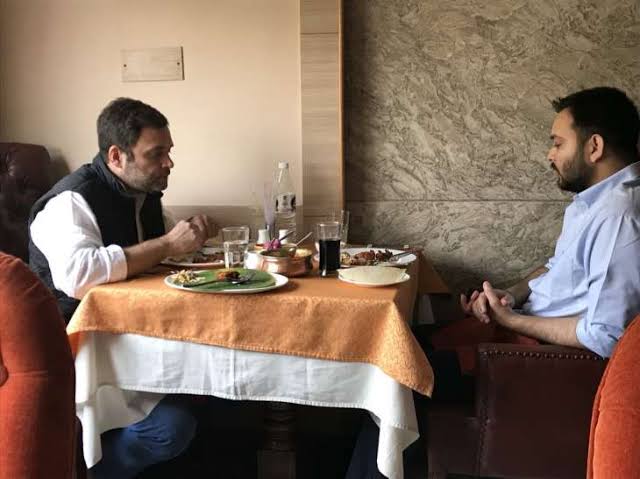 Tejashwi, the Bihari version of ancient tejaswi rulers of Pataliputra, has much in common with Rahul Gandhi. For one, both are busybees, having so much on their hands. They never got to enjoy their youth as they had to handle so much inheritance right from their juvenile days, that have not ended to this day. Rahul was forced to study at Cambridge and at Harvard. His father and Chacha had gone to St. Columba's at Delhi and did not like the principal because he tried to teach them about principles. So Rajiv, who had apprenticed at Rolls Royce, thought that a car is an aeroplane by another name. After gaining experience as a commercial pilot, he had taken over the task of rejuvenating his brother's locked down car factory and used to drive to it with the speed of an aircraft even as the Haryana police ensured the entire length of the road was reserved for him exclusively. What Rahul studied at Cambridge and Harvard remains a mystery but his private life has been mysterious thereafter. He disappears on long sabbaticals but returns with fresh ideas, like holding entrance test for giving Party tickets. Tejashwi is the inheritor of not only the wisdom of Pataliputra but also of his cow-loving parents who earned the merit of keeping 350 cows at the Chief Minister's residence. Both of his parents had been Chief Ministers repeatedly and so Tejashwi found it easy to carry on their lamp, or rather the lantern, after studying up to 9th class. The family's poll symbol and the symbol of tremendous progress made by their state under their tutelage (Biharis could buy kerosene oil!) was also indicative of the fortitude of the people in the frequent power-cut state of Bihar. Tejashwi's mother had once boasted before the cameras of this progress when she informed that she had got handpumps installed in many villages and now those villagers did not have to drink pond water as they had to do during the long years of her husband's rule. Of course, ground water in Bihar is only a few feet below the surface and so there is not much difference between that and the nearby pond water.
But we digress. We were on the subject of both these young persons, born with the proverbial silver spoon in their mouths, remaining awfully busy. 12th April, 2023 was no exception for Tejashwi. In the morning he met Rahul Gandhi, where his party president, Mallikarjun Kharge, was also present. Kharge plays an important role in the Congress Party; he is the nodder. For those not familiar with the duties of a nodder, we refer them to the story The Nodder by the celebrated P. G. Wodehouse based on the shenanigans in the rigidly hierarchical Hollywood. In the story, the world is made aware of the role of a nodder in any large and powerful organisation:
"A Nodder is something like a Yes-man, only lower in the social scale. A Yes-Man's duty is to attend conferences and say "Yes." A Nodder's, as the name implies, is to nod. The chief executive throws out some statement of opinion and looks about him expectantly. This is the cue for the senior Yes-Man to say yes. He is followed, in order of precedence, by the second Yes-Man – or Vice-Yesser -, as he sometimes is called- and the junior Yes-Man. Only when all the Yes-Men have yessed, do the Nodders begin to function. They nod. "
For the uninitiated, the question may arise about the identity of the Yesman. Yet, there is none. Does that mean that Kharge is so close to Rahul that he is just the next one below? That will be blasphemy. In The Famiglia, the next one is always from the family, even though it be a woman. Sonia Gandhi, the first Yes-woman from her Italian Famiglia, fulfills that role. After Rahul drops a pearl of wisdom, Sonia say "yes". Then Kharge nods. Then others clap. Complicated structures can be managed easily when you have a hierarchy. Yet, languages divide. As the parleys started in Rahul's living room, they could hear Sonia, in the next room, telling her sister excitedly, La famiglia si allarga, the family is getting bigger. Anushka Maino, at the other end of the line was pleasantly surprised. Italians like large families and this exclamation, La famiglia si allarga, was always used to announce a pregnancy. What, Priyanka is carrying again, she asked. She had some doubt about Rahul becoming a single parent through fetal implant but dismissed it as unlikely. Meanwhile, Sonia was jabbering about the new alliance and how Rahul could be PM next year.
Coming back to April 12, 2023, Nitish followed Tejashwi when the latter went to meet Rahul. That was the natural order of things. Nitish was born a commoner while Tejashwi is blue-blooded. It is not often that the king is a commoner and the minister is of royal blood. But when it does happen, it is only a temporary arrangement. Nitish has assured Tejashwi that at the next elections, the latter shall be at the helm. Of course, Nitish cannot guarantee that when Tejashwi reaches there, the place will not be already occupied by some other helmsman. They say Bihar has more leaders than the adult male population because you have to count the likes of Laloo's wife also. All the leaders in Bihar are highly successful because they are highly flexible, be it Nitish or Laloo, following Bhagvadagita's wisdom about the change being as easy as changing a shirt or as is more likely in Bihar, the loincloth or the gamchha.
For Tejashwi, this fling at opposition unity was a minor duty compared to the previous day when he spent ten hours and ten minutes as a guest at the Enforcement Directorate. Being a guest is always an honour and any body who counts in Lutyen's Delhi knows that you have not arrived till you have been a guest of the ED for hours by the score. But the Pataliputra scion and his family are on familiar territory when they go there, all of them having been there repeatedly, from the patriarch to the teenagers. The ED is accusing them of owning immovable properties worth 350 crores; what naivety! His parents had 350 cows; is gau mata not even worth a crore of the devaluated rupees? Tejashwi only wishes that the invitation was for the Bihar office instead of the uncultured Delhi. Remember how Lucknow families used to refuse matrimony offer from any Delhi family calling all Delhiwalas bemurawwat. Google this urdu word and you will find, inconsiderate, insensitive, thoughtless, unkind, uncivil, inhuman. Now, Patna is far to the east of Lucknow and by the time the Ganga river reaches there, much cultural water has flown down it. A little ahead lies Bengal, the land of education, culture and Naxalbari. Delhi is dull; Delhiwalas are boring. Tejashwi's father, when he is in a Bihar prison, encounters jailers who are less bemurawwat than the ones at Delhi whose hospitality his son has to endure.
When on 12th April Tejashwi mentioned his previous day's experience to Rahul, the latter talked of his hoary family tradition. My great great grandfather, my great grandfather, my grandmother, they all spent time in prison. My father could not fulfil this ambition because his life was cut short by some Madrasi girl. At that time, I had taken a vow that I will fulfil my father's ambition and keep the tradition alive. When my appeal is dismissed, I too will be in jail, like my ancestors and like your family. Yet, due to different words in our charge sheets, I am afraid, this ignorant nation will not understand.
DISCLAIMER: The author is solely responsible for the views expressed in this article. The author carries the responsibility for citing and/or licensing of images utilized within the text.