The Halal economy endangering Indian economy as well as Indian safety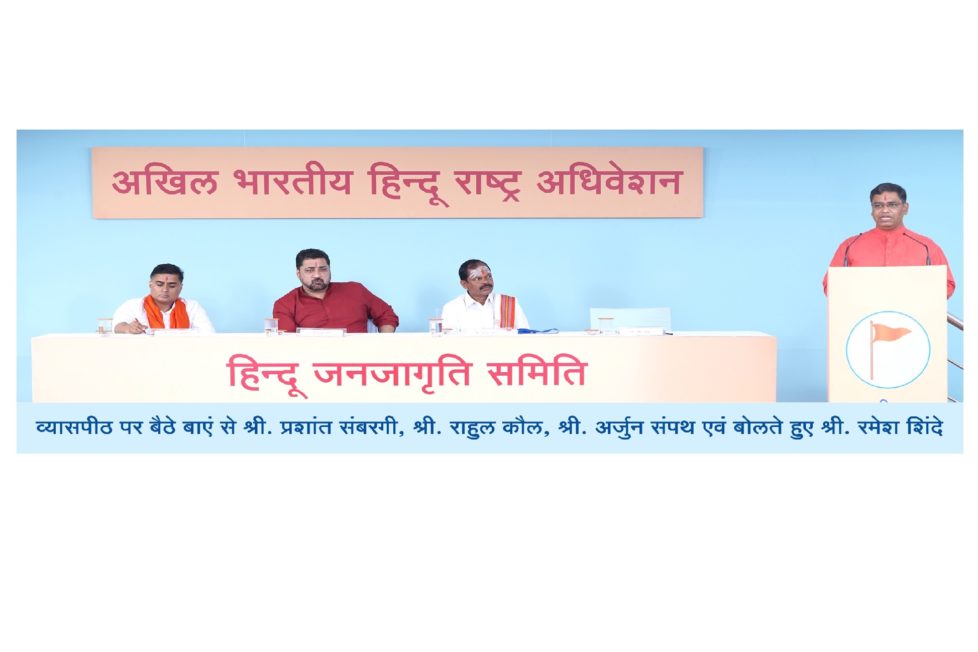 The Halal economy endangering Indian economy as well as Indian safety :  – Akhil Bhartiya Hindu Rashtra Adhiveshan 2022
Hindu society has taken to roads to oppose the compulsion of Halal. Halal is an Islamic concept and is being forced on 78% Hindus in Secular Bharat. When the Indian Government has its own departments 'Food Safety and Standards Authority of India (FSSAI) and 'Food and Drug Administration' (FDA), a private Muslim organisation named Jamiat Ulama-e-Hind Halal Trust is taking thousands of Rupees from the producers and issuing Halal certificate. This certificate was originally meant for meat. However, it is now applicable to eatables, cosmetics, Ayurvedic medicines, hospitals, etc. Besides, multinational companies such as McDonald's, KFC have also taken these certificates and declared that their over 100 outlets in India are all Halal certified. Serving only Halal certified products to Hindus (who are major clients of these organisations) is a gross insult of freedom of religion given to these Hindu clients by the Constitution. Thus, an Islamic economy is being set up in India that is run on religions support. It is reliably learnt that the money collected through the medium of Halal economy is being used to support terrorist activities. In India too, Jamiat Ulama-e-Hind is giving legal support to over 700 Muslim criminals involved in bomb explosions across the Nation. Halal economy is endangering not only Indian economy but Indian defence as well. In this regard, Government of India is expected to take serious action immediately. This was stated by Mr Ramesh Shinde – the author of the text 'Halal Jihad ?' and the National Spokesperson of Hindu Janajagruti Samiti. He was speaking on the topic of 'How to retaliate the Jihadi terrorism' on the fourth day of Dasham Akhil Bharatiya Hindu Rashtra Adhiveshan. Halal Jihad text has been published in Hindi and Marathi. During the speech he appealed to the attendees to ensure that this text reaches every Hindu, so that maximum people become aware about Halal Jihad. During this session, National President of Youth for Panun Kashmir Mr Rahul Kaul, President of Hindu Makkal Katchi Mr Arjun Sampath and film distributor and businessman from Karnataka Mr Prashant Sambargi also guided the gathering.
Bollywood Jihad for harming Bharat and Hindu Dharma – Prashant Sambargi, Film Distributor

Bollywood movies are being used as a medium to influence the youth in the age group 18-24, with Muslim and western thinking. In 2019 a survey of 250 films was conducted in Gujarat. The survey report stated that in these films, Muslims places of worship were shown as strong, that Muslims are humanitarian and conversely, Brahmans are corrupt and evil people. In Bollywood, approximately 3000 songs are released every year. Of these, 300 songs are on the glory of Allah. Conversely, the glory of Hindu Deities is sung in only 4% of songs. Underlying this strategy is Dubai funding and Karachi distribution. The money of infamous hooligans is used for production of Bollywood films. Through these films Love Jihad is encouraged. The drugs from Afghanistan and Pakistan are smuggled into India through Punjab and distributed all over India. Bollywood Jihad is a conspiracy to harm Bharat and Hindu Dharma. This was stated by the film Distributor and bussinesman from Karnataka Mr Prashant Sambargi while speaking on the topic of Drug Jihad of Bollywood. This Adhiveshan is being telecast live on YouTube channel HinduJagruti.
Ramesh Shinde,
National Spokesperson, Hindu Janajagruti Samiti
DISCLAIMER: The author is solely responsible for the views expressed in this article. The author carries the responsibility for citing and/or licensing of images utilized within the text.