The Magnificent Chattarpur Temple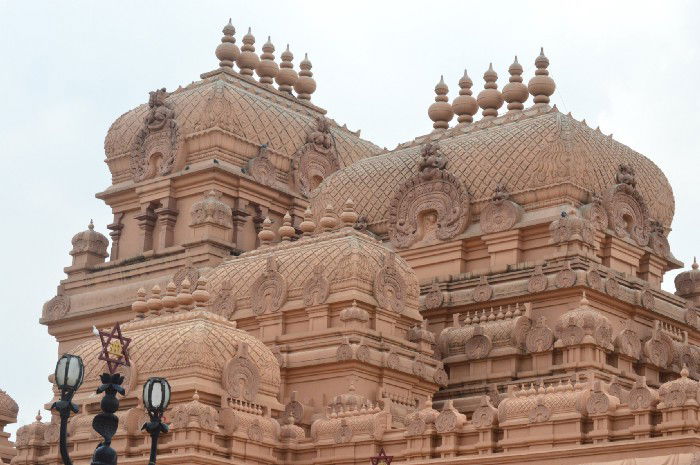 At the risk of writing another review of another traveler, I would still love to jot down my experiences of my Chattarpur Temple visit. After having waited for long to go visit the temple, every step we took in the hot summer month of July was a step of faith.
Located in Delhi, the temple is dedicated to Goddess Katyani, the sixth of the Nava Durgas or nine forms of the Goddess Durga. The complex is supposed to be the second largest complex after Akshardham in Delhi.
The main temple complex contains the temple of Lord Shiva and Maa Parvati, the idol of Hanuman jee, Shree Krishna-Radha jee and the main deity Maa Katyayani.
As one walked out of the temple, one could see the long line of red threads tied. Each thread, layer upon layer, contains stories of faith, of healing probably, of wishes and desires. It is like most other temples in India. It is this faith that makes this country so special, that makes each of the rituals so unique.
Next was the Laxmi Vinayak temple, the architecture speaks for itself and as you enter you know how much meticulous planning has gone in building this structure. You would just want to sit there and soak in the grace.
Cross the road and as you enter the third complex, the Trishul greets you, standing tall on the back of the tortoise symbolizing the solidarity of the earth. The Trishul in the Hindu religion represents the trinity of creation, maintenance and destruction — Brahma, Vishnu and Maheswar; of past, present and future.
The Chhatarpur Mandir was founded by Sant Shree Nagpal Ji in 1974. He left the world in 1998 and his samadhi shrine lies inside the premises of the Shiv-Gauri Nageshwar Mandir within the temple complex.
The nine forms of the Goddess are depicted inside, each with her beauty, grace and strength. You would almost want time to stand still there and bathe in the energy. The idol of Dakshineshwar Kali Maa radiated strength and energy amidst a certain calm.
Next stop was the huge Hanuman idol. My first brush of knowing about this idol was years back when someone had clicked this picture from a plane and was not sure where it was! I had googled up based on the specifications and assumed it was in Chattarpur. Someone else did confirm this and ever since I had the desire to visit this place. One feels protected under his grace in this vast world by just looking at the so calm features of his face in this idol.
The sun, the heat did nothing; the energy and the peace was everywhere…
Temples of India –
DISCLAIMER: The author is solely responsible for the views expressed in this article. The author carries the responsibility for citing and/or licensing of images utilized within the text.