The man who did the Ghar Wapsi of thirty thousand muslims.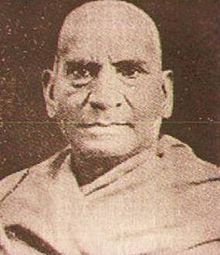 on April 2, 1923 Swami Shraddhanand spoke in the presence of Madan Mohan Malaviya and other members, of the need to integrated the Dalits into the Hindu fold, through education and a better life. The Malkana Rajputs scattered around Mathura, Farrukhabad were Muslims in name, but their customs were Hindu. On 13th February, 1923, Swamiji established the Bharatitya Hindu Shuddhi Sabha, to reconvert them back to the Hindu fold. And soon he traveled, from village to village, reconverting and by the end of the year, around 30,000 had undergone the Shuddhi. This naturally aroused the ire of influential Muslim leaders, who condemned his activities, and in places like Moradabad, Swamiji was barred publicly. Sadly Swamiji did not get any support either from Congress leaders and many like Motilal Nehru, Jawharlal Nehru, Gandhiji distanced themselves from his shuddhi movement. Gandhiji in fact called Swamiji hasty and immature. Notwithstanding Gandhiji's disapproval of Shuddi, the fact was that it saved many Hindus from conversion to Christianity or Islam. In 1926, Swamiji performed the Shuddhi of a Muslim lady, Asghari Begum from Karachin in Delhi. She was reconverted and given the name of Shanti Devi, it however led to a huge uproar in the Muslim community. Her former husband, filed a case of abduction and forcible conversion against Swamiji, his son Indra, and son in law Dr.Sukhdeo. However Swamiji was acquitted of all charges by the court. On Dec 23rd, 1926, Swamiji was taking rest in his Delhi home, when one Abdul Rashid, asked to see him and discuss with him some aspects of Islam. Swamiji explained he was weak, had an attack of bronchial pneumonia, and said he would discuss later. Rashid asked for some water, and when Swamiji's personal attendant Dharma was away, fired two shots point blank into his chest. Though Rashid was overpowered by Dharma and Indra, Swamiji was dead on the spot.
The great man had become a martyr for the cause of the nation, for the cause of Sanathan Dharma. He paid a price for his steadfast faith in his beliefs, from which he never wavered. From the degenerate atheist Munshiram to the saint Swami Shraddhanand who spoke out fearlessly against the dangers of radical Islamism, stressed the importance of education, a truly remarkable and great life.
Credit- @sadaashree
DISCLAIMER: The author is solely responsible for the views expressed in this article. The author carries the responsibility for citing and/or licensing of images utilized within the text.