The Modi-MBS-MBZ Alliance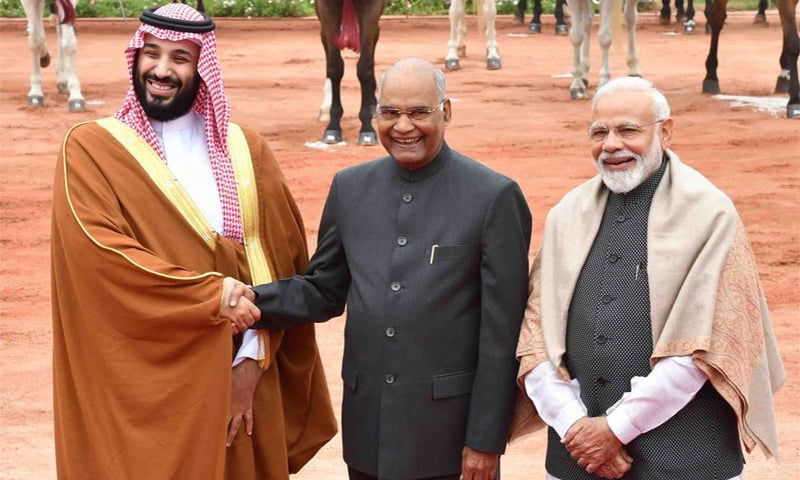 Jan 2017 Mohd. Bin Zayed (MBZ) of UAE visits Delhi (plan chalked out to finish off radical islam)
May 2017 MBZ of UAE visits US (he mentored Mohd. Bin Salman (MBS) of Saudi Arabia to reform Islam for years as kid MBS used to visit UAE for vacations – father king Salman wasn't aware of it. This US visit is about seating MBS as new crown prince in Saudi Arabia)
21st June, 2017 MBS overthrows crown prince Mohd. Bin Nayef and himself becomes the new crown Prince of Saudi Arabia by force (with mossad support)
25th June, 2017 PM Modi visits US. (asks Trump to support MBS)
July 2017 PM Modi visits Israel. (MBS allows PM Modi to use Saudi airspace to go to Israel)
Feb 2018 PM Modi visits UAE. (Chalks out Abraham Accord strategy)
April 2018 MBS visits US. (buys defense stuffs Trump wanted to sell in exchange of support)
June 2018 MBZ of UAE sends Prince to Akshardham Temple in Delhi to understand how yoga, ayurveda & temples can de-radicalise muslims in the gulf.
Nov 2018 Trump imposes sanctions on Iran. (MBS had requested for IPO listing of Saudi Aramco. Sanctions on iran helps prices of crude oil to increase)
October 2018 Saudi-UAE gives loans to Pak (most probably indian money
) (Bajwa brings Imran to power, the loser combo is very important for India)
20th Feb, 2019 MBS visits India just after pulwama attack (PM Modi talks of war with Pak, MBS agrees)
26th Feb, 2019 Balakot Air strike by India. Delhi prepares for a full war with Pak after capture of Abhinandan, sets deadline of return & conveys the time of war.
27th Feb, 2019 Saudi-UAE warns Pak of war + taking loans back
28th Feb, 2019 Saudi-UAE gets Abhinandan released
August 2019 India removes 370-35A (Saudi-UAE-US supports)
September 2019 MBS makes Yasir Al-Rumayyan chairman of Saudi Aramco (demand for pushing Reliance-Jio + Saudi Aramco deal sparks off in Saudi
)October 2019 PM Modi visits Saudi Arabia (pushes MBS to work on peace deals with Israel, asks Aramco to first remove pro-china leaders from Aramco board)
December 2019 Aramco gets listed on the stock exchange with a big bang IPO (with the help of sanctions on Iran – good oil prices in the market)
May 2020 – India demands Support for POK from US in exchange of leading the peace deal in afghanistan (China enters LAC)
August 2020 Yasir Al-Rumayyan changes Aramco board members -cancels China investment plans. (as required by India)
February, 2021 MBZ & MBS, both ask loans back from Pakistan. Orders Pak to ceasefire with India at loc immediately.
April, 2021 Jaishankar hands over conditions for pak to UAE. MBZ calls Pak FM qureshi and hands over the list of conditions. Jaishankar promises Reliance – Aramco deal in exchange of support for POK.
May, 2021 MBZ meets MBS. Both release loans/money to Pak (probably Indian money). Demand Pak to recognize Israel soon.
June, 2021 Yasir Al-Rumayyan – Chairman of Aramco becomes a board member in Reliance Jio. (The joke Nita Ambani can buy POK comes true)
Note – The dates & events are actual. But the analysis is completely a hypothetical construct of the author.
DISCLAIMER: The author is solely responsible for the views expressed in this article. The author carries the responsibility for citing and/or licensing of images utilized within the text.