tragedy called #KasturbaGandhi.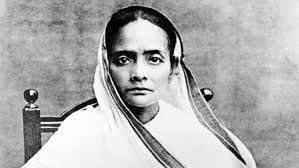 On her 152nd birth anniversary, let us know something we don't know.
Bharatiya History witnessed two Over Hyped characters; both of them treated their wives with utmost contempt not acceptable to humanity.
They were Gandhi and Nehru.
The Real Gandhi MISTREATED his family, Once he wrote a letter and I quote
"I simply cannot bear to look at Ba's face, the expression is often like that of a meek cow and that in her own dump manner she is saying something".
Born on April 11, 1869 at Porbander, Kasturba was elder to Gandhi by 6 months, she married Mohandas with whom she played since her childhood.
The person whom she married was a SEXUALLY OVERDRIVEN husband who later took celibacy without her consent.
Infact, MK Gandhi left Kasturba in 1908 for Hermann Kallenbach, Gandhi's Gay Partner.
Once Mohandas Gandhi had accused Kasturba of Infedility,
This had pushed the poor women to hysteria.
The torture Gandhi gave to his wife was never revealed to the outside world.
It was a trying and distressing period for Kasturba. Gandhi's open courtship of Sarladevi was well known in the ashram and a lot of people were feeling concerned about Mahatma's conduct. Kasturba shared her anxiety with many well-wishers. She could do nothing except resent her undignified rejection by her husband.
Stanley Wolpert in his famous book Gandhi wrote:
The complexity of Gandhi's life requires careful attention to both his public and personal trials. At fifty and on the eve of his greatest nationwide success in 1920, Gandhi experienced an intensely personal passion for young, golden-haired, blue-eyed Danish beauty, Esther Faering.
Obsessed with thoughts of her wherever he was, Gandhi wrote a few days later, "Resist not evil" has a much deeper meaning than appears on the surface. The evil in Ba, for instance, must not be resisted, i.e., you or that matter I must not fret over it or be impatient and say to ourselves, "why will not this woman see the truth or return the love I give her?" She can no more go against her nature than a leopard can change his spots. If you or I love, we act according to our nature. If she does not respond, she acts according to hers." He pleaded with her to "write to me daily".
MKG never wrote like this to any of his sons, as Wolpert points out, or his wife. His patriarchal mind took his wife for granted and did not grant her any modicum of autonomy. He was cocksure of the rightness of what he himself did. It seems Gandhi regretted that he could not marry one of these bright and pleasing women. He wrote many feverish letters to Esther, quoting psalms and poetic pleas and ardent confessions. How one wishes that he had extended his true Christian love to his wedded wife also. He forgot that Kasturba was under great strain about two simultaneous love affairs of her husband and her behaviour to his 'Dear Child' was informed by what he was doing.
While Gandhi was flirting with White Skinned Esther and still writing love letters, he had not lost his obsession over Sarladevi, as that was a much more serious affair and a threat to the existence of Kasturba in the life and family of Gandhi because Gandhi fantasized about how he and Sarladevi could together be a tremendous political force – he as the law-giver and she as the Shakti of Indian womanhood, representing the artistic and aesthetic strength of our culture, inspiring and empowering him to mobilize the vast and diverse masses of India. He found all virtues in her. He published her poems and reproduced her lectures and reported the impact of her singing on the audiences in his weekly papers. (Sarladevi was cousin to Ravindranath Tagore)
Gandhi's rejection of Kasturba came to the extent of his remarking, 'Her staying in the Ashram is in vain'. Gandhi's dissatisfaction with Kasturba surfaced off and on whenever Kasturba asserted her own individuality and resisted his arbitrary demands. He had resisted her on the question of the education of her sons, untouchability, khadi and the harsh life in the ashrams.
Kasturba's life with Gandhi went on like that, he denied his children their share of education while giving away their share of rightful properties to his cousins.
In 1942, British jailed Gandhi & Kasturba at Agakhan Palace, Poona. Kasturba was fragile and by that time she had suffered numerous heart complications, while at Poona she developed Bronchial Pneumonia and Drs suggested Antibiotics for her treatment.
THIS MAHATMA GANDHI rejected the idea and said Ganges will cure and if not The Almighty Would Have To Heal Her.
Kasturba recovered slightly and in 1944, the pneumonia returned with a vengeance..
The Doctors said administering Penicillin will help Kasturba recover and Gandhi's son Devadas brought Penicillin from Kolkata.
Gandhi rejected
He said, IF GOD WILLS IT, HE WILL PULL HER THROUGH.
You cannot cure your mother now, what wonder drugs you bring, but your mother is in God's hands now.
3 days later, Devadas approached Gandhi again, but Gandhi became furious and rejected again the ALIEN MEDICINE.
On 22nd February 1944 at Agakhan Palace, Poona, the wife of 61 years passed away, suffering in pain and so called Mahatma was Directly Responsible for his wife Kasturba's Death
But Gandhi who denied medicine for Kasturba stating it as Alien took a shot of Quinine when he was attacked with Malaria and also he got operated under British doctors
for Appendectomy.
"What Is Not Kept Hidden From The Public Is Not A Sin" – MKGandhi in his Autobiography.
Hence Gandhi never revealed what was Kasturba for him, for Mohandas she was a bonded slave, who was not allowed to think or protest.
#VANDEMATARAM
DISCLAIMER: The author is solely responsible for the views expressed in this article. The author carries the responsibility for citing and/or licensing of images utilized within the text.