#VarunGrover exposes potholes in UP sitting in Mumbai that is Vienna every monsoon!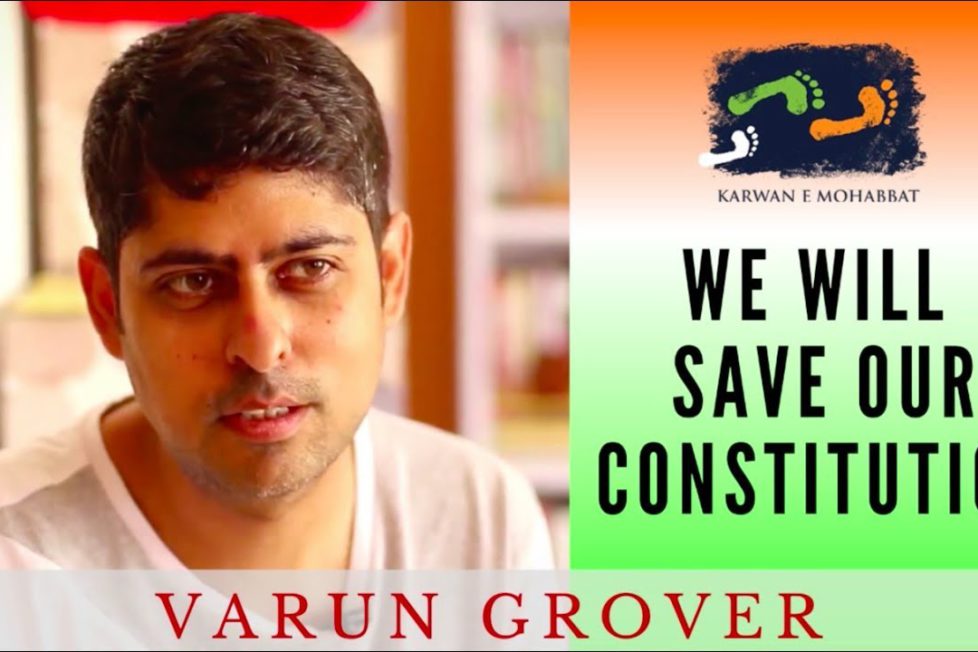 I saw this RT from the famous Liberal Varun Grover about the condition of roads in UP, while living in Mumbai.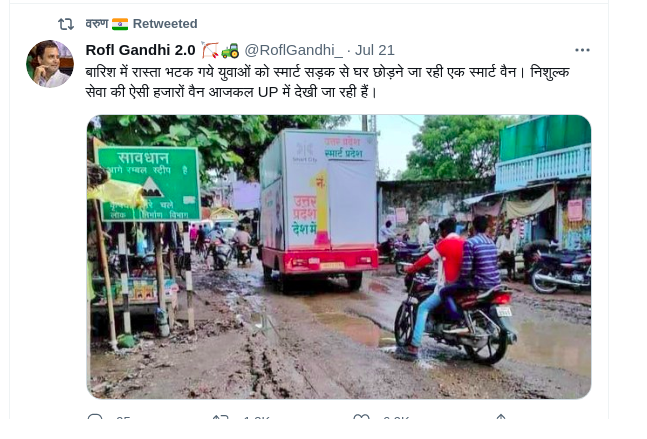 Fair enough the roads of a small town in UP are bad . No one ever denied that . Faitr enough to expose it and spread awareness.
But CHEAP HYPOCRITE Varun Grover , why don't you ever talk about the potholes, bad road in Mumbai , the city you live in ? EVERYONE is aware of the abysmal state roads, bridges, waterlogging that happens in Mumbai every monsoon. Hundreds of Tweets , videos are posted EVERY DAY .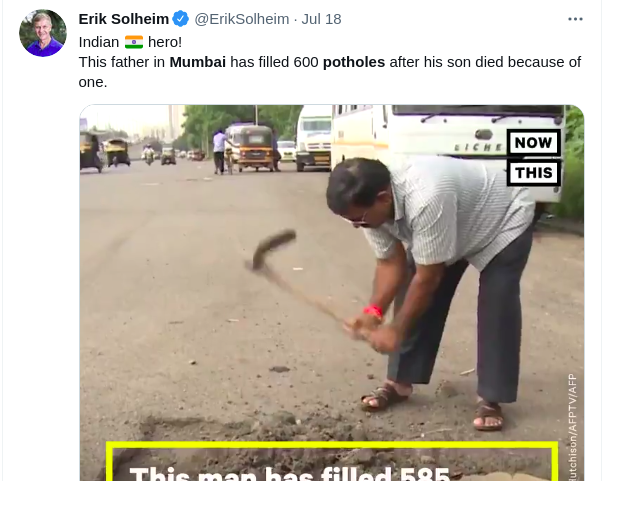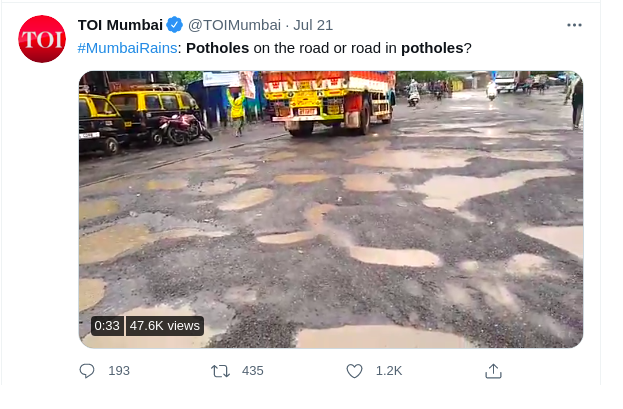 "Potholes lead to 522 road accidents across the state in 2018 and killed 166 people, an analysis of mishaps by the State Highway Police has revealed. The report, which looks extensively at how the features and conditions of roads across the state contributed to accidents, was released earlier this month."
According to the study, 353 people were grievously injured in accidents where vehicles hit potholes. It has also found that 11.4 per cent of all victims died on curved roads, while 3.64 per cent died on under-construction roads."
I mean Mumbai is your present residence, you have bought a house there. You pay taxes there so why not call out BMC, the body that is responsible for Roads, bridges, drainage in City of Dreams , Mumbai ? The city that never sleeps but weeps every monsoon.I have lived in Mumabi so I know how BAd things get , EVERY YEAR .
Mumbai is the richest taxpaying city in India , infact MOST taxes come from Mumbai alone.
Mumbai accounts for slightly more than 6.16% of India's economy contributing 10% of factory employment, 30% of income tax collections, 60% of customs duty collections, 20% of central excise tax collections, 40% of foreign trade and rupees 80,000 crore (US$20 billion) in corporate taxes to the Indian economy. BMC is the richest body .
BMC's budget always draws attention as it is India's richest civic body and its allocation is more than many states' budget. The budgetary estimate for the current financial year has been pegged at ₹39,038.83 crore, which is 16.74% higher than the budget for FY 2020-21 ( ₹33441.02 crore).
With SO MUCH Taxes , so much money with BMC , why don't they fix the infra ?
I tried searching for tweets from you exposing the pathetic state of roads, drainage in Mumbai, found NONE. All I found was (ass licking) tweets praising Uddhav Thakre for his handling of Covid (the state which has seen the MOST cases and only 1 wave of COVID) . Even today the daily cases in UP (with a population of 20.5 crore ) had only 52 cases today, while Maharastra with a population of 11.5 crore had 8,159 cases. DAMN . Maharastra has had the highest cases and death in India. Health is a state matter, so why not call out Uddhav Thakre for his mismanagement instead of tweeting praises for him? NO SPINE HYPOCRITE?

I searched for tweets from you about Mumbai potholes, Mumbai rains . Guess what , ALL those tweets have been deleted . LOL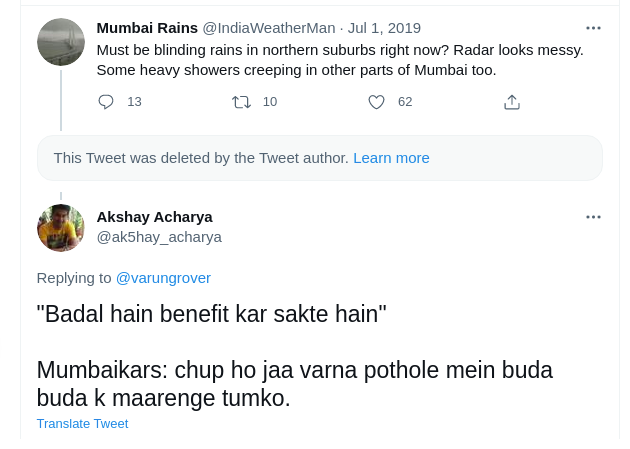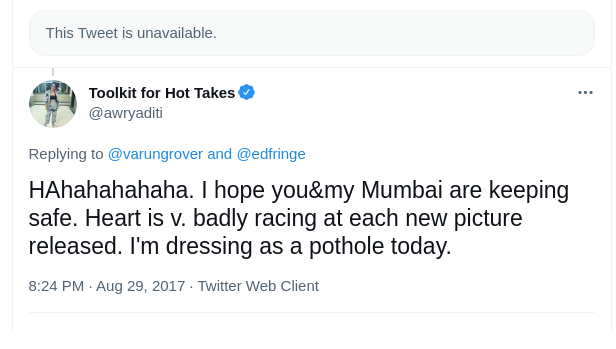 All tweets in which BMC (BrihanMumbai Municipal Corporation ) a fiefdom of Shivsens since eternity, which is responsible for repairing roads, amazing drains, bridges etc., were deleted . अरे भाई इतना डर क्यों लगता है ?
What is ridiculous is that even tweets mocking Congress were deleted once Shiv Sena came to power in alliance with Congress.

HAHA . I mean you all are the ones who call Modi , BJP intolerant, fascist, Nazi all day on loop and then delete old tweets and have NO B@LLS to expose bad infra because you are scared of Shiv Sena controlled BMC . What are you scared of ? Head being shaved off by Shiv Sena Goons? Being beaten Blue and Black by them.
Given the fact that you are such a great poet (Main to Jabra Fan ho gaya) , who showed his excellence in composing the now-famous "Hum Kagaz Nahi Dikhaenge" poem in anti CAA rallies, why don't you write a poem highlighting poor management of COVID by Uddhav Thakre?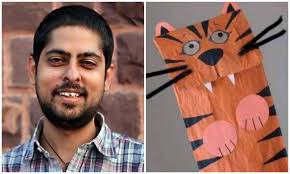 "Hum saan nahi lenge , Hum Kaam nahi karenge, HUm ghar se baahar nahi jeenge jab tak Uddhav Corona ko control me nahi laaenge "
Why don't you write some poem about pathetic infra mismanaged by BMC.
Call your anti CAA folks, Swara Bhasker , Dia Mirza, Zoya Akhtar , Kunal Kamra , Farhan clueless Akhtar , etc. etc. Go on.I dare you .
You can also collect your WOKO HARAAM, Jaise e Liberals folks, do a dharna and sing songs, poems against BMC , ShivSena . Common , show some spine , b@lls . Oh wait you have NONE. Whatever little muscle that amoebas like you have only comes up against Modi , BJP , RSS. जब शिवसेना की बात आती है तो ऐसे स्पिनलेस बंटे हो की हरहरा सांस हो।
if Hypocricy had a Mariana Trench , you all Liberal Jamaat would have built a slum out there and lived forever .

Oh Yes , Mr. Spinelss Grover, you are the face of Liberal Hypocrisy . You sat for dharna and shouted anti BJP slogans, posted anti-BJP Tweets while BJP was in power in Maharastra, but have NO B@LLS to call out Shiv Sena and BMC . SHAMELSS . Remember when Malishka sang a song criticizing BMC and what happened to her after that ? HAHA that is fascism . Whydon't you write a song about that . A song about the aged veteran who was beaten up Shiv Sena goons for criticizing Uddhav Thakre led Shiv Sena Government. Show your talent of poetry for such causes.
But yes still continuing with anti-Modi, BJP tweets without any fear . HAHAHA, look who is the hypocrite now . Look who is the fascist now.
Wanna know who is fascist, see whom you cannot tweet against, see which tweets you delete, see whom you are afraid to hold Dharna Against.
So many houses, buildings collapse every year in Mumbai killing people. All under BMC /Shiv Sena . Never saw a word from you ?
How about a show of Aisi Taise Democracy with your pals Sanjay Rajoura , Rahul Ram on mismanagement by Shiv Sena , BMC like you do for BJP , Modi , RSS . Cmmon show some spine and b@lls , show neutrality, impartiality . Oh wait you are not that , You are a cheap , bigoted, hypocrite , spineless wannabee , who is neither secular , nor liberal .
You liberal scream so much about lynching, no tweets from you about lynching to death of 2 aged swamis in Palghar? Such conditional care for human life , based on fear of political party backlash speaks volumes about your fake activism, faux secularism, bigoted secularism, and nonexistent ethics and integrity. SHAMELESS . I mean where you get so much SHAMELESLESS from ? WOKO HARAAM Mall ? Jaise e Liberal Mart? No seriously is being a third-rate hypocrite, with no ethics, integrity, neutrality, guts a precondition to be called a liberal?
Oh BTW why did you delete this joke about Ayesha takia's boobs ? Delete tweets fearing Shiv Sena. Delete Videos when fake feminism and fake anti Brahmnical Patriarchy are exposed . And then such specimens calls Modi fascist.
https://twitter.com/abdullah_0mar/status/1121427958923767809?s=20
Oh , NOt so long back Varun Grover was also accused of sexual molestation and was given the nickname #VarunGroper . he had denied all allegations . No iea what happened to that allegation . Gentle Reminder . He calls himself a feminist. And All WOKE, SECULAR, LIBERALs stand by him.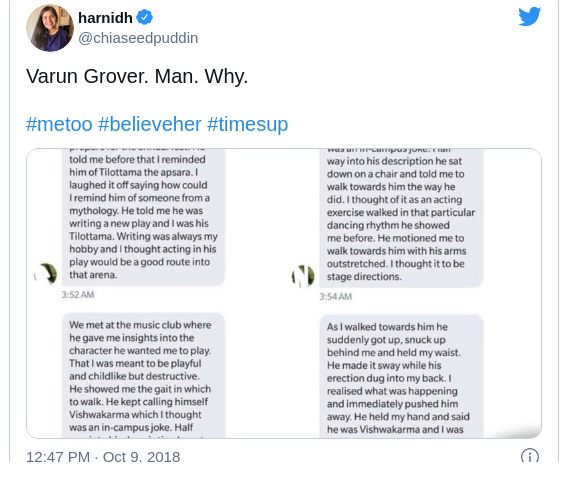 https://www.opindia.com/2018/10/metoo-now-comedian-varun-grover-accused-of-sexual-harassment-denies-allegations/
So next time, you take up any cause or try to sound like a concerned man with intelligence , IQ and concern against FASCISM , read this post .
So stop mocking UP road on Twitter cause you live in WORSE condition in Mumbai . I DARE YOu, I CHALLENGE You to post ANYTHING criticizing Uddhav Thakre, Shiv Sena, BMC. I DARE YOU . If you can't , then STFU , literally STFU you spineleess idiot.
Here is a poem I wrote for you :
हम शिवसेना के खिलाफ कुछ नहीं बोलेंगे
क्योंकी फिर लाट जूतें खाएंगे
हम बीएमसी के खिलाफ कुछ नहीं बोलेंगे
क्योंकी फिर हजार नोटिस आएंगे
हम ट्विटर पर बैठे के यूपी का मजा उड़ेंगे
क्योंकि अगर शिवसेना के खिलाफ कुछ बोला तो वो गान फट जाएंगे
हम शिवसेना के खिलाफ कुछ नहीं बोलेंगे
हम उद्धव ठाकरे के खिलाफ कुछ नहीं बोलेंगे
क्युंकी फिर बाल चिलवा रहेंगे
कोरोना का कुप्रबंधन भी हम
मोदी पर दाल आएंगे
लेकिन शिवसेना के खिलाफ कुछ नहीं बोलेंगे
मोदी को दिन रात फासीवादी बोलेंगे
लेकिन शिवसेना के खिलाफ वाले ने ट्वीट किया मिटेंगे
संघियो को लिंचिंग के लिए दोशित करेंगे
लेकिन पालघर के साधुओं के बारे में मैं मूह में दही जमूंगा
हम शिवसेना ही खिलाफ़ कुछ नहीं बोलेंगे
"
DISCLAIMER: The author is solely responsible for the views expressed in this article. The author carries the responsibility for citing and/or licensing of images utilized within the text.