Why does NYT misreport on India?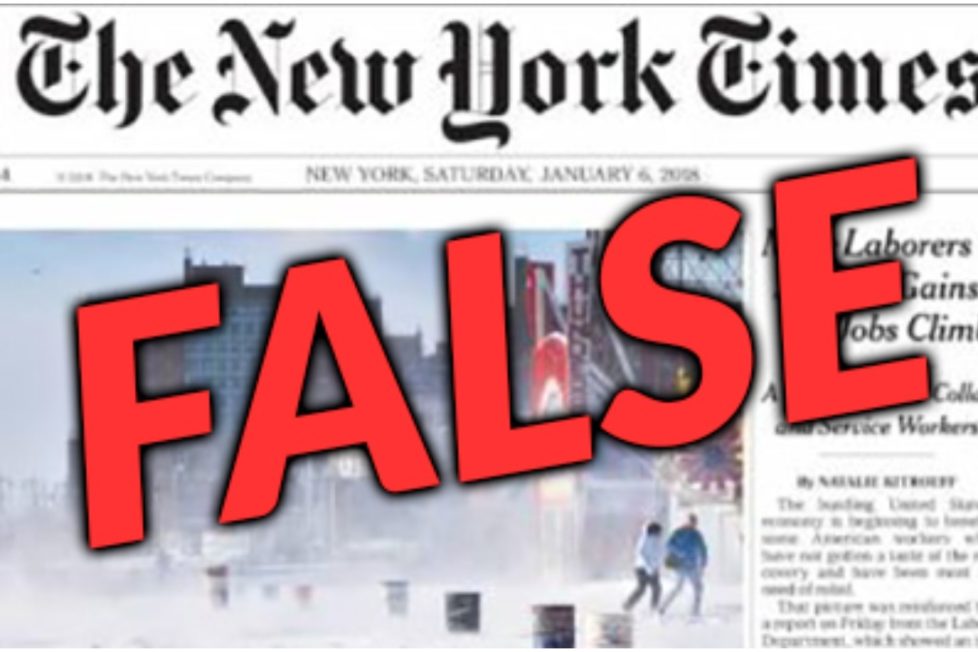 I was  slightly alarmed to see the video news in New York Times. (https://www.nytimes.com/video/world/asia/100000006963057/modi-muslims-india-citizenship-test.html?) Before I get into this questionable news item, it may be better to explain some basic information on Assam, the region of India, the above story in the video is centered around. There has been a vicious disinformation campaign about NRC (National Register of Citizens), that the author of video is talking about.
On 15thAugust, 1985, a tripartite agreement was signed between the Government of India, Government of Assam and All Assam Students Union and All Assam Gana Sangram Parishad. This was popularly known as Assam Accord or Rajiv Gandhi Accord as it was signed in presence of Rajiv Gandhi, the then Prime Minister of India. He belonged to the Congress party, that is now in opposition and strangely instigating unrest on this issue. Paragraph 5.8 of the Accord settled the most contentious & long-standing issue of foreigners. Paragraph 5.8 read as follows:
"Foreigners who came to Assam on or after March 25, 1971 shall continue to be,detected and practical steps shall be taken to expel such foreigners."
Therefore, the Government of India and Government of Assam were bound by this agreement to detect, detain and expel the foreigners who came to Assam on or after 25thMarch, 1971. This is the time when the East Pakistan got independence from West Pakistan and became an independent country, now known as Bangladesh. Because of the brutal atrocities by the retreating Pakistani army, many (then Pakistani, now Bangladeshis) ran to Assam for safety and better life.
However, this provision of the Accord was not implemented seriously by the successive Central Governments and the Assam Government which were mostly under the Congress party rule. The matter finally reached the Supreme Court through a Public Interest Litigation (PIL), which directed preparation of NRC for Assam in a time bound manner. Accordingly, a rigorous exercise was undertaken to prepare the NRC for Assam, which was finalized some time during the last year (2019). Names of some 1.9 million persons were excluded from NRC, who came to be described as ''non-citizens". They comprised about 1.1 million Hindus and 0.8 million Muslims. They are mostly illegal immigrants from Bangladesh who have been coming to Assam and settling down here for greener Pasteur.
Now coming to the video clip of the New York Times, I can easily say that it is part of a well-orchestrated disinformation campaign, aimed at maligning Prime Minister Modi and his BJP (Bharatiya Janta party) government. At one point, they have shown Mr.Modi saying ''yeh sab jhoot hai"( this is all false) with reference to the existence of detention centers. I remember having viewed the entire speech of Mr.Modi from which they have picked up just one sentence ''yeh sab jhoot hai", ( this is all false) without showing what he said before and after. In fact Mr. Modi was responding to sweeping allegations that Government of India was setting up large number of detention centers with intention to detain Muslims. With reference to this he said ''yeh sab jhoot hai" ( this is all false). It is indeed not correct to say that Government of India was setting up large number of detention centers. He did not say that there are no detention centers at all. What he had said was that there was no proposal to set up hundreds of detention centers, as was being alleged in certain quarters. As per a reply to a question in the Indian Parliament, there are only six detention centers at present and there are no other detention centers anywhere else in the country. The construction of new detention centers is the prerogative of state governments (and not of the Central Government). In the video, they have shown one detention centre under construction. That may have been constructed by the Assam Government as that state has the largest number of foreigners. These detention centers are meant for accommodating "declared foreigners" till they are expelled or deported from India. At another point in the video they have shown Mr. Modi saying that "we shall not budge from our decision" as if he was saying it with reference to NRC. This is mischievous. In fact, he was saying it with regard to the demand for withdrawing CAA Citizenship Amendment Act. There should be no question of withdrawing CAA, as it is a harmless legislation with reference to Indian Muslims. CAA will definitely not grant Indian citizenship to Muslims (illegal immigrants) from Bangladesh. But that is fair. Why should a Bangladeshi Muslim be granted Indian citizenship, if he has entered India as an illegal immigrant. It needs to be noted that there are scores of indigenous Assamese Muslims in Assam, who are similar in culture and language to Assamese Hindus. Such Assamese Muslims have nothing to fear from CAA.
The video clip also mentions that 52 persons were killed in Delhi riots, mostly Muslims. The Home Minister in Parliament has refused to give break up of 52 persons between Hindus and Muslims. We cannot say that more Muslims died than Hindus. Most people think that the numbers were equal.
CAA is an acronym for the Citizenship (Amendment) Act, 2019. This is an enabling legislation. It enables granting of citizenship to persecuted religious minorities of Pakistan, Bangladesh and Afghanistan (All declared as non-secular, Islamic countries), who have come to India on account of their persecution on the basis of religion, in these countries. The Act mentions persons belonging to Hindu, Sikh, Buddhist, Jain, Parsi and Christian as religious minorities in those countries as these countries have overwhelming Muslim majority
It may be clarified that CAA does not cause any harm to Indian Muslims, that is those Muslims, who are already Indian citizens have nothing to fear, as the CAA does not have any provision to take away anyone's citizenship. Unfortunately, some vested interests including both political parties and non-political persons have been creating unjustified fears among Muslims that BJP has enacted CAA to take away citizenship of Indian Muslims, that they will be deprived of their citizenship and put inside detention centers. This is a wholly unjustified fear created mischievously by the vested interests.

Picture Credit – www.opindia.com
DISCLAIMER: The author is solely responsible for the views expressed in this article. The author carries the responsibility for citing and/or licensing of images utilized within the text.