Why is India a ray of hope for ASEAN countries?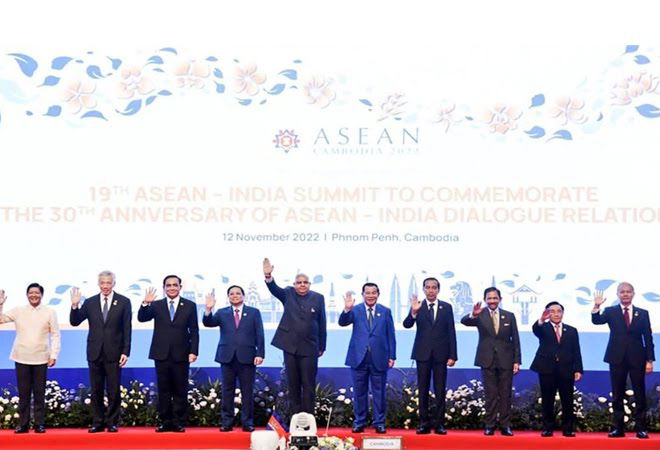 Highlights – 
Tension is increasing in the entire South China Sea from Taiwan to Philippines.
China is weighing the possibilities of occupying Taiwan and the dispute with many countries has deepened.
China is claiming the entire South China Sea by building several artificial islands and military bases
Tension is increasing in the entire South China Sea from Taiwan to the Philippines. While China is preparing to occupy Taiwan, its border dispute with several countries in the South China Sea has deepened. China is claiming the entire South China Sea by building several artificial islands. China has deployed fighter jets and missiles on a large scale on these islands. Chinese warships often practice from here to encircle Taiwan. Due to this, China's confrontation with the US Navy is increasing and it is being said that China may clash with Japan and America in the future. In view of this danger, ASEAN countries are now looking towards India with hope and trust.
According to the report of South China Morning Post, in the latest survey released this month by Singapore's ISEAS-Yusoph Ishak Institute, it has been said that the trust of India in ASEAN countries is increasing very fast. The survey report comes at a time when India is increasingly visible on the global stage and has refused to take sides in the Ukraine war. Analysts say that this is the reason why member countries of South East Asian countries see India as a strategic partner.
India's approval rating doubled
In the latest survey, a large number of people in these 10 countries said that they would choose India after the European Union and Japan in an environment of uncertainty created by the increasing strategic competition between the US and China. In the same survey, India got the last place in the year 2022, but in the latest survey, India's approval rating has doubled from 5.1 to 11.3. In this way, India has now reached number three in the group of 6 countries. India is followed by Australia, Britain and South Korea.
Many countries in South Asia believe that India is a 'peaceful, non-threatening force'. Moreover, India is a strong economic performer and is full of potential. India insists on a multi-polar world and has refused to bow down to China's policy of occupying land. The survey says that all these have enhanced the prestige of India. Daniel Markey, Senior Advisor for South Asia, America's Institute of Peace, said that both PM Modi and External Affairs Minister Jaishankar are very active and vocal on global forums.
Benefit from tough stance towards China
Markey said that India is going to play a bigger diplomatic role this year by hosting the Shanghai Cooperation Organization and the G-20 summit. Rajeev Ranjan Chaturvedi, associate professor at Nalanda University, says that many ASEAN countries see India as a 'peaceful, non-threatening force'. He said that India is doing brilliantly on the economic front and is standing up to China which has enhanced its prestige. According to the World Bank, India is among the fastest growing economies of the world.
On the other hand, Claudia Chia, an analyst at the National University of Singapore, says that the neutral attitude adopted by India in the Ukraine war is also being taken positively by the countries of South East Asia. India has not publicly condemned Russia's attack on Ukraine. She says that India is actively involved in the Quad, which has also enhanced its prestige. The quad also includes America, Japan and Australia. Earlier, India and America have made several agreements ranging from defense to the supply of semiconductors.
DISCLAIMER: The author is solely responsible for the views expressed in this article. The author carries the responsibility for citing and/or licensing of images utilized within the text.