Why should we not question your patriotism ? Most bratty actor 'Aamir Khan'.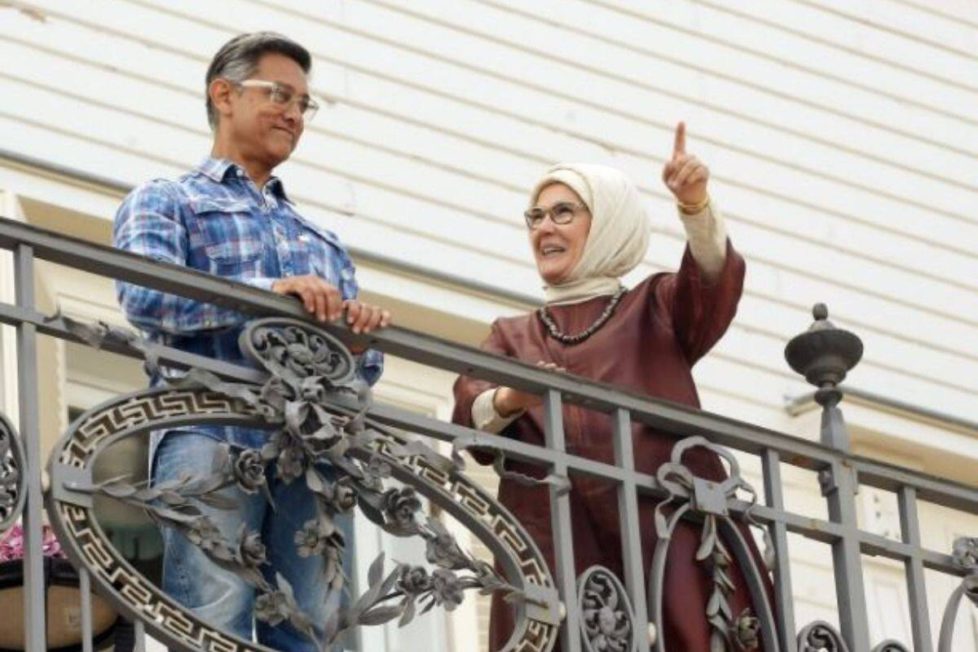 Bollywood Actor Aamir Khan meets Turkish first lady, Emine Erdogan
15th of August, Day of India
It is said that the traitors of the country are also there, who may be in jail for the crime of treason, but on the day of Independence, they would also be patriotic.
Surely, his heart will be of stone, which will hurt the emotion of India on 15th August i.e. India's Independence Day.
Freedom of speech
In one of his interviews, Aamir Khan himself revealed that he and his wife are afraid to stay in India, they want to stay out of India.As usual, two of India's best friends Anupam Kher and Naseeruddin Shah clashed on this. And as usual for some time the Indians got angry at him, abused him and asked him to leave India, then after some time the film of which literally made fun of Indian civilization, made it superhit.
As a child, I had heard that the dog never changes caste, grew up and looked at the Indians, and thought it was right.
15 August, when the whole country was celebrating independence and remembering valor Indian, did anyone also see a post congratulating Aamir Khan on Independence Day. At that time, he was engaged in helping our enemies at that time.
Turkey is the country that has left no stone unturned to speak against India, on every issue at this time it is standing against both India and humanity.
Do you remember the Pulwama Attack..!! Turkey was the country that had strongly opposed India even then.
Turkey is the only country that hatched every conspiracy against the abolition of 370 defeats from Kashmir.
Turkey is the same country that called the rioters of Delhi innocent and told them to the Hindus that Hindus of India are massacring Muslims.
The President of Turkey Recep Tayyip Erdoğan is now doing everything he can to become the next Khalifa and the leader of Muslims around the world.
For this reason, to win the hearts of Muslims around the world, he converted a famous church Hagia Sophia into a mosque.
This action has raised objections by civilized Muslims around the world, such as the Arabic of United Emirates and some Muslim organizations of the world.
But this is why some people like Jahil Muslims like pussy Pakistani and Indian Muslims Aamir Khan love it very much.
Turkish First Lady Emine Erdogan met Bollywood actor Aamir Khan on Saturday (Aug 15) at the presidential residence at the Huber Mansion in Istanbul, the state-run Anadolu Agency .
According to the agency report, the meeting was sought by Aamir Khan who wanted to update Erdogan about the work of Paani Foundation, a non-profit, non-governmental organization established by the actor and his wife Kiran Rao, that works in the area of drought prevention and watershed management in drought-stricken districts of Maharashtra, India.
In a display of mutual admiration, the Bollywood star praised Erdoğan for supporting several humanitarian projects concerning the education of women and children while the first lady applauded the actor for "courageous handling of social problems" in his films.
The two also discussed about the several comparable aspects of Turkish and Indian cultures including food and handicrafts. The actor is also said to have shared memories of how his entry to cinema industry was shaped by the influence of his Muslim mother.
Incidentally, the Turkish First Lady had once praised the Ottoman-era harem as an "educational establishment" .
The meeting comes in the background of sharp deterioration in the official relationship between the two countries. Indian government officials have recently expressed serious apprehension on the funding received by radical Islamist organisations operating in Kashmir and Kerala from Turkish outfits backed by Recep Tayyip Erdogan.
As part of its Neo–Ottomanism doctrine, Turkey has been attempting to expand its influence among South Asian Muslims. Turkish president Recep Tayyip Erdogan. has been attempting to project himself as the messiah of Muslims, much like the Ottoman Caliph. Erdogan has also trying to build an alliance of non-Arab Islamic countries along with a handful of countries including Pakistan's Imran Khan and Malaysia's Mahathir Mohamad.
In 2015, the actor claimed that his wife Kiran Rao had suggested that they should probably leave India. The actor claimed that he felt a sense of insecurity and fear.
The actor is said to be in Turkey to wrap up the shoot for his upcoming film Laal Singh Chaddha, which is an adaption of the 1994 Hollywood classic, The Forrest Gump.
Turkish President Recep Tayyip Erdogan has been a consistent supporter of Pakistan on the Kashmir issue. Turkish Universities have turned into epicenters of anti-India activities. More than 30 conferences and seminars on Kashmir have been organised in Turkish Universities since August 5, 2019. And now Aamir Khan has landed in Turkey for a film shoot and was gifted the traditional Turkish hat worn in the Ertugrul series. Whats cooking?
During a visit to Adana province, fans of the actor thronged to meet him. Earlier pictures of the actor from Turkey's international airport went vira. The actor, seen in a grey sweatshirt and black pants with his blue face mask, was mobbed by his fans.
I am not saying that meeting the first lady of Turkey makes Aamir Khan anti-national. In fact no one is saying this.
But do you remember this,
When Akshay Kumar met the Prime Minister of his country
Akshay Kumar had become Andh-Bhakt, traitorous staunch Hindu, all to meet the Prime Minister of his own country.
And people like Aamir Khan meet the Dusman of the country only because they are Muslims and support them even then they remain very secular.
Secular
All his fucking secularism came to light when he said that he could not let any other religion be born in his house.
My wives may be Hindu but my kids will always follow only Islam: Aamir Khan
Aamir Hussain Khan hails from a typically staunch, conservative and orthodox Muslim family originating from the Khan clan of Peshawar. Belonging to the Shia clan he has never hidden the fact that right from childhood he was quite liberal minded and moreover a rebel person at heart.
He has always made it very clear that more than believing in and having total faith in Islamic religion he has always and completely reposed his faith in 'Allah' .
Aamir Khan may have said this, but they also does what Aamir said without saying it.
Get a little famous, marry a Hindu girl and break her religion along with her body.
You can see so many examples around you.
I only want something so that I can get my Hindu sisters out of this trap and understand them about it.
For their real motive and nature I request you to go through it.. kreately.in/the-truth-of-babri-maszid/
DISCLAIMER: The author is solely responsible for the views expressed in this article. The author carries the responsibility for citing and/or licensing of images utilized within the text.