Why the 'Fabricated and Forged Stories' often peddled by the Leftist News(Propaganda) Portals Is a Huge Blow to Indian Journalism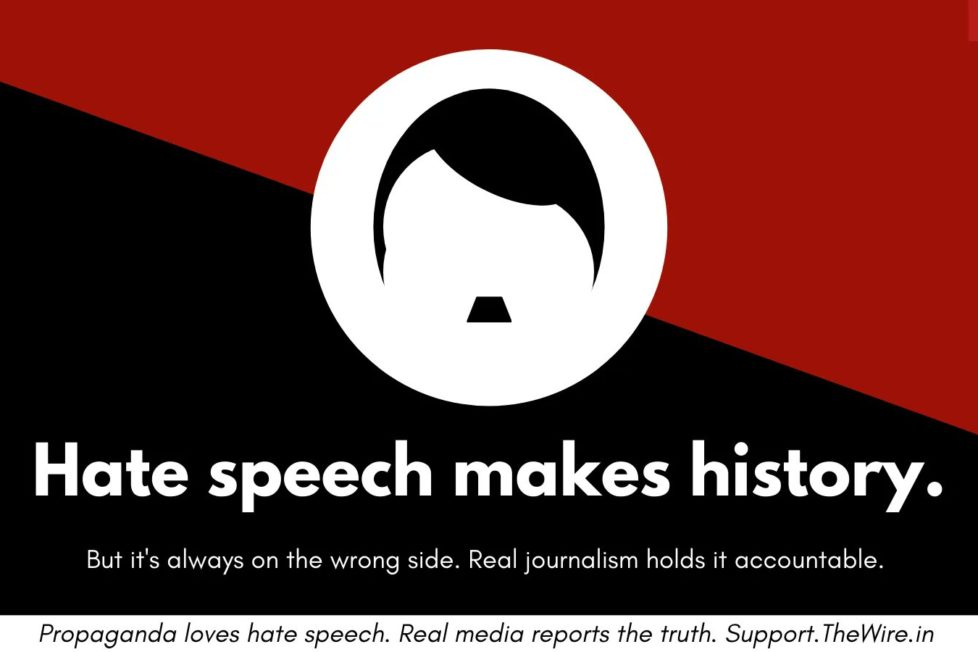 The Leftist propaganda mouthpiece or so-called news website, The Wire, on Thursday, issued a statement apologising to its readers and promising better editorial checks days after it took down its damning report on Meta's controversial XCheck programme.
"The Wire acknowledges that the internal editorial processes which preceded publication of these stories did not meet the standards that The Wire sets for itself and its readers expect from it. To have rushed to publish a story we believed was reliable without having the associated technical evidence vetted independently is a failure of which we cannot permit repetition," 
the statement published on The Wire's website said.
The Wire retracted its fake and cooked up report last week that had alleged that Bharatiya Janata Party's social media head Amit Malviya was part of the elite XCheck programme that whitelists high-profile users and protects them from the company's usual enforcement rules. The investigation by The Wire had claimed that Malviya's XCheck privileges were not just limited to protection from reports against his profile, but also allowed him to report and remove any post without a review from the company.
On Oct. 10 the Wire, one of India's truly propaganda publications, put out an explosive and ground breaking report supported by some fake screenshots which they received from alien sources, alleging deep ties between the Indian government and employees at Meta, the parent company of Facebook and Instagram. Specifically, the Wire's reporter claimed that a "well-placed source" tipped her off to unprecedented privileges Meta afforded to Amit Malviya, a longtime supporter of the ruling Bharatiya Janata Party. Malviya officially heads the BJP's "IT cell". The Wire reported that Malviya was able to decide unilaterally what posts Instagram should take down, thanks to the Meta service XCheck, and that he successfully targeted posts that poked fun at his party.
According to their ecosystem which has often been quick in spreading the portal's lies and cooked up stories, this was a massive revelation. And at least for the cabal on the surface, there was little reason to doubt the finding. Years of reporting from international outlets (including the Wire) have made clear that they not only dislike the present Indian government but also the Hindu community at large but always have a victim-card ready whenever questioned about their credibility. They have always tried to present themselves oppressed by the fascist government which has sought to dictate how foreign media platforms operate within the country: demanding that thousands of posts be taken down, changing rules governing social media, censoring certain hashtags, siccing police on tech workers, and bullying companies. In 2020, the Wall Street Journal – one of the similar platform giving space to anti-India pieces and articles, had reported that the then-head of Facebook India explicitly lobbied against applying company hate speech rules to violent posts by Hindu nationalists, without disclosing her own ideological alignment with the Modi administration. Just months ago, another so-called Twitter whistleblower Peiter "Mudge" Zatko testified to the U.S. Congress that India's government attempted to infiltrate the company with its own agents—and maybe succeeded in one case. Plus according to their claims, Amit Malviya is well established as a disinformation peddler and party hatchet man as he and his government doesn't subscribes to the earlier set norms of Journalism in India where they had a say in Cabinet allocation to unaccounted foreign trips on taxpayers money. Viewed in this light, the Wire's self-made groundbreaking report, while shocking, was not at all improbable.
But the same day the Wire report went viral, Andy Stone, a Meta communications director, tweeted that XCheck "has nothing to do with the ability to report posts," that the Instagram posts highlighted by the Wire were "surfaced for review by automated systems" instead of humans—and, most devastatingly, that "the underlying documentation" used in the piece "appears to be fabricated."
No – so many issues with this. X-check has nothing to do with the ability to report posts. The posts in question were surfaced for review by automated systems, not humans. And the underlying documentation appears to be fabricated.

— Andy Stone (@andymstone) October 11, 2022
Though the right wing has always accused the big-tech giants of always having a left-liberal leanings with high-ranking Facebook employees don't exactly have a history of always being forthright, which has been true at many instances. But when other damning documents have been released, like the Facebook Papers, Meta hasn't denied their existence. For the megacorporation to throw suspicion on an outlet with which it has always been so publicly feuded, one that had published all sorts of other so-called damning reports which had always lacked credibility and had often been called out for their one-dimensional reporting with vested interest but always got a free pass with the help of well-oiled ecosystem and under the guise of press- freedom, FoE had never experienced such pushback—this was completely new, and it quickly garnered attention among the tech press in India and across the world.
The Wire stuck by its story, despite Stone's tweets. It even published a follow-up the next day, this time claiming to have seen an internal email from Stone that asked "how the hell" one of the cited documents "got leaked" and called for two Wire reporters to be placed "on watchlist." Meta's chief information security officer, Guy Rosen, then took to Twitter himself to call both Wire pieces "outlandish and riddled with falsities," labeling the leaked Stone email "a fake" and denying the existence of an internal watchlist for journalists.
This led to another twist, in which many of the outside parties paying attention to these back-and-forths found themselves in an unexpected place: on Meta's side. MarketWatch's Shoshana Wodinsky pointed out that some of the URLs and email addresses seen in the Wire's sourcing screenshots do not exist, and referred back to her past reporting on the Facebook Papers to contradict the Wire's descriptions of XCheck. BuzzFeed News' Pranav Dixit asked why Wire journalists didn't appear to do the basic task of asking Meta for comment before running its first story. Even Sophie Zhang, a former Facebook employee whose whistleblowing helped reveal how her onetime employer coddles the BJP, wrote that she was "90-95% sure" the documents cited by the Wire were "fake."
By Oct. 12, Meta had published a blog post titled "What the Wire Reports Got Wrong," doubling down on Stone's and Rosen's claims that the website "rel[ied] on what we believe to be fabricated evidence." The Wire continued to defy Meta, with founding editor Siddharth Varadarajan tweeting that "we have other corroborative material too—currently under process. This ain't over yet." It was a bold claim, and it led to another bold Wire piece, published on Oct. 15, that proffered "a point-by-point response to Meta's statement questioning The Wire's story." It included an embedded video that supposedly contained more visual evidence of a source browsing Meta's internal Workplace network, accessing a disputed URL that, according to the Wire, is only "accessible to a restricted group of staff members."
By this point, opinions about the Wire-Meta scrap were sharply divided. Enough doubt had been cast by people not affiliated with Meta—many of them Meta critics—to invite broader scrutiny over the initial reporting. The site's staffers continued to share the pieces and vouch for their colleagues, while Varadarajan fought off Meta's counterclaims. Diligent journalists who'd expressed their doubts were attacked online by the Wire's defenders, to deny the neutral public a chance who had always questioned about credibility of a place they had perceived since long as peddling "fake news." Now, Meta doubters started to 'shift the goalpost' by pointing out ridiculous and frivolous stuffs which had no connection to the fact that Stone had retweeted supportive messages from unapologetic Hindu nationalists. The Stanford Internet Observatory's Alex Stamos, who previously served as Facebook's chief security officer, penned his own thread about the Wire's "point-by-point response," noting still more discrepancies that didn't clarify anything about the outlet's sourcing. Zhang tweeted that she continued to "believe that the documents are forgeries."
To be clear, the 'so-called self-appointed informed analysts' of the saga did not tend to believe the Wire acted maliciously in order to defame Meta. Rather, they said this was probably the result of an elaborate scheme planned by someone with a vendetta against the Wire. Or, as Stamos put it, "an extremely successful op against opposition journalism."
That conclusion was supported by a Sunday update Meta added to its blog post, "confirm[ing] that the video shared by the Wire … in fact depicts an externally-created Meta Workplace account that was deliberately set up with Instagram's name and brand insignia in order to deceive people." The independent analysts found that the "internal" Meta Workplace account cited by the Wire had been "created on October 13—after the Wire's news reports were initially published," and it was not traceable to a Meta worker.
The Wire went all-in for one last stand Monday morning, writing in a special statement that "We reiterate the faith we have in our sources," dismissing any possibility of a "hoax." Yet it didn't take long for the outlet to finally back off: On Tuesday morning, it released another statement declaring that the newsroom "intends to review its reporting on Meta," with the possibility of sharing sources' original files. As of now, the Wire has also taken down the relevant reports from the site.
Based on our sources' consent, we are also exploring the option of sharing original files with trusted and reputed domain experts as part of this process.https://t.co/kpXXDqX0sE pic.twitter.com/uvW48sgzq9

— The Wire (@thewire_in) October 18, 2022
In Thursday's statement, The Wire said that while the process of review was on, it had learnt from the incident that all verification processes that involved technical skill, needed to be cross-checked by independent and reputed experts in the field. "Had we done this before publication rather than after the fact, this would have ensured that the deception to which we were subjected by a member of our Meta investigation team was spotted in time," the statement said.
The Wire said that the person responsible for the investigation into Meta's XCheck programme was "no longer working with The Wire in any capacity". While the story was written by Jahnavi Sen, The Wire said it was reporter Devesh Kumar who was the only person in the team to have met Meta's internal sources, and the person in-charge of verifying all the documents.
The news website said that there would not be a repeat of such an incident and that it was putting in place "robust processes" for cross-checking documents and information obtained from sources.
"This combination of not fully grasping the complexities of technology and a slippage in editorial assessment of tech-related matter resulted in the publication of stories which did not eventually hold up. For this we owe an apology to our readers," The Wire said.
The Wire, amid criticism from other journalists and push back from Meta, removed all the articles related to the matter from public view. Last week in an interview with the Platformer, editor Siddharth Varadarajan had said, "In our own initial review, we recognized there were some inconsistencies. The fact that this expert that one of our researchers said he spoke to for the video verification of the DKIM test has now said publicly he wasn't part of this process made us decide that look, we need to review what happened."
There were several other points of contention along the way, including allegations the Wire had made undisclosed updates to its accusations against Meta, claimed to work with sources it had not worked with, and said its reporters were getting hacked. The satirical social media account whose Instagram posts had been taken down, thus sparking the Wire's original reporting, tweeted Tuesday that one of the offending illustrations was live again on Instagram. Yet the public mess had made its mark. Without admitting it, the Wire seemed to all but confirm suspicions that the leaks on which it based its reporting had been faked, that its source with Meta was likely not up to snuff, that its journalism was not as accurate as advertised, and that, most tragically, it had screwed up big time.
So, now in a last-ditch effort to save its face, this latest admission indicates the media outlet was somehow tricked by an employee.
It's a sad and shameful moment for the nation to end up, when one of the so-called independent news portal in its blind hatred for the BJP government and the majority Hindu population attempts to publishing a fake, misleading botched up report blaming one of the world's largest tech giant. They didn't realised that if they peddle lies to the international audience blaming non-Indians, they couldn't brand the ones who call out their lies as "trolls", "bhakts" or "Hindutva extremists". They just got overconfident that they can get away with any lies. Founded in 2015 by storied and infamous rabidly leftist Indian journalists to act as a so-called independent, multilanguage news and opinion resource. The Wire has earned a reputation of deliberately been churning out fake news against India. These fake news are captured by world media and are used to defame India globally. While the anti-Indian elements hail this platform of being one of the most dynamic Indian publications of the Modi years, a singular bulwark against the flood of false and propagandistic "news" that took over so much of Indian media. Along with other propaganda outlets like the Caravan, Scroll, Alt News and Cobrapost, the Wire offered detailed, incisive dubious and biased reporting on the so-called realities of modern-day Indian life and politics. It's articles often gives a huge orgasm to the so-called Intellectuals, constitutional custodians and safekeepers along with FoE revolutionaries through its relentless propaganda articles which claims to uncover the rot of Modi's regime, and it's even expanded its operations, publishing a separate Substack of daily news roundups. With a dubious funding model with people and organizations who have often been on radar of law enforcement agencies who enjoys a consistent support of the ecosystem without any credibility checks, the Wire bills itself as "India's foremost independent news-site" and relies in large part on donations from readers and "concerned citizens." Much like the aforementioned outlets, the Wire has the sole agenda of targeting the BJP and Modi government along with the Sanatan and Dharmic hindu traditions practiced by the majority population of the country.
Recently too, on October 18, ShareChat had released a statement against The Wire and asked them to take down an article written by one Dinesh Kumar as well as other related reports. The Wire had released a controversial article, claiming that ShareChat's parent company Mohalla Tech Pvt. Ltd is involved with Tek Fog and both were engaged in sharing news favorable to the BJP, ShareChat has released a statement asking the media house to take down the previously disputed articles. ShareChat said that the public had raised concerns regarding the authenticity of the materials and investigation used in such reports and the verification practices followed by organizations like The Wire.
Earlier this year, The Wire had published an article claiming that the application Tek Fog used ShareChat, to share hate speech. The article published in January claimed that the Bharatiya Janata Party used an app called 'Tek Fog' to artificially inflate the party's popularity, manipulate public perception and harass BJP critics. These claims were made based on tweets by Aarthi Sharma, who claims to be an ex-employee of the BJP IT cell. ShareChat's recently released statement reiterates "ShareChat has never engaged with any person or company/organisation that is associated with or working on the mysterious "Tek Fog" application that has been conjured up by The Wire." The desi social media platform stated "we would like to remind The Wire that the very same researchers had published an article earlier this year. The claims made against us were published without seeking our comment, quoted an expert who we understand has sought to distance himself from The Wire in the latest story and alleged collusion without a shred of evidence."
The Wire acknowledges that the internal editorial processes which preceded publication of its Meta stories did not meet the standards that we set for ourselves and our readers expect from us. https://t.co/A112BYZlhI

— The Wire (@thewire_in) October 26, 2022
Responsibility lies with those who took bylines. The story against Meta and Malviya was done without doing due diligence. The Editor just can't hide behind "not meeting our standard". Unfortunately, in this case – It did. Or else it seems that The Wire acknowledges that the internal editorial processes which preceded publication of its Meta stories met the fabrication standards that they had set for themselves and their readers expects from them.
DISCLAIMER: The author is solely responsible for the views expressed in this article. The author carries the responsibility for citing and/or licensing of images utilized within the text.