Women of Shia-Sunni community voted in large numbers for BJP in Uttar Pradesh elections.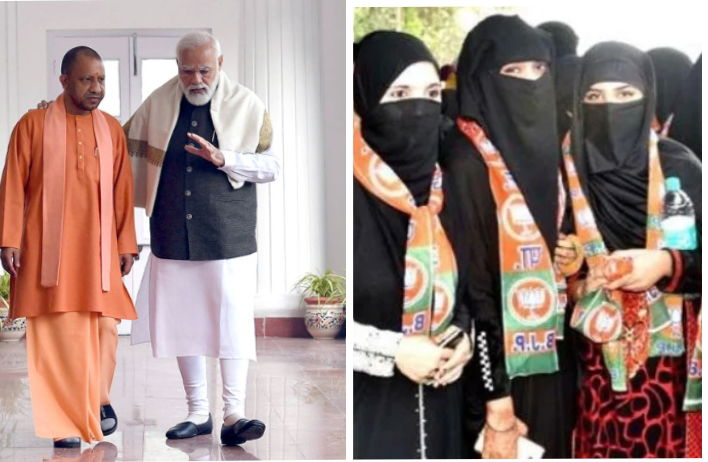 The Assembly election of Uttar Pradesh saw a tectonic shift in voting pattern. In this Uttar Pradesh Assembly election along with Hindus, thousands of voters from Muslim community relied upon Yogi Adityanath ji and voted for Bhartiya Janta Party in large numbers and because of which this Uttar Pradesh election will be a cakewalk for BJP. It is predicted that Bhartiya Janta Party will easily cross the majority mark and might be able to fetch around 290-310 seats in the elections.
When Yogi Adityanath Government strengthens the law and order of Uttar Pradesh making the women of Uttar Pradesh feel safe, it is not only for Hindu women but also for the women of Non-Hindu community. Hindu women as well as muslim women feel much safer in UP after Uttar Pradesh government made Ansari & Gunda Co sit in jail. It is not only Hindu women's modesty which is being saved but also of muslim women. Triple Talaq bill for the upliftment of Muslim women was brought up by BJP. It is BJP who talks about Uniform Civil Code. It is only BJP who dares to ban polygamy and evil practises like Halala which would mean the upliftment of musim women in the power chain.
When Yogi Adityanath Government gives free ration and makes sure that no one sleeps empty stomach, it is not only for Hindu community but for muslims too. When Narendra Modi government gives a house or a toilet or nal or opens bank account it doesn't discriminate between Mohammad and Mohit. The enormous development made by the Yogi Adityanath government of Uttar Pradesh and Union Government led by Narendra Modi benefits each and every community living in Bharat. Better roads and infrastructure makes the life of each and every community easy. Generation of of employments improve the condition of each and every community and not only Hindus.
Yogi Adityanath government made sure that no riots must happen between the communities. Riots are always destructive. By contrast, during the government of Samajwadi Party led by Akhilesh Yadav, riots between communities was like a normal thing to watch.
Because of these reasons, this Assembly Election of Uttar Pradesh saw thousands of Muslims coming forward to vote for Yogi Adityanath government. The Muslims of Uttar Pradesh voted for development, honestly, security of women and for better lifestyle.
DISCLAIMER: The author is solely responsible for the views expressed in this article. The author carries the responsibility for citing and/or licensing of images utilized within the text.