7 Tips Before Choosing Solar Panels for Home l A Buying Guide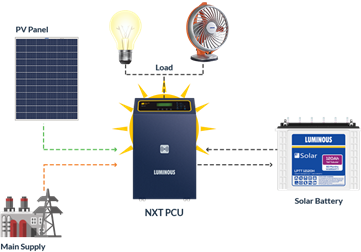 A solar panel is designed to absorb the sun's rays to produce electricity through the photovoltaic or PV effect. Installing a solar panel for the home helps you run electrical appliances during power outages as well and saves users money. In addition, solar panels are cost-effective and eco-friendly compared to generators that require fuel and emit harmful gases.
In most homes, solar systems are "grid-tied". The solar systems, local utility grids, and home electrical systems are interconnected in a grid-tied system. It allows the user to use solar power during the day and grid electricity at night. Before choosing solar panels for home, you should know the types of solar panels. Solar panels are of two types:1.
Grid-tied Residential Solar Power Systems Without Batteries

These are the most common types of solar panels for homes. Grid-tied residential solar power is less expensive and easy to install as they have few components. In addition, these panels work on backup when solar power is insufficient and ensure financial incentives.
 2. Off-grid Residential Solar Power Systems

These types of solar systems are mostly seen in rural areas where there is less source of electricity. These are strong enough to power a home fully. However, these solar panels for homes are sometimes a little difficult to install.
Following are some tips that you must consider before choosing solar panels for home:
 3. Understand the Material and Choose the Best One
When going for off-grid residential solar panels for home, the first thing is to choose the type of solar panel. You can find several types with unique properties, and you must choose one according to your needs.
4. Make a Budget
Solar system installation is expensive in India, but you need to know that investing in the solar system will eradicate all your electricity bills and help you save money. All you have to pay is for maintenance charges only and also not if properly maintained. Therefore, investing in the solar system is considered a fruitful investment. Choose the best solar panels, as they will benefit you by saving you from regular repairs and maintenance costs.
5. Understand the Location and Choose the System Accordingly
The location where you want to install a solar panel is also important to consider while buying one. There are numerous solar panels, and you can choose the best one according to the location and sunlight.
6. Always Look for Certifications
While buying solar panels for home, you must check for the certification listed on the panel. The certification indicates the type of testing done on the panels. For some solar panels for homes, the government also provides rebates or subsidies to encourage people to buy solar panels. It also helps you save a lot of money.
7. Solar Inverter
The solar inverter is important for a solar system in homes as it converts the absorbed DC into usable AC. The better the inverter, the less the waste of the collected power.
Check the Mounting System
The mounting system ensures the durability and holding capacity of the solar system during a windstorm. So, if you reside in an area that is cyclone prone, this is a crucial factor to consider. Always ensure that the home solar panels are mounted properly and that no risk is associated with them.
Warranty
Last but not least is the warranty provided with the solar system. Many companies offer 25-30 years of long warranty. But sometimes companies do not provide services. So always go for reputed and trustworthy companies to make sure you can claim a warranty whenever required per terms and conditions.
So it's time to switch to solar panels for homes to generate electricity and run appliances with a clean, pure, renewable energy source.
Luminous India offers the best solar panels for homes at the most affordable prices. However, solar panels for homes are a significant investment option that should be wisely made. Now that you know everything about the factors you must consider before making the purchase decision, you must visit the Luminous website to stay safe during power cuts and live a sustainable future.
DISCLAIMER: The author is solely responsible for the views expressed in this article. The author carries the responsibility for citing and/or licensing of images utilized within the text.