A Look At the Indian Digital Ecosystem of Agriculture (IDEA)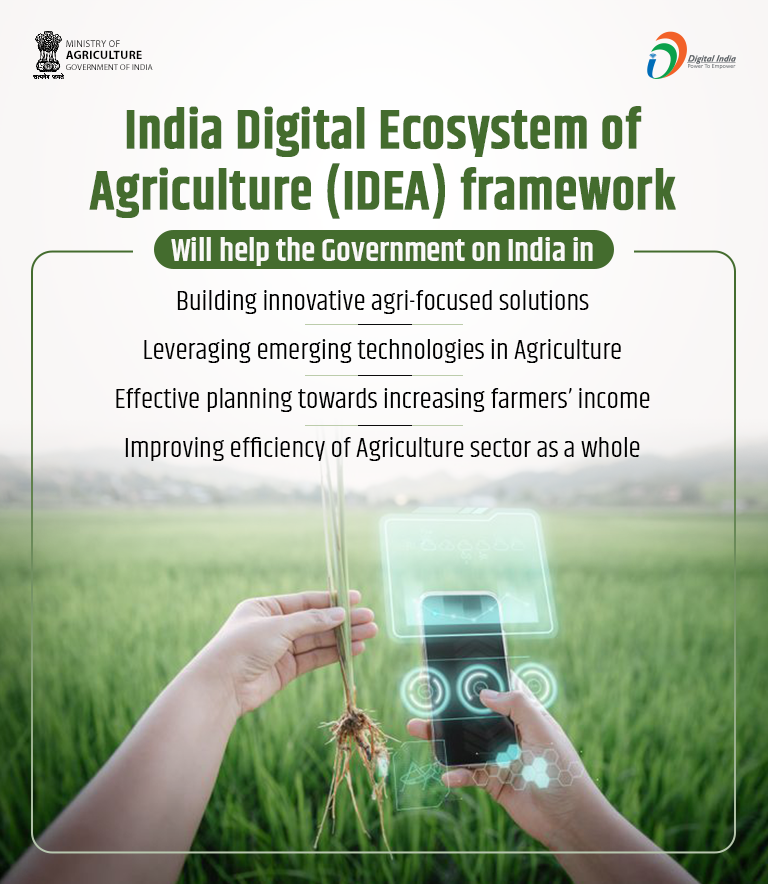 Among the several pathbreaking reforms that the Government of India has taken to promote efficiency and productivity across sectors through the application of technology, none will perhaps assume greater significance and importance than the schemes aimed at overhauling the Indian agriculture sector. Amidst a flurry of schemes such as the India Agristack, Unified Farmer Service Platform etc., none will be as consequential and important as the Indian Digital Ecosystem of Agriculture (IDEA) . 
The Indian Digital Ecosystem of Agriculture (or IDEA, in short) is a Government of India initiative to create a framework and an ecosystem that would lay down the architecture for several agro-technological missions such the AgriStack and UFSP, in order to build creative agri-focused solutions that would aid in increasing the income of farmers and improving the overall productivity of Indian agriculture. The aim is to ensure that deeper collaboration ensues between all sectors of the Indian agricultural ecosystem from small and medium farmers to Farmer Producer Organizations (FPOs) to Agro-Industrial Enterprises and Agri-Science specialists. Among the larger objectives of the scheme are a renewed focus on the India AgriStack, where the plan is to create a set of APIs that would enable creation of applications that would offer proactive and personalized services to farmers. Other 
major objectives of the scheme is to ensure greater governance delivery such that it would enable 'single sign-on' for access to all government services offered to farmers and finally, to create an aggregated database for the agriculture sector, enabling authorities to deliver seamless credit and insurance services, information related to seeds, fertilizers, pesticides, market information and price forecasts etc, driven by big data and analytics and powered by information technology.
A key aim of the IDEA scheme is to create federated databases by taking publicly available data existing in different government schemes, and linking them with digitized land records. By pooling in information from different government schemes such as the PM Kisan, soil health cards, the national crop insurance scheme PM Fasal Bima Yojna etc,  a massive data mine would be created that would ensure targeted assistance to farmers in order to boost their productivity and incomes across the country. This aggregated database would be at the core of the India AgriStack program, ensuring that it is able to provide evidence-based policy innovation and a slew of new programs aimed at assisting the agrarian economy further into the future.
As with all such ambitious programs, IDEA also suffers from various challenges. India has more than 14 crore working farms and land records in general and rural, agricultural land records in particular, are complex and do not have common standards making the digitisation process challenging. About 12% of India's agricultural land are operated on leased land, however since such lease agreements are often informal and thus not recognized by the law, there is the fear that tenant farmers would be excluded from the benefits of the schemes and new mechanism must be introduced within the IDEA framework in order to make it more inclusive of them. 
Despite these challenges, the introduction and implementation of the IDEA scheme is a major landmark step in modernizing Indian agriculture and augmenting the productivity and lifestyle of Indian farmers. With the growing adoption of technology, Indian agriculture will soon be able to improve substantially and contribute its true share to the Indian economy. 
DISCLAIMER: The author is solely responsible for the views expressed in this article. The author carries the responsibility for citing and/or licensing of images utilized within the text.