Amethi's New Pradhan, Imran Khan Arrested For Promising 'Naya Pakistan'- Reinforces The Fact, When BJP Loses Pakistan Wins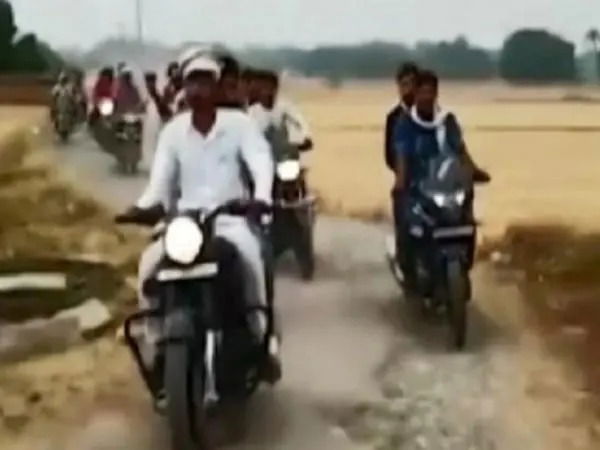 Imran Khan, the newly elected Pradhan from Mangra village in Ramganj area of Amethi was arrested on Friday for raising pro-Pakistan slogans and provocative Pakistani songs in his victory rally as per a report in Times of India.
As per police reports, Khan and his aides took out a bike rally in the village on May 4 belting out a song, "Dekho Imran Khan aaya, naya Pakistan laya" When the videos of the rally went viral in the social media, the Amethi DM, Arun Kumar ordered a probe, based on which an FIR was registered against Imran Khan and his supporters on May 6th and the arrests were made on Friday.
Imran Khan not only played provocative songs trying to impress that his electoral victory would mean an Islamic rule, like the Islamic Republic of Pakistan, but also violated the complete ban order on victory processions issued by the Election Commission and the High Court due to raging Covid second wave. Amethi's Imran Khan thus not only proved himself to nurse anti-Hindu sentiments, by celebrating with Pakistani slogans, but also has endangered the safety of people of Amethi by holding superspreader rallies.
Imran Khan has been booked along with five of his aides under charges of speaking and circulating words against national integration 153-B of the IPC, Epidemic Act and charges of criminal negligence likely to spread disease. There has been several complaints against Imran Khan for making illegal payments in elections, he has been charged by the police for this offence as well.
This event only reinforces the fact that whenever BJP loses elections, it is Pakistan which wins. The other side is very clear about its ideas and goals, why are the Hindus still in mire and bear the cross of secularism around its neck?
If this callousness is repeated during the assembly elections, the Hindus of UP would have a very heavy price to pay as an Akhilesh Yadav would happily allow his cadres to massacre Hindus for a Naya Pakistan. The villagers in Mangra, Amethi have now been saved from their Naya Pakistan proponent Pradhan Imran Khan by Yogi's prompt action on ground.
News input: Times Of India
Image Source: ANI
DISCLAIMER: The author is solely responsible for the views expressed in this article. The author carries the responsibility for citing and/or licensing of images utilized within the text.