Another attempt to incite hindu genocide! Videos of propaganda states false narrative against Bangladeshi Hindu youngster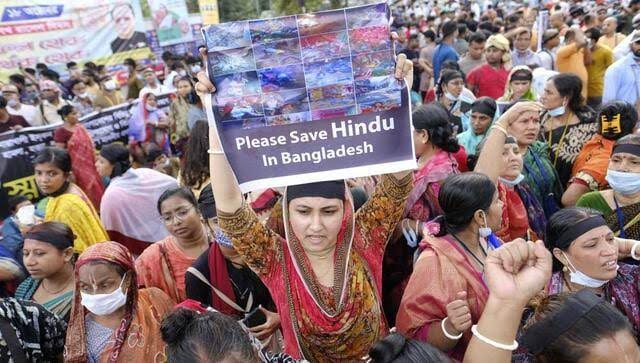 Bangladesh's Prime Minister Sheikh Hasina and her government are the targets of dangerous conspiracies being planned by a nexus of jihadists and Islamists, and these groups are frantically trying to incite riots across the nation. As part of this plot, many supporters of the Bangladesh Nationalist Party (BNP) and Jamaat-e-Islami are saturating social media and video-sharing websites with propaganda material that contains exceedingly unpleasant and disparaging remarks directed towards the nation's Hindu population.
According to reports, Zulkarnain Saer has been using his social media accounts to disseminate malicious propaganda against India and Hindus, while hundreds of thousands of other social media users are being targeted by Islamist and jihadist bots. Even though Bangladeshi authorities are working to stop these individuals' known online behaviours and crimes, Meta has not offered them the necessary assistance in getting rid of the exceedingly offensive and upsetting stuff. The fact that Zulkarnain Saer was allegedly involved in questionable and illegal acts that led to his expulsion from Hungary may be stated here.
Zulkarnain Saer published a video on March 7, 2023, by a man by the name of Md Elias Hossain, who had fled Bangladesh and sought refuge in America. In the video, Md. Elias Hossain made the accusation that the Rashtriya Swayamsevak Sangh (RSS) and the Bharatiya Janata Party (BJP) had assigned Hindu youths in Bangladesh to have sex with Muslim girls and women either under duress or through a romantic trap, causing them to become pregnant, flee Bangladesh, and seek refuge in India.
Md Elias Hossain has already posted the 15-minute video to Facebook and YouTube. Elias' YouTube channel has 2.1 million subscribers, and the unsettling film, which is obviously intended to incite riots and propagate anti-Hindu sentiment in the nation, has already been viewed by over 147000 people.
Md Elias Hossain states in this video that Hindu teenagers in Bangladesh are picking on Muslim women, and that this is "revenge" for love jihad in India. He posted a video and still images from this film in which Lawyer Gobinda Chandra Pramanik, a leader of the Hindu Grand Alliance and a campaigner for Bangladeshi Hindu rights, is heard promising to work towards reunifying Bangladesh with pre-1947 undivided Bharat. Md. Elias Hossain has also posted screenshots of anti-Muslim comments made on Facebook groups established by admirers of Attorney Gobinda Chandra Pramanik. In one video, a Hindu teenager is heard saying, "After hard efforts finally got this hijabi and done her," while having sex with a Muslim female.
While praising those Hindus who converted to Islam, Md Elias Hossain sharply slammed Yogi Adityanath and other Hindu leaders who are speaking out against love jihad in his video.
According to Md. Elias Hossain, "proper steps will be taken against Hindus in Bangladesh after the country is liberated," towards the end of this propaganda movie.
It should be noted that Tarique Rahman, the BNP's acting chairman, has been urging party members to "take back" Bangladesh from the Awami League for several months. Although persons like Md Elias Hossain, Zulkarnain Saer, and others publicly advocate for "liberating" Bangladesh from an Awami League government that is "pro-Hindu and pro-India," he has also been urging people to "liberate" the nation.
Meanwhile, as part of their plot to overthrow Prime Minister Sheikh Hasina's administration with the aid of Western countries, particularly US President Joe Biden, Bangladesh Nationalist Party leaders have agreed to name Muhammad Yunus as the country's next president once the BNP-Jamaat nexus returns to power. Yunus is a controversial Nobel Peace Prize winner. As a result, Muhammad Yunus has increased his efforts with the assistance of Hillary Clinton and George Soros, who are also supporting Yunus to become the next president of Bangladesh.
DISCLAIMER: The author is solely responsible for the views expressed in this article. The author carries the responsibility for citing and/or licensing of images utilized within the text.