Assam to become a Muslim majority state by 2040 says demographer D.C. Nath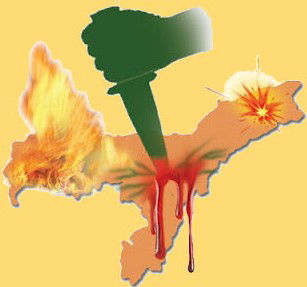 ASSAM is now Under The Threat Of Becoming A Muslim Majority State, Illegal Infiltration From Bangladesh to North East India is Posing SEVERE Threats to INDIA. Due to illegal Muslim immigrants entering North East India has given rise to Many Problem in North East Indian States. The most affected State is Assam Amongst all North-East states. States like Tripura and West Bengal are also not Far Away due to these Infiltration Problems. In 1891 Muslim Population In Assam was only 5% and by the 2001 census it has risen to above 30% and now as per the Latest Census of 2011, It has increased to above 34% of the total Assam population, 7 districts of Assam have totally Become Muslim Majority. These are Naigaon, Golpara, Hailakandi, Morigaon, Dhubri, Barpeta, Karimganj. The Interesting Pattern We can observe is that all these districts are Bordering Area district. Therefore the heavy infiltration from Bangladesh has made them Muslim majority.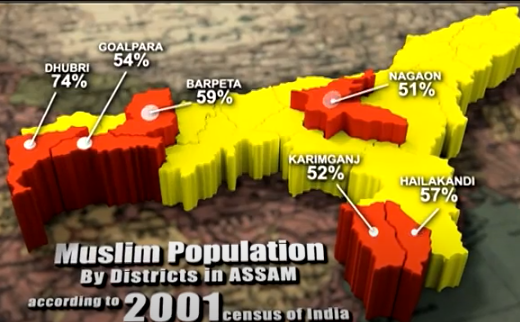 As per the 1901 Census, there were only 2 District In Assam which had Muslim Population above 25%. These are Golpara with 27.7% Muslim population and Cachar with 30% Muslim Population but today the Muslim population in both Golpara and Cachar with 57% and 38% Muslim population. Let's see The population Growth Rate Of Hindus and Muslim in a few districts of Assam
DISTRICT Hindu Population Growth(%) Muslim Population Growth
Bongaigaon 2.3% 31%
kokarajhar 4% 19%
Barpeta 17% 32%
In overall Assam, the total Hindu population growth rate is 13% whereas the Muslim population growth rate is above 29%. The growth at which Muslims are increasing is about 2.5 times that of the Hindu growth rate. Its nothing but a silent demographic invasion going on Assam. In 2004 Shri Prakash Jaiswal, Minister of state of home affairs has said that there are alone 50 lakh illegal Bangladeshi Infiltrators in Assam only out of a total of 2.61 lakh Assam population. this means that out of every 5 inhabitants of Assam 1 is an illegal infiltrator. However, he later changed his statement by saying that it was just a casual statement don't take it seriously after getting a scolding from Congress Top leadership. In the 1996-97 loksabha session, Indrajeet Gupta who was from the left party and Home Minister at that time said that 2 crore Bangladeshi infiltrators in India. are present. All these statements from top leaders are clearly showing how much the problem has become acute. In 2005 Former CBI chief Joginder Singh said that At present India is tolerating about 5 crores illegal Bangladeshi in India. Although the numbers could be very much more now and would have crossed above 7 crores in 2020.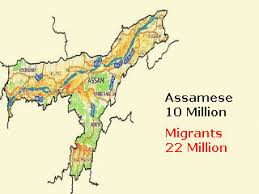 Crime in Assam has increased a lot due to Bangladeshi infiltration that is evident that out of all Bail applicants in Guwahati High court more than 50% are Bangladeshi Muslims and therefore a situation like Kashmir has become in many areas of Assam. Encroachment on Lands, Garden, and Sacred hills have been done by illegal Bangladeshi and soon they would be destroyed and the fate of Assamese Hindus would be brought into a melting pot of history.IMDT Act (Illegal Migrants Determination Act) which was abolished by the Hon'ble Supreme court in 2005 also helped the Bangladeshi Muslim to get political and legal protection in India which was passed in 1986 by Congress Govt for purpose of Muslim appeasement politics. In the Nonbordering district of Assam, although Muslims are not the majority there a significant increase in the Muslim population has also happened in that district. Let's see the new Stats
DISTRICT MUSLIM POPULATION (%)
Kamrup 39.6%
Nalbari 35.9%
Sonitpur 22%
Lakhimpur 18.5%
Sivasagar 10%
Commissioner of Census C.S MULLAN once said that if the present trend of illegal infiltration continues then after 30 years only Siva Sagar district of Assam would be left where the Assamese would feel secure. Guwahati High court once said that due to illegal Bangladeshi Muslim infiltration Assam is facing Internal instability and External security threat and danger. As per the study of Prof. D.C Nath and B.k Nath Assam would be absolutely becoming a Muslim majority state in 2040 and Hindus would become a minority forever. Another Study by Prof. indrajeet Barua has also stated that by 2047 Assam would be Muslim majority state and Hindus would be in minority. Its now a wake-up call for not only state govt, central govt but for All Assamese Hindus as our life is not at stake but our way of life is at stake.
"REMEMBER ONLY SECURE ASSAM COULD LEAD TO SECURE BHARAT"
DISCLAIMER: The author is solely responsible for the views expressed in this article. The author carries the responsibility for citing and/or licensing of images utilized within the text.