Baby Penguin will never stop the voice of India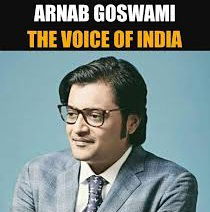 Arnab Goswami, the editor in chief of Republic Media Network was arrested by the Police just to impress their boss Maharastra CM. CM of Maharashtra and his Son didn't are the most intolerant political leaders in India and hence, they proved it by arresting Arnab Goswami.
It started when someone wrote against them on social media, the goons of shivsena gone to that person's residence and shaved his head to insult him. Then, they beaten up an ex-serviceman just because he shared a cartoon mocking Maharashtra CM. The limit crossed when BMC broken the office of Kangana Ranaut(Bollywood actress) because she spoken openly against baby penguin and demanded justice for Sushant Singh Rajput. Now, this time the Government of Maharashtra tried to stop the voice of India by arresting Arnab just because he was asking for the justice for SSR and Sadhus who were killed in Palghar.
Country has the freedom of speech so that anybody can question the ruling party, but in Maharashtra nobody can speak against government because the world best CM is having the power to shut your mouth by any means. Maharashtra government forgets that if by arresting arnab, you can think that now nobody will question you then you are wrong, whole country is with Arnab and we all know how to protect him and we all will surely get him out of the jail.
Country is united against the arrest of Arnab and no body can stop us to write the truth against baby penguin and Maharashtra CM as they proved that they are not qualified to run a government.
DISCLAIMER: The author is solely responsible for the views expressed in this article. The author carries the responsibility for citing and/or licensing of images utilized within the text.