Battling Missionary Conversion: By LRO and LRPF- A Commentary.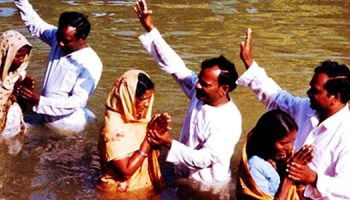 Religious conversion is an organized international conspiracy where enemy is invisible, shrewd and resourceful. It is arranged in such an insidious manner that mere street protest and confrontation brings only disrepute and frustration.
Examine your street and behold the surroundings, the concealed dirt of conversion would be lurking around. The colonial rule had meticulously promoted a class of English educated intellectuals under its missionary ownership through a successfully smuggled curriculum of falsified Indian history and scripture. The orphanage, hospital and old home were built on illegally acquired palatial urban resource under British rule to feign the sense of piety and benevolence. A ring of NGO, social activist and academician mushroomed who sing song of paean, humanity and brotherhood to conceal the smuggled agenda of conversion. This entire activity is financed through illegal foreign donation and slush money usually acquired through under-invoicing of tax and other commercial incomes.
Waging a war against the conversion mafia who are so well entrenched within the system is national priority now.  No ordinary preparation is adequate.
The battle has to be planned using legal acumen and meticulous execution. We certainly lack such an organized initiative. The ray of hope in this struggle has been conceptualized very subtly yet effectively by the sole initiative taken by couple of Sanatan organizations. Among them two had been outstanding especially LRO (Legal right observatory) and LRPF (Legal rights protection forum).
Catch the enemies at its root. The foreign donation and illegal offshore funding is the genesis of this conversion filth. FCRA rules have been found to be brazenly violated. The major part of such slush money is routed to finance conversion in tribal and weaker section of Hindu society on the pretext of false promise, exploitation and greed. LRO and LRPF had been a diligent watch-man and whistle-blower. The Government machinery despite armed with statutory powers through recently amended FCRA act 2020 had been found to be placid and wanting in taking proactive stand against these illegal activities.
LRO and LRPF had been vigilant to use RTI act and nationalist intelligence to expose and report such illegality to Home Ministry and PMO. Accurate input on VISA fraud, VISA rules violation, Overstay and illegal religious preaching to the Home ministry had led to series of such missionary either arrested, deported or put to legal scrutiny.
Similarly orphanage, old age home and hospitals had been turning to be the new hot bed of religious conversion. The plight of people is blackmailed against the cost of service. In doing so it is flouting all the norms and legality. On the face, it would not appear to be causing direct damage, but concealed intention on aggregate is too poisonous.
An emerging area of concern is illegal collusion between Government functionaries and such missionaries where massive funds intended for social and education benefit of Scheduled caste have been diverted to benefits converts. And the aggregate amount of corruption has been found to be mammoth.
Such nonsense always gets unreported. And no protest or counter strategy is effective executed. LRO and LRPF had been quite vocal and aggressive in taking up such matter in states of north east, AP, Telengana, Jharkhand etc successfully. Dubious beneficiary have been reported and apprehended on many such alerts. Series of cases have been filed before the honorable court and legal remedies are also being pursued.
One of the worst unawareness and administrative apathy is towards huge land acquired by Missionary in India. Majority of the lands are on British government lease which is rightfully illegal. The other major chuck is shrouded within the controversy of illegal encroachment. Dubious land broker, political leaders and vested interest group have promoted this illegality. So far no one has raised the voice despite the fact that it needs immediate and strong counter. LRO and LRPF have started the legal paper work to challenges the lease and renewal of this lease on case to case basis.  The need of hour is to create an ecosystem where government could be forced to rethink about renewing the lease.
Reasonable success have also been achieved while pursuing this land encroachment by missionary with Karnataka government annulling many such illegal encroachments of land. Government must come forward to nationalize all the British leased land under enemy property act and distribute it to the needy landless weaker sections of society to ensure agricultural activities.
A mass level awareness and intelligence input is desired at this moment. Public participation should be galvanized to ensure support to such legal bodies like LRO and LRPF, who can wage legal battle against missionary conversion.
India needs series of meticulously legally alert organization, who could expose and defeat the nefarious design of missionary conversion in India.
DISCLAIMER: The author is solely responsible for the views expressed in this article. The author carries the responsibility for citing and/or licensing of images utilized within the text.