BE THE MASTER OF YOUR CLAT JOURNEY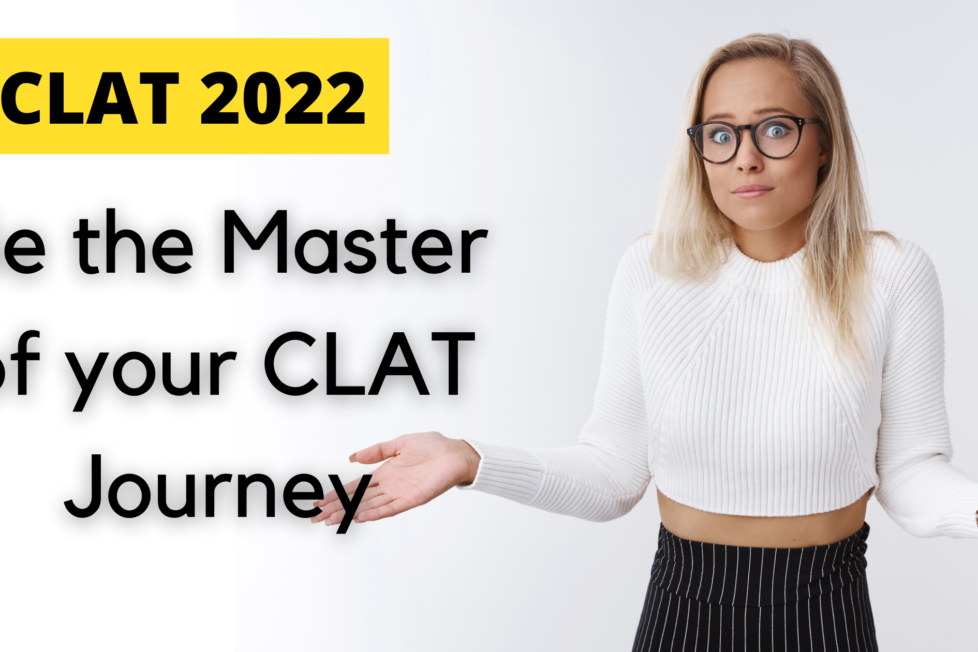 Be the master of your CLAT journey
CLAT is the gateway to the National Law Universities, which are dream destinations for aspiring lawyers. Like any national entrance, this entrance also requires budding candidates to perform to the best of their abilities. One needs to get a good score to crack through the entrance. This is possible only when they have a deep understanding of the various subjects that are part of the entrance exam. However, there are many facets to this journey of CLAT. One is the master of subjective knowledge, and the other being the master of oneself. The first aspect is comparatively easy as there are many experts out there who help you. However, it is the second that is tough to ace. So, here we share with you some important techniques that will make your journey smooth and easy.
Also Read: How To Overcome Failure In CLAT Exam And What To Do Next?
Say no to procrastination:
Procrastination is the act of delaying or postponing something. Frankly, it comes naturally to most of us. However, the art lies in saying no to this habit and trying to incorporate regularity and punctuality into your daily routine. The word 'regular' itself means a sequence of actions that are followed regularly. You all must have seen the famous web series 'Kota Factory', where the character of 'Jeetu Bhaiya' talks about a 21-day challenge to develop a habit. Therefore, if you look at this challenge carefully, then its basis is also routine and regularity. Make sure you set up a daily routine for yourself that includes reading, sleeping, playing, etc. This will ensure that you give judicious time to all the important things in your life. Join CLAT online coaching for CLAT preparation 2022.
Self-awareness:
You need to develop an awareness of yourself in order to organize yourself better. For this, it is important to understand what your strengths and weaknesses are in the context of an individual and in your studies. Some may be good at rote learning while others may have a strong grasp on concept-based knowledge. Understand your abilities and use them.
Time Management:
This is another important aspect of a student's life that needs to be completed. Stress can be a by-product of poor or poor time management. Try to understand those topics which are easy for you and which give you hard time. Divide your time accordingly. Learn to divide things according to their priority. Allocate the expected time for each activity. Time should be divided judiciously so that one can concentrate on all aspects of his/her preparation. Take CLAT mock test for CLAT preparation it will help you to know where you are stand.
Develop analytical skills:
It is important to reconstruct and analyze a situation. This will help develop your understanding and sharpen your analytical skills. These skills will also form a solid foundation for your advocacy. Make sure you read newspapers and stay updated with the latest happenings. This will help you develop an opinion about the issues, which in turn will help in sharpening your analytical skills.
Being Positive:
You must have heard the famous saying that battles are fought with the mind and won. It is important to have a positive attitude and the right thinking. It is actually the attitude of an individual towards a situation that helps the individual to fight it. A person with a positive attitude is calm and has the ability to use his intelligence to deal with situations in a better way. If the person has a negative attitude, it will be difficult for him to fight the situation.
Also Read: What Should Be The Strategy For CLAT Preparation?
Stress Management:
This is the most important and unbearable aspect of one's journey. Students are unable to cope with the stress which comes as the biggest hurdle in their journey. It mostly happens either due to lack of preparation or confidence of a person. If lack of preparation is your factor of stress, make sure you start working on your subjective knowledge. Remember knowledge is power. Once you start gaining an understanding of the topics, your confidence level will start increasing. This will reduce your stress to a great extent. In addition, you should develop a hobby that gives you peace of mind and relaxes your mind. It can be singing, dancing, swimming, etc. Meditation and yoga can be your great friends in this journey as these techniques have proven effectiveness and work exceptionally well.
It is important that you learn to manage stress on exam day and during the exam. Even the best students break under the stress of exam day and are unable to perform at their best. Make sure you have done your last-minute revisions well and have all the necessary requirements in terms of stationery and roll numbers etc. It is important that you calm your mind after receiving the paper. Make sure that you have filled in the details properly, including your roll number and other such information. Go through the paper quickly and start with the section in which you are most confident, followed by the less strong and weak ones. Make sure you do not panic and check the answers correctly before marking the final one.
Asking for help:
Last but not least, never hesitate to ask for help. It can be personal or professional. However, it is important that one approaches the right person for guidance. The right person will guide you with the right information and resources. Never hesitate to approach your elders, teachers and mentors for their guidance. After all, they are the ones who have a lot of life experience.
On that note, we want you to start your CLAT-2022 journey with positivity and enthusiasm. We will regularly provide you with various motivational and guidance techniques to help you accelerate this journey. Please stay connected with us and feel free to share your queries and concerns. We will be happy to help.
Also Read: CLAT 2022 Preparation Tips | How To Prepare For CLAT Exam 2022
DISCLAIMER: The author is solely responsible for the views expressed in this article. The author carries the responsibility for citing and/or licensing of images utilized within the text.