Big action of UP police on Haji Galla, property worth 5 crores seized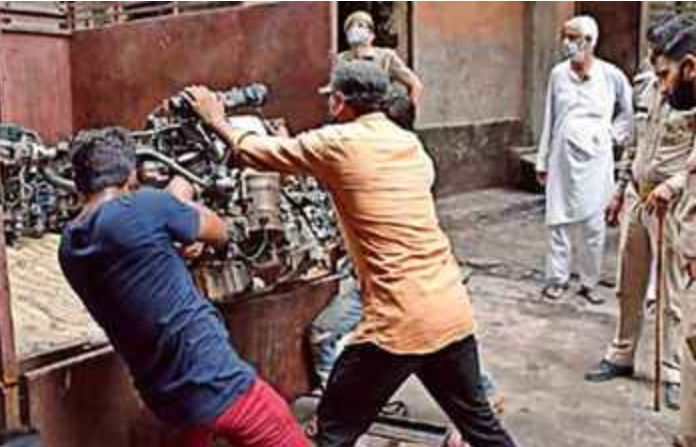 Uttar Pradesh Police took a major action in Meerut by seizing crores of property of Haji Galla on the orders of City Magistrate. Around 5 crores of property of Haji Galla was siezed by the police. Police had taken action against him under the Gangster Act, after which the details of illegally acquired property under 14A were collected. On Wednesday, the police confiscated two houses and a warehouse of Kabadi Haji Galla, a history-sheeter of Sotiganj. After making the dhol by playing the drum, he put the seal. Police claim that the house and godown are worth around Rs 5 crores.
Hundreds of cars and two wheelers are being stolen every day from places like Delhi, Uttar Pradesh, Haryana, Punjab etc. and all these stolen vehicles go to Sotiganj area of ​​Meerut.There are about 32 big junkyards and all of them are Muslims. Lakhs of rupees to Muslims without any investment because all these junkies that supplied auto parts all over India were all Muslims. There are around 32 big junkyards and all of them are run by Harmfuls. They cut the whole car in just 2 minutes and every part of the car is taken apart and goes to sell in the auto parts market all over India with great packing. This is the very basis of a Harmful ecosystem in which stolen cars and bikes of Hindus used to give crores of rupees to Harmfuls without any investment because all these junkyards that supplied auto parts all over India were all owned by Harmfuls.The Yogi govt secretly kept an eye on 32 junkyards of Meerut's Sotiganj Kabadi Bazar which used to cut up stolen vehicles. Complete evidence was collected and it was found that they have illegally made property worth about Rs 48 billion, that too without any investment.
The biggest junkyard owner of this gang, Haji Naeem alias Haji Galla, was arrested, his Rs 4 crore bungalow was auctioned, his eight big shops were confiscated and all his bank accounts were frozen. At present Haji Naeem and his four sons are in jail and every time he comes for appearance in court, he pretends to be ill.Meanwhile, the massive junk market of Sotiganj has been closed. The process of confiscating all other junkyards and shops has been started. Soon you will see a huge reduction in vehicle thefts.
DISCLAIMER: The author is solely responsible for the views expressed in this article. The author carries the responsibility for citing and/or licensing of images utilized within the text.